With Christmas just around the corner, I'm delighted that fellow writer, Nell Peters, has found time to climb out from underneath a pile of wrapping paper to chat to us today! Why not grab a mince pie and take five minutes, put your feet up and have a read.
Over to you Nell…
Oh dear; oh calamity; it's rumbled around yet again – Christmas Day is almost upon us, groan. Bigger groan. Bah-humbug.
Slade have been warbling their wares in the shops for months – it's the time of year I dislike more and more, despite family celebrations forming a triple whammy. Our anniversary is 23/12; youngest son's birthday 24/12 and, of course, there's the main feature on 25th. That's just a week away. Seven weeny days, or 168 hours – gulp.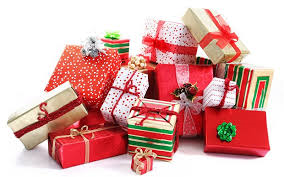 I do grit my teeth and make a Herculean effort, though, hoping for sainthood to be bestowed sometime in early January – so far I've been disappointed, but I live in hope. For example, each year I hit the Vistaprint web site and waste hours uploading embarrassing photos of family for wall calendars for everyone. It's become such a tradition that throughout the year, plaintiff cries of 'Don't do that – it'll end up on the calendar!' 'She's got the camera out – I'm off!' and similar are to be heard en famille. It's become pretty expensive too, as more and more people keep asking for them. The phrase 'rod for own back' comes to mind.
In addition, I have cards printed and until 2011, I composed a seasonal poem to be included, for example:
Santa's Slip-up
Christmas comes but once a year
The weather's always chilly
Last year Santa slipped and fell
And bruised his little willy
The air was blue – such naughty words!
Poor Rudolph was distressed
His nose was red, his face blushed too
(No glad tidings were expressed!)
And this one:
Snowmen, tinsel, Christmas trees
it's that time of year again, but please
don't make me sit on Santa's lap
he's such a very scary chap
If I've been good's for me to know
I'll not be swayed by Ho, Ho, Ho!
His whiskers tickle and he's fat
(where did he get that dreadful hat?)
Does his red suit come off the shelf
or was it run up by an elf?
And Mrs Christmas, where is she?
A strange affair, if you ask me
Eleven months he toils away
then piles gifts on his trusty sleigh
to be delivered in one night
By supersonic Concorde flight?
That body's too rotund to fit
down any chimney, isn't it?
And those reindeer must be bored to tears
for they get out but once a year
Yet who am I to complain so
questioning the status quo?
I'll shut up now and strike a pose
hopeful, under mistletoe
Ho! Ho! Ho!
One of many rejects:
Another Yule, another year
It's time to send good Christmas cheer
This will be short – and maybe sweet
A 140 digit tweet?
Actually, I quite like that one. I don't expect Carol Ann Duffy is losing any sleep, though.
2011 was a horrid year for us, during which my brother-in-law and three other family members died – only two of whom were OAPs. Number two son also called off his July wedding. Come December, I just couldn't bring myself to write the jolly Christmas ditty and so we now send cards wishing everyone a Happy New Year. They still have a family picture of some sort – usually the Grands, although this year I'm using an image that number three son photo-shopped for his work last year, with appropriate date inserted. Bang goes his street cred!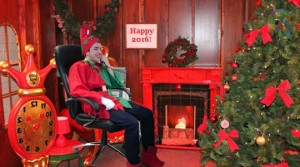 It's a bit luminous orange, isn't it?
When all the paper has been ripped from gifts, the turkey leftovers have been scoffed in various culinary guises, unsuitable presents returned for refund and the New Year seen in, there are four January birthdays – two of my daughters-in-law were actually born on the same day, which a) is slightly spooky and b) shouldn't be allowed. I say four birthdays – that's assuming granddaughter number three turns up somewhere around her due date on the third. Can't wait to meet her!
After all that dust has settled, I can look forward to my next book being launched by Accent Press in February. It's another crime novel, called Hostile Witness. Blurb below:
When her husband leaves her and their sons to shack up with a younger model, Callie Ashton thinks she's hit rock bottom. She's wrong. Already unemployed and struggling to hold everything together, Callie's life goes into freefall when she stumbles across the murder of a neighbour. The killer soon becomes intent on despatching Callie too, wrongly assuming she can identify him.
Despite her new man, David, being the policeman in charge of the investigation, Callie is in great danger – and it soon becomes clear the murderer isn't too worried whom he kills or maims by mistake in his quest to eliminate her. No one is safe and the killer seems to know her every movement. With no resolution in sight, Callie feels she has no choice but to take matters into her own hands…but at what cost to her safety – and sanity?
I'll throw in the opening too, as a taster – call it an early Christmas present, but you can't get a refund if you don't like it, I'm afraid.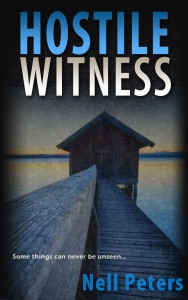 Hostile Witness, Chapter One
A military tattoo pounded somewhere behind her eye sockets and her entire body shook involuntarily, despite the heavy blanket wrapped around her shoulders. A mug of sickly sweet tea that had been forced upon her quivered in her grasp and slopped some of its contents onto the tiled floor, where it pooled in a muddy, irregular oval like a Rorschach reject.
Leaning across the table, the tubby policewoman frowned, 'You know, ma'am, finding a dead body is a terrible shock for anyone – you should drink some of that tea and you'll feel loads better.'
She really didn't see how anything could possibly make her feel 'loads' better, ever again. 'I'm trying,' she lied, wishing the constable would waddle off and leave her alone.
Though the whole country was in the grip of a heat wave, she felt icy sweat trickle its course down her spine, seeping into the tight waistband of her jeans and on down to her knickers. Aware her nose was running, she couldn't have cared less.
'Have you contacted Giles – Mr Symonds – yet?' she asked, 'He travels a lot and
Dee says … said … he always forgets to turn on his cell phone … and the children – what about the children?'
'That's all in hand, ma'am and someone from Family Liaison has gone to the school to break the news. Sarah and Tom, isn't it?'
'Thomas … he's always called Thomas.' The PC's manner was brisk and – to her at least – irritating,
'Right you are then – don't you go worrying about no one else, everything is under control.'
More tears flowed unchecked and she slopped more tea, 'Poor Giles – he left for work this morning and everything was normal … now his wife is dead. Poor Giles … poor Sarah and Thomas …' she knew she was rambling, teetering on the verge of losing control – and she just wanted to be left in peace.
The policewoman grabbed a battered box of tissues from the work surface and thrust it toward her, heavy features clenched into an ugly, no-nonsense gargoyle grimace. 'But it can't have been normal can it, ma'am – not if Mrs Symonds was planning to top herself, just as soon as them kids left for school?'
She didn't much like the younger woman's attitude, but when she closed her eyes to blot her out, all she could see were the deep gashes in Dee's white wrists, as they bobbed in bloodied water. Her stomach lurched ominously and she was afraid she might be sick again.
She had to change the subject, 'What's your name?'
Holding her notebook with pen poised, anxious to start writing, she replied, 'Constable Stephens, ma'am. You can call me Sally, if you want. Now tell me, did you actually see Mr Symonds leave the house this morning?'
Dutifully, she cast her mind back, 'Err … well no actually, not that I remember … I just assumed.'
Sally's lips pursed, 'I see …' she tutted, or maybe it was a cluck.
Someone rapped on the open back door and entered the kitchen without waiting to be invited – she lacked the energy to turn around to see who it was.
'Callie?'
She recognised the voice … Confused, she looked up to see David. Why was he there, she wondered?
Sally lumbered to her feet, 'Hello, Sir. Mrs Ashton here is right shaken up about next door, but she's refusing to go to hospital to be checked over.' In that one short sentence, Stephens managed to convey that everything was Callie's fault because she wouldn't cooperate – she imagined Sally as a creepy swot and or teacher's pet at school.
'Thanks constable – Callie and I are old friends, so I'll take over in here. I'm sure
there's something useful you could be doing elsewhere?' His direct stare allowed little room for manoeuvre.
Sally bristled, stretched rolls of neck fat away from her stiff white collar and jutted her chin. 'Sir,' she snarled and then stomped off, shirt stuck to her back with sweat.
Wearily, Callie asked him, 'What are you doing here, David – and why did she just call you sir? Come to think of it, when did we become 'old friends'?'
He looked uncomfortable and squirmed, twitching his shoulders, 'Ah … I … um … didn't get around to telling you before, Callie – I'm a detective.' A blush of bright crimson scuffed each of his cheekbones.
She really felt nothing could surprise her now, 'Oh … OK.'
He went to the sink and ran cool water to rinse her face, which she guessed was probably not looking its best.
As he gently pushed the hair back from her forehead she whispered, 'Thanks, that feels good.' But when she closed her eyes to savour the moment, she was immediately back in next door's bathroom again, staring at a mutilated body – so she opened them wide, 'Why CID? Dee committed suicide, didn't she?' She felt so strangely detached she could hardly focus on him.
'Probably, but we attend any unexpected death as a matter of course, just to be on
the safe side, and I happened to be in the area when the address came over the radio.'
'Right …'
She refused the offer of another tea, while he brewed a coffee for himself.
Taking the chair opposite hers, he sat Christine Keeler-style and asked, 'I expect you've already told the other officers everything you know, but would you mind going over it one more time for me, please?'
For me, the book's ending was very satisfying – and it just fell into my lap unexpectedly. How bad can that be? J
Nell Peters is my pen name and I am primarily a crime writer – check out By Any Other Name, also published through Accent Press, on Amazon:
http://viewbook.at/By_Any_Other_Name_by_Nell_Peters
There's still time for you to buy a zillion copies as Christmas pressies for friends and family!
OK – time to do something constructive before our domestic Poland is invaded by a cast of thousands.
Merry Christmas to one and all and a very Happy 2016! And for those of you confirmed bah-humbuggers like me, it will all be over very soon and normal service (whatever that is!) will be resumed. See you on the other side (I so, so hate that stupid expression!) Ho, ho, bloody ho and ding dong merrily on high during a silent night – with sleigh bells ringing! OK, obviously if you want to be picky, it wouldn't be a very silent night if sleigh bells were ringing …
Finally, thanks very much indeed to Jenny, for once again risking her excellent blogging reputation by letting me loose on here – especially on 18/12. I do like a bit of Beethoven, don't you?
NP
***
Great post Scrooge!! Lol- thanks Nell. Hope you have a lovely Christmas.
Happy reading everyone,
Jenny x