Up and down the country- whichever country that may be- men and women are laying down their laptops, putting aside their PC's, closing their diaries, and switching on the answer machines so that they can head out on their 'Work Christmas Do!'
As a self employed writer, if I went on a 'Work Christmas Do' all that would happen would be that I'd have a gingerbread muffin alongside my usual cup of coffee.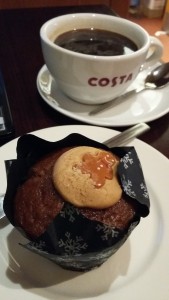 Or should I say, would 'usually' be- because this year I was invited to the RNA Christmas meal for the SW Chapter (Wilts and Somerset)! I'd like to thank the lovely Rachel Brimble for organising a wonderful evening at The George, Lacock last week.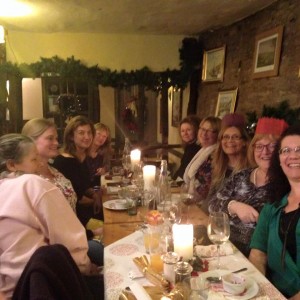 Even though I've worked ever since I was 15 years old, this was my very first works Christmas outing. Every year until this one, something has happened to stop me attending. Whether it was illness, snow, flood, bad timing, or life just not playing fair- or in the case of the company I have been employed for as an outworker for the last 15 years- never being invited, something has always prevented me attending. So as you can imagine, as I was travelling from Devon to Wiltshire to attend, I was on tenterhooks, waiting for something to wrong.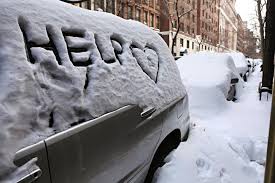 OK, so when I got to Lacock I initially went to the wrong pub – such mistakes are very me! But once I'd found everyone, I had the best time; catching up on what we've all been up to over the last year, and putting the writing world in general to rights. Not only did I have a wonderful time with my author friends, I met new kid on the block Fay Keenan, who turned out to be an even bigger Robin of Sherwood fan than me!
Writing, by its very nature, is an isolating profession; this makes any writer get together very value. At Christmas, when our loved ones and friends are off to party after party, and we're all living in our own imaginations at our desks, such gatherings are more precious than ever.
Whatever the time of year, whether there are Christmas cracker to pull or not, writers need writers- without each other to talk to, I swear their would be homes for bewildered authors springing up all over the world!
So once again- thanks Rachel- you're a star.
Happy Christmas Do-ing Everyone!
Jenny x