I'm delighted to welcome Nicola May to my site today as part of her 'The Corner Shop in Cockleberry Bay' blog tour.

A day in the life of a romcom writer – by Nicola May
I would love to tell all you lovely blog readers that I get up at ten, and after a hearty breakfast cooked by my private chef, I then lay on my velvet chaise. This is then where I'm then fanned and fed grapes by a scantily clad toy boy whilst reciting my next masterpiece into a Dictaphone.
However, the reality of being a romcom author is sadly not quite so romantic. Especially as I still also work as an Events Manager.
No two days are the same, but this is my general routine on a writing day –
0600 – my alarm catapults me into reality. I crawl to the kitchen, make a strong cup of tea (always PG Tips) and get back into bed to catch up on the news on TV and spend a bit of time with my wonderful RSPCA cat Stanley. That's if he's not waiting at the door with some form of livestock. Little shrews are his favourite at the moment.
0645 -After vowing I won't eat bread all week, I then wolf down two slices of toast with real butter. Before the last mouthful is down, I don exercise gear and head to Ascot Racecourse. Walking is my time to think about plot lines, characters etc. Sometimes I have a mad Eureka moment when I see where a new story can go and it really excites me. Yes, I am that mad woman shouting 'Yes' out loud when a new idea forms in my mind!
0745 – Back home, I shower, drink more tea and then the laptop is opened. I check my emails, then on to social media to try and put up a witty or interesting post on Twitter and Facebook.  I try not to get too side-tracked or I would never get any writing done.
0930 – Generally, I aim to start writing around 0930, but with The Corner Shop in Cockleberry Bay launching on April 9th, I've been in a whirl of writing blog posts, and making video clips. As I am choosing to self-publish again, I am also working very hard to secure as many PR opportunities as I can.
When I'm fully focused on writing, the rest of my day just flies. I tend to be relentless, only stopping when my stomach rumbles its disapproval. Occasionally, I have been known to write into the early hours and have previously been known to lose whole weekends.
The one guarantee at the end of the day is that wine is quite often taken!
Nicola May lives in the UK, five miles from the Queen's castle in Windsor, with her black-and-white rescue cat, Stan. Her hobbies include watching films that involve a lot of swooning, crabbing in South Devon, eating flapjacks – and, naturally, enjoying a flutter on the horses.
***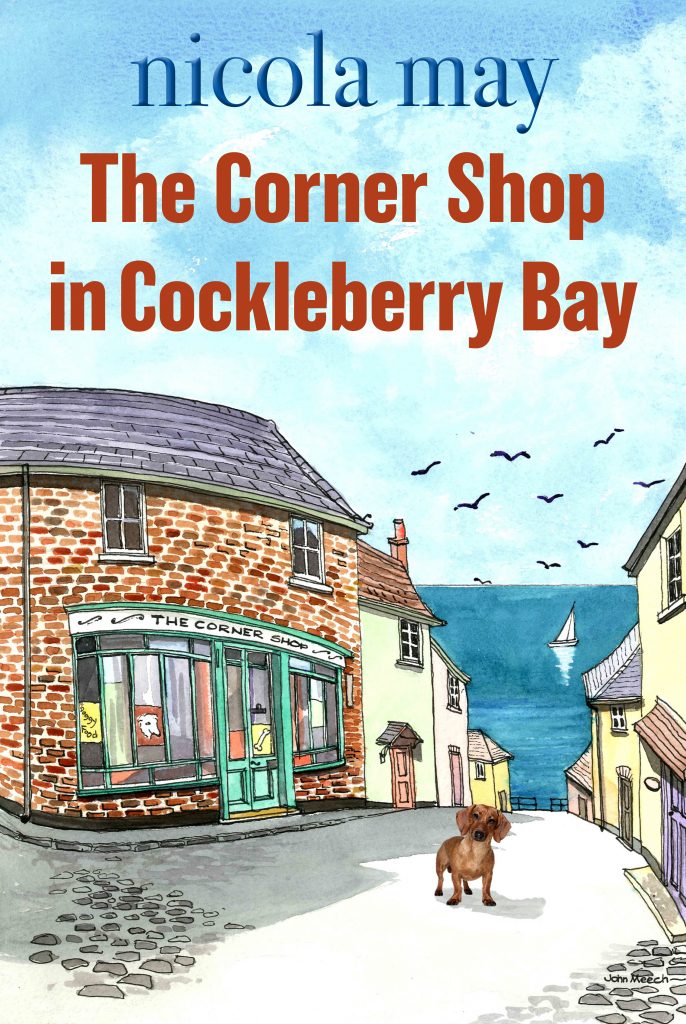 Praise for Nicola May's books
'This book will twang your funny bone & your heartstrings' – Milly Johnson
'A fun and flighty read' the Sun
'A funny and fast-paced romp – thoroughly enjoyable!'  WOMAN Magazine
*
Rosa Larkin is down on her luck in London, so when she inherits a near-derelict corner shop in a quaint Devon village, her first thought is to sell it for cash and sort out her life. But nothing is straightforward about this legacy.  While the identity of her benefactor remains a mystery, he – or she – has left one important legal proviso: that the shop cannot be sold, only passed on to somebody who really deserves it.
Rosa makes up her mind to give it a go: to put everything she has into getting the shop up and running again in the small seaside community of Cockleberry Bay. But can she do it all on her own? And if not, who will help her succeed – and who among the following will work secretly to see her fail?
There is a handsome rugby player, a sexy plumber, a charlatan reporter and a selection of meddling locals. Add in a hit and run incident and the disappearance of a valuable engraved necklace – and what you get is a journey of self-discovery and unpredictable events.
With surprising and heartfelt results, Rosa, accompanied at all times by her little sausage dog Hot, will slowly unravel the shadowy secrets of the inheritance, and also bring her own, long-hidden heritage into the light.
Purchase from –
Amazon US – https://www.amazon.com/dp/B07B8KML35/
Amazon UK – https://www.amazon.co.uk/dp/B07B8KML35/
Amazon CA – https://www.amazon.ca/dp/B07B8KML35/
Amazon AU – https://www.amazon.com.au/dp/B07B8KML35/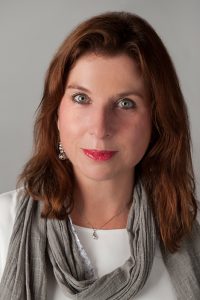 About Nicola May
She won Best Author Read at the Festival of Romance for The School Gates and Christmas Evie, in 2012 and 2014 respectively.
She classes her novels as 'chicklit with a kick,' writing about love, life and friendships in a real, not fluffy kind of way. She likes burgers, mince pies, clocks, birds, bubble baths and facials – but is not so keen on aubergines.
Nicola's website is www.nicolamay.com. She is on Twitter @nicolamay1, Instagram as author_nicola and has a Facebook page (just google Book Page of Nicola May).
Details of The Corner Shop in Cockleberry Bay  – Published on April 9 can be found here (add link)
You can learn more about Nicola and her other books here:
https://www.amazon.co.uk/Nicola-May/e/B004QUBKWW
Follow Nicola May
Website – www.nicolamay.com
Facebook – https://www.facebook.com/NicolaMayAuthor
Twitter – https://twitter.com/nicolamay1
Instagram – https://www.instagram.com/author_nicola/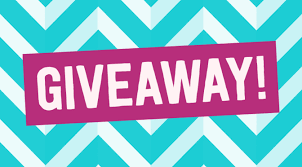 Giveaway – Win x 3 Paperback copies of The Corner Shop in Cockleberry Bay (Open Internationally)
*Terms and Conditions –Worldwide entries welcome.  Please enter using the Rafflecopter box below.  The winner will be selected at random via Rafflecopter from all valid entries and will be notified by Twitter and/or email. If no response is received within 7 days then I reserve the right to select an alternative winner. Open to all entrants aged 18 or over.  Any personal data given as part of the competition entry is used for this purpose only and will not be shared with third parties, with the exception of the winners' information. This will passed to the giveaway organiser and used only for fulfilment of the prize, after which time I will delete the data.  I am not responsible for despatch or delivery of the prize.
ENTER HERE-  http://www.rafflecopter.com/rafl/display/33c6949475/?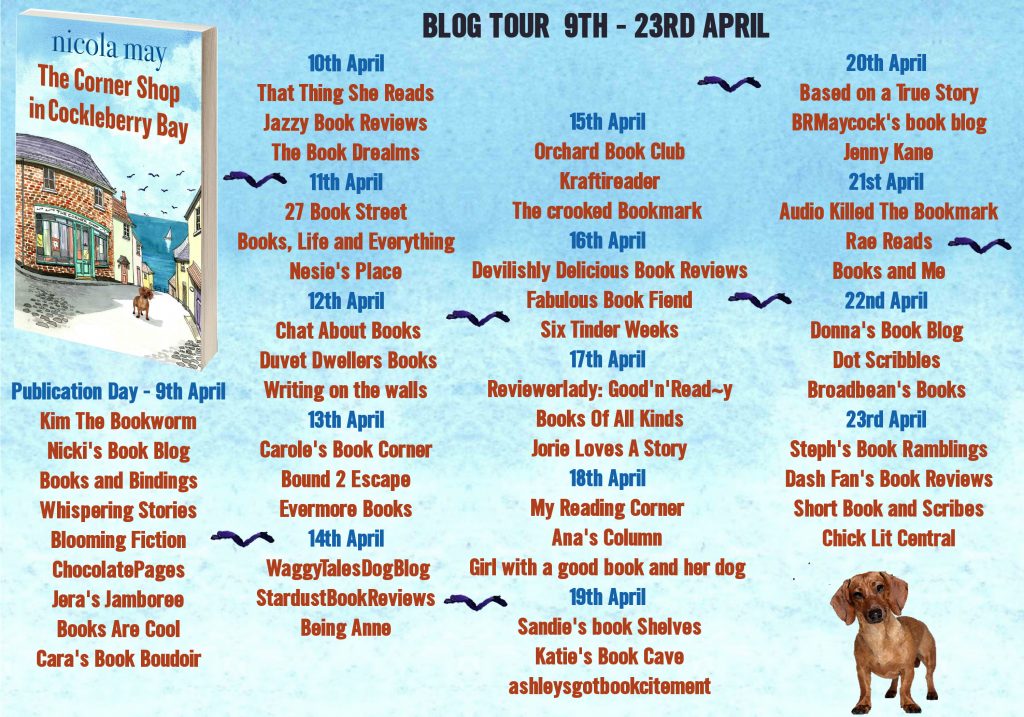 Many thanks for coming by today Nicola!
Don't forget to visit all of the other blogs on the tour. 
Good luck with the giveaway!
Jenny xx