Between the 3rd and 7th of June this year, Tiverton in Devon, will be hosting its very first literary festival!

I am delighted to be one of the organisers, along with fellow author Kerstin Muggeridge, and the town mayor, Susie Griggs.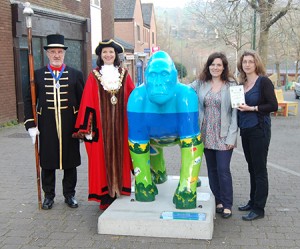 When we took this venture on, we weren't at all sure if any one would want to take part- how wrong we were! We have been so overwhelmed with authors wanting to take part that the festival has already expanded from being a two day affair to a five day celebration of books, reading, writing and the imagination.
Over the next few weeks I'll be sharing more details about the festival, as we confirm more and more guests. But I can already announce a fantastic romance panel with the brilliant Julie Cohen, Rachel Brimble and Alison Rose, hosted by yours truly at the gorgeous Oak Room in Tiverton (3rd June, 7pm)
There will be an exclusive talk by the wonderful medieval murder mystery writer, Michael Jecks, about Devon in the Hundred Years War, at The Oak Room in Tiverton (4th June 7pm)
Saturday 6th June sees a jam packed day full of children's stories, fancy dress competitions, a best selling author packed crime panel (with Simon Hall, Nicola Upson, Cal Moriarty and Clare Donaghue),- and then there is a family literary quiz at the Costa café on Bampton Street.
There will be a number of workshops for writing fiction, screen writing, self publishing and children's story writing, as well as much much more!
Keep an eye on the web site for all the latest events and the forthcoming ticket sales!!
Come back soon for more news!
Happy reading,
Jenny xxx