Another month has whizzed by with lightening speed – and a few coughs and colds (and a broken foot in my case)
Let's see what the lovely Nell Peters has to say for herself this month…
Over to you Nell…
Hi y'all! Good to see you again, on this last day of February – 28th, as it's not a Leap Year (just in case you hadn't noticed). The proposals will have to wait, ladies.
Let's dive straight in, shall we? Looking at a web site listing those with birthdays today, I noticed quite a few of them described as YouTube or Instagram stars – seriously? Needless to say, they're all very young, mostly American, and I've never heard of any of them. Best of all, however, has to be Australian Kai Saunders, seventeen today, whose slightly iffy claim to fame is that he's a Scooter Rider. My first thought was that the older Grands are scooter riders also – even I can ride a scooter, though it's been a while – but I hope their achievements later in life will be a little more worthy and substantial. Kai's mini bio includes the info that he rides for Phoenix Pro Scooters who competed at the Auckland Street Jam in 2017. Now we know.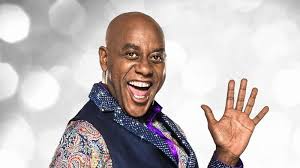 I wonder if TV chef Ainsley Harriott will be baking his own birthday cake today – he'll need sixty-one candles. Born in London of Jamaican heritage, as well as training and working as a chef, he dabbled in comedy and singing and formed the duo Calypso Twins with old school friend, Paul Boross. They released a hit record in the early 1990s and went on to be regular performers at the Comedy Store, before crossing the pond to appear on American TV and radio shows. It was via radio that his prolific UK TV career was launched. And he never seems to stop smiling that brilliant smile.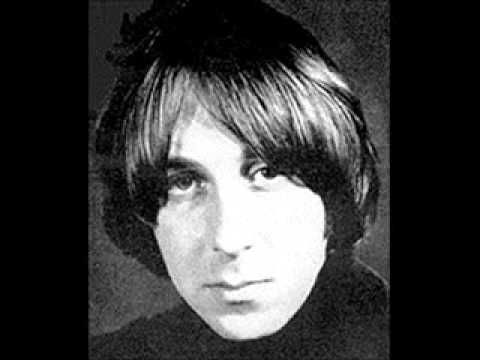 Celebrating his seventy-eighth birthday today is Barry Fantoni, whom I knew very briefly eons ago. As a gangly late teen, I was at St Martin's Art College (I had a few false starts before I decided what I wanted to do) when Gary Withers, as editor of the college mag, took advantage of students and Private Eye bods frequenting the same Soho pub (St M's was then in Charing Cross Road) to approach BF bar side and request an interview. Gary couldn't keep the appointment and asked me to go instead, as chez Fantoni wasn't a million miles away from where I lived, a smallish detour on the way home.
I duly presented myself at the door of the Clapham Common basement flat, pad and pen poised for action and absolutely no idea what I was doing, as I seldom read the publication let alone contributed to it. It went surprisingly well, as I recall, and for someone very much in the public eye at that time, he came across as super-friendly and refreshingly modest. I learned later that he had a bit of a dodgy reputation for female conquests, but I have to say he was a perfect gentleman while I perched on his uncomfortable sofa. I sent him a copy of the piece I'd written for approval and we stayed in touch for a while. I once met cartoonist/artist/writer Ralph Steadman at the flat – which impressed the OH last Christmas when I revealed that snippet from my shady past, rather more than the Steadman coffee table book his mother gifted us. It wasn't great.
For those sweet young things amongst you who have no idea who Barry Fantoni is, meet the London-born author, satirist, cartoonist, TV/radio presenter and jazz musician of Italian and Jewish descent, who was in many ways the epitome of Swinging Sixties cool. Already writing scripts for That Was the Week that Was (from 1962) and cartoonist for Private Eye (from 1963), his TV break came after he was asked to design a Pop Art backdrop for Ready, Steady, Go – the rock music programme that kicked off the weekend on Friday evenings for a whole generation – which he also sometimes presented.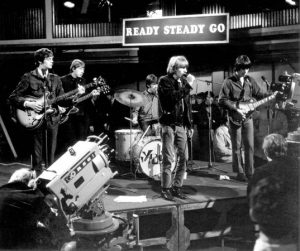 From there he went on to have his own show, A Whole Scene Going On (named after the Bob Dylan track) which went out live, had sixteen million viewers and earned Fantoni the 1966 award for TV Personality of the Year, ahead of Cliff Richard, Tom Jones and Mick Jagger. The Daily Mirror wrote of him in 1967, 'Barry doesn't so much know what is in – he decides it.' Strangely enough, like me he now churns out crime novels, only his desk is in Calais.
And what of the aforementioned Gary Withers? While I shamefully never used the qualification I earned at St M's (now Central Saint Martin's) and wandered off elsewhere, he was driven by an overwhelming need to succeed, coming from a single parent home in a rundown area of London. And succeed he most certainly did – he is now the zillionaire head of a global design company, The Imagination Group Ltd, which he founded while still at college. The boy done good – hats very much off to you Gary, old chap.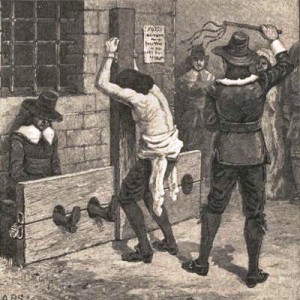 On this day in 1646, one Roger Scott was tried and punished for nodding off in church in Massachusetts – judging by some of the soporific sermons we had to sit through during monthly Girl Guide church parades, he would be neither the first nor last; talk about a captive audience. Massachusetts (who has the Bee Gee's song bouncing around their head now? You're welcome!) was probably not the best place to grab forty winks during worship, with its wall-to-wall devout Puritans, rabid intolerance of heretics, and (albeit forty-odd years later) the Salem witch trials.
Roger was roused from his nap when a tithingman – a powerful officer of the church – whacked him over the head with his trusty staff. Perhaps unsurprisingly, Roger hit back and it was decided he should receive a whipping as punishment, as well as have his card marked as 'a common sleeper at the publick exercise.' Oh the shame …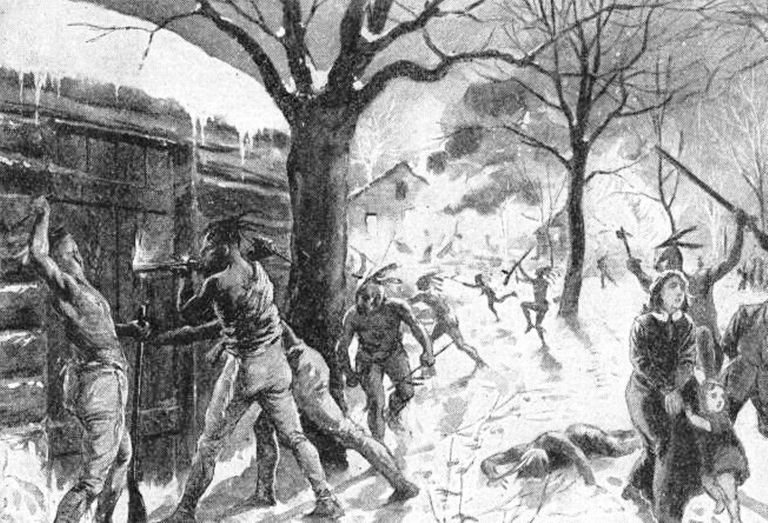 Staying in Mass – the US state, not the religious rite – 1704 was a Leap Year and it was on 29th February that the Deerfield Massacre took place during the Queen Anne's War. The French and their Native American allies fought many tit-for-tat battles against the English between 1702 and 1713, in an effort to gain control of the continent (shouldn't that have been the birthright of the indigenous Red Indian tribes anyway? Just a random thought …) Under the command of Jean-Baptiste Hertel de Rouville, the English frontier settlement at Deerfield was attacked before dawn, and much of the town burned to the ground, killing forty-seven. The colonial outpost was a traditional New England farming community, the majority of settlers being young families with wives and mothers who had moved west in search of land – the labour  that these women provided was essential to the survival of the settlement and its male inhabitants.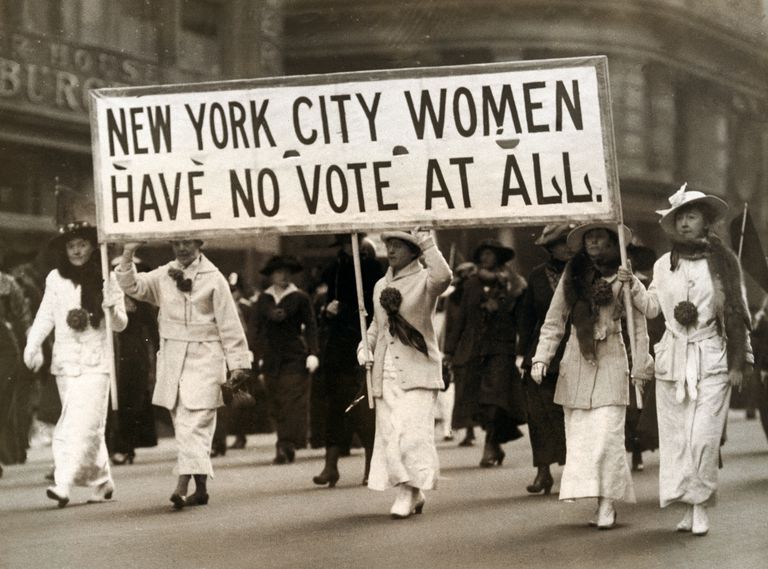 You might think that earned the women and their descendants an automatic right to absolute equality? Nope – in the US, much like the UK, from the mid 1800s several generations of women had to fight for the right to vote and although concessions varied from state to state, it wasn't until the 19th Amendment to the Constitution was ratified in August 1920 that all women were given those rights. In practice though, the same restrictions that hindered non-white men's right to vote now also applied to non-white women – that took rather longer to sort out. In Canada, the enfranchisement of women timetable happened according to Province, starting in 1916 with Manitoba and good old (French Canadian) Quebec coming very much up the rear in 1940.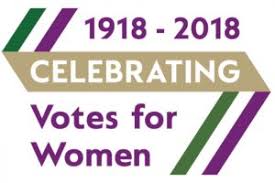 This month in the UK, we celebrated the centenary of suffrage for (some) women. Under the 1918 Representation of the People Act; women over the age of thirty who either owned land themselves or were married to men with property, or who were graduates, were able to put their cross in the box. The same act also dropped the voting age for men from thirty to twenty-one – so, not exactly on a level pegging. It was another whole decade until the 1928 Equal Franchise Act granted women in the UK truly equal voting rights, almost doubling the number of eligible females. That doesn't really compare too favourably with democratic New Zealand, where all women were given the vote in 1893.
I mentioned the Girl Guides several paragraphs back: I so looked forward to meetings on a Friday evening (pre the Ready, Steady, Go years) and the two best hours of the week when I was free to let my hair down and actually have fun. We were exposed to all sorts of activities most of us would never have dreamed of or encountered otherwise – I can still recognise the star constellations I learned, but might struggle to tie a round turn and two half hitches knot – and we went away to an annual (usually wet, cold and muddy) camp for a week. Heaven – burned bangers, leaky tents, stinky latrines and all!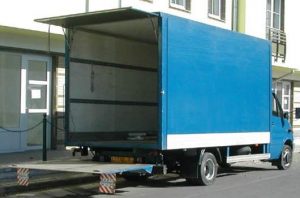 This was before Health and Safety turned the sensible world upside down, which was just as well, as our means of transport was a huge home removals van with our luggage (kit bags) thrown in, followed by perhaps thirty Guides and their leaders who simply piled in the back on top of one another. Not a seat belt (no seats!) between us, just bodies diving in to make themselves as comfy as possible for the duration. Scariest of all, the back was left open so that we could actually see – as far as I remember, we didn't ever lose anyone overboard.
And now I'm going to pinch the opening line of all Barry Fantoni's rhyming obits to the famous in Private Eye, written under the by-line of E J Thribb; So. Farewell then …
Thanks, Jen – and toodles!
NP
***
Another smashing blog! Who knew our Nell knew Barry Fantoni!? (Who I have to admit I have never heard of until now…ummm….xxx)
Have a smashing March everyone,
Happy reading,
Jenny x