I'm absolutely delighted to welcome Nell Peters back to my place today, for an end of the month blog.
This popular blog series has been having a holiday while Nell and I got on with the serious business of not drowning in work and family life.
As you'll see, Nell has been far from idle in her absence…
Over to you Nell…
Good morning/whenever, on this fine, final day of January 2019.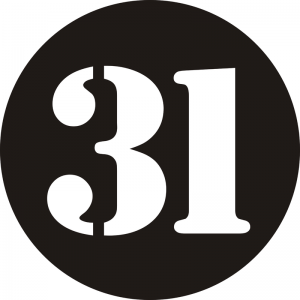 You may or may not have noticed I've been awol from this hallowed spot since Halloween last year. Jenny took pity on me as I had rather a lot on – as did she – and we agreed upon a two month break. I was about to ask her for January off too, as I didn't see that I could possibly get through everything I needed to, plus write the blog, when I was struck down with a ghastly and inconvenient virus. So, an enforced few days confined to Norfolk barracks while Samurai warriors sliced at my throat with razor blades, I coughed a graveyard cough etc, instead of being in Twickenham to oversee the final days of clearing my parents' house for completion of the sale on 18th January.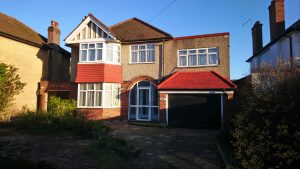 I am writing this on 15th January and the big Brexit showdown is due this evening. Because of all the house stuff, I have largely missed all the latest proposals/amendments/about-facing/backstabbing/general shenanigans and wheeling and dirty dealing by our elected leaders, and others. I normally refrain from political comment, but will ask, have there ever been so many treacherous weasels gathered in one place, most of whose sole aim seems to be to secure a self-serving solution and sell everyone else down the river? And as for Short Man Syndrome personified, Bercow – how exactly does he still have a job? I am not a huge fan of Teresa May, but I do have a wee bit of sympathy for someone who landed in No. 10 because she was basically the last man standing, and immediately had a poisoned chalice shoved into her hand. No win-no win. However, this is also the person who snatched defeat from the hands of victory at the last General Election, and thereafter entered into an insanely costly alliance with the DUP, in order to pretend she had a majority. Enough, the soap box is being returned to the shed – except, has anyone thought of putting Larry the Downing Street cat in charge? Could hardly do a worse job…
What has happened since we last had a chinwag? Well, Christmas and New Year for a start. The OH and I went to do our mega shop on Sunday, 23rd December, which was our zillionth anniversary. As it was tipping down and freezing cold, Sir Galahad dropped me at the supermarket entrance to source a trolley, and toodled off to park. Shelves stripped of goodies and considerably poorer, we returned to the very large car park to off load our spoils – but where was the car? As we'd taken the small but perfectly-formed, bright red work vehicle, it surely shouldn't be that hard to find? As OH trawled up and down the rows of parked cars in the rain, shoulders hunched and looking extremely grim, my heart sank further and further toward my soggy boots – until about fifteen minutes later, when little red car was discovered hiding behind a whopping 4×4. Shopping shoved in the boot we headed home, the thought of venturing out again for the anniversary dinner becoming less attractive by the millisecond – and so we cancelled the reservation in favour of pizza delivery, a roaring fire and a rubbish DVD that neither of us could watch through eyes closed in slumber.
Christmas Eve in this house means #4 son's birthday – his 26th, so into the kitchen I went to prepare a suitable feast. #3 son was on holiday in Bali and Kuala Lumpur  and not due home until 28th, so the gathering was slightly smaller than normal – not that you'd know that from noise levels and general carnage. A quick sleep and it all started again, with even less room to swing a moggy in a kitchen guarded by a giant turkey, which didn't look best pleased at being plucked. By Boxing Day, I was severely regretting turning down #3's offer of some of his spare air miles (flash monkey!) to buy a flight to NYC between Christmas and New Year! Just too much stressy stuff on my plate…
While all this was going on, our lovely niece Francesca was worried sick about her friend, Jack, who had gone missing after a night out during the early hours of 23/12. Search parties were formed, social media campaigns shared far and wide, flyers put up locally and the press alerted, plus anything else possible was done to find him, all to no avail. The situation was not helped by the holiday period and businesses with potentially useful CCTV being closed. Tragically, Jack's body was found in a lake on 3rd Jan – he was just twenty-eight. May he rest in peace. Incidentally, Fran was also twenty-eight, on New Years Eve – I imagine she has had better birthdays.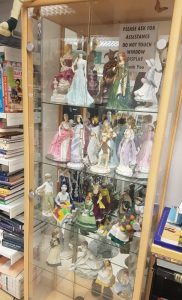 Prior to 31/12, I went to Twickenham to continue bogging out the house and meet up with #2 son who was already in residence, plus #3 who had just flown in. He met me at the station, still wearing shorts! Over the next couple of days, the local DEBRA charity shop came to love us, as we loaded them up with figurines (so many they actually had their own display cabinet in store), Denby and Royal Doulton dinner services, glassware, plus all manner of fripperies – and that was before we got to the Saville Row suits, designer handbags and Burberry Macs. Do people still wear those? It's a large-ish house and we hardly made a dent, before we went off to join the rest of the family at a hotel in Kew for a couple of days.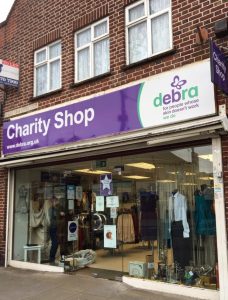 The Grands loved travelling on trains, buses and the tube – something none of them normally experience with their ever-behind-the-wheel parents, and just after lunch on NYE we clambered up the stairs on a double decker and headed to Richmond Theatre for the panto matinee of Peter Pan. They are brilliant productions that I used to go to as a child, and in turn took the boys when they were younger. This year, Robert Lindsay played a very sinister Captain Hook magnificently – he was formerly known as delusional revolutionary, Wolfie Smith eons ago in the TV series, Citizen Smith. His now ex-wife, Cheryl Hall, took the part of his equally deluded girlfriend, Shirley.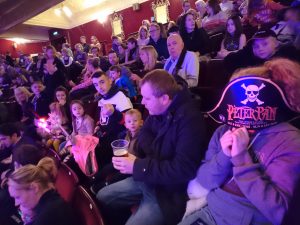 More recently, he played Ben Harper, the father in My Family – one of the best unscripted moments in the panto was when Lindsay was doing his Shakespearean actor thing front of stage, over-dramatically asking where he should go, who did he know, when a quick-witted audience member piped up, 'What about my family?' Amused me, anyway. After he'd rallied the audience to sing Auld Lang Syne at the end, we got another bus (single decker only, disappointingly) to the family home to have food and fireworks and raise a toast.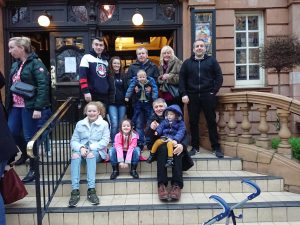 #3 flew back to Mumbai on the second, after some stalwart work sorting and dump-running, leaving #2 and I to our own devices at the house – that was when furniture removal started in earnest, via the likes of Sue Ryder and the Richmond Furniture Scheme. All cupboards and drawers – and they numbered quite a few – were packed with stuff and we came across some real goodies, including utility bills from the 1980s, every letter my parents had ever received neatly filed, and jewellery hidden in the most bizarre places – plus, between them, my parents owned enough pairs of shoes to open their own shop and then some. After some quiet contemplation, I threw away my neatly-folded Brownie and Girl Guide uniforms, confident in the knowledge they'd never fit me again…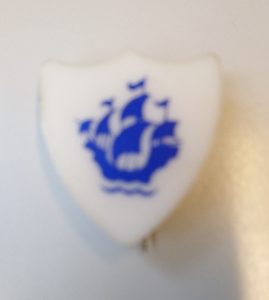 I made a couple of brilliant discoveries, though – my Blue Peter Badge (won when I was about seven or eight in a photography contest, and which my mother told me had been lifted from her dressing table during a burglary decades ago), along with a photo signed by all the Beatles. I belonged to their fan club (sadly, never allowed to go to gigs) and all my other paraphernalia had been unceremoniously dumped on a maternal whim during the distant past. It was almost worth the entire emotional and physical trauma involved in the clearance, just to find those two items. Almost.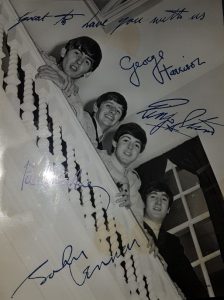 We were all in Norfolk last weekend – including #3, who flew back for a week – for the delayed 3rd birthday party of the youngest GD. I think it went well, but can't swear to that, as the germs were by then starting to take hold with a vengeance and I was ga-ga at best. Another big family gathering next Saturday, as it is #3's last night before he flies back to Mumbai or Bangkok – I'm never quite sure where he's hanging his hat. All go innit? One thing is for sure – it will be a takeaway or delivery!
Just going to mention one 31/1 birthday – one with the most tenuous of tenuous family connections. Songwriter, musician and record producer, Marcus Mumford, is lead singer with Mumford and Sons, and will need thirty-two candles for his cake. Born in California, where his British parents, John and Eleanor were working as national leaders with the Vineyard Church (UK and Ireland), he moved with them to the UK aged just six months, to grow up in Wimbledon. His wife was a childhood pen pal and they reconnected as adults, marrying in 2012. She is Carey Mulligan, and that is where the connection comes in – her older brother, former army captain/now businessman, Owain, is married to my cousin, Barbara's daughter, Lorna. Told you it's a tenuous connection!
Owain served in Iraq and Afghanistan and through him, Carey became an ambassador for War Child, a non-governmental organisation founded in the UK in 1993, which provides help to children in areas experiencing conflict and the aftermath of conflict. She is also an ambassador for the Alzheimer's Society, a disease from which her grandmother suffers, no longer recognising Carey.
I haven't seen Lorna for a good few years and I've never met the others – I have only watched Carey in two things, as far as I remember; the film Suffragette, in which I thought she played a brilliant part and the TV series, Collateral which I didn't much enjoy, despite an impressive cast. I have to confess to having a soft spot for Marcus though, ever since he was caught on camera yawning during Harry and Meghan's wedding. Good man.
By the time you read this, I hope the dust will have settled a little so that I can get some of my life back. That's the plan, anyway – wish me luck!
Thanks for having me, Jen.
Toodles, everyone.
NP
***
Huge thank you for writing this fabulous blog- although I'm sorry you had to have a virus so you could find the time!
What a start to 2019! Here's to calmer times ahead.
Happy reading,
Jenny xx