Ever since I can remember I've made up stories in my head. I remember doing this long before I could either read or write. As a young child I would devour books at a rate that the local library simply could not keep up with, and there were some picture books that I borrowed and renewed so often, that they might as well have belonged to me!
I have always been passionate about children reading, and so when I had children of my own, I read to them from day one, and now they are in their teens, I'm still reading to them- and they still love it. Okay, so we've moved on from The Gruffalo, and now read Terry Pratchett novels together- but it is still a highlight of the day- to just sit for twenty minutes and read with my children. Why should there be a age limit on sharing books anyway?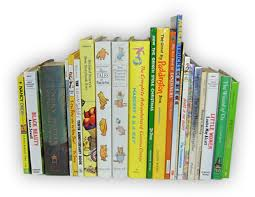 When my children were smaller, and my working hours were more flexible, I used to love going into primary schools to teach the occasional ad hoc creative writing session. These moments often involved me behaving in a quite batty way. Sometimes dressed as Robin Hood, or Doctor Who, or whoever I felt like at the time…I'd leap around the room with sonic screw driver, bow and arrow, or simply a bag of gobblefunk (thank you Roald Dahl), getting the children to think without noticing they were thinking, and make up stories about the oddest things possible whilst making them laugh just as much as I could.
It won't surprise you to know therefore, that  have ALWAYS wanted to have a children's story published. Somehow however, what with all the adult fiction, and the day job, I never got round to it.
That situation however, is just about to change…
I was chatting to my dear friend, Dr Richard Wagner a couple of years ago, and mentioned my children's work in passing. I thought nothing more about it, until last year, when Richard asked if I'd read through a children's book he'd written.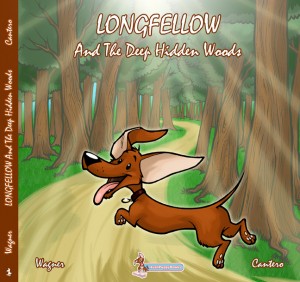 I did this willingly, and the next thing I knew what that his publishers, Hush Puppy Books, were emailing me to ask if I had any stories they might like to see… You can guess what my reply was!
One of the first tales I made up for my own children was called There's A Cow in the Flat. They loved it so much that I took it to local nursery's and primary schools to share- and each time I did the story grew, and changed, and adjusted, to suit the whims of the children I was with.
And I am delighted to say that the finished version of There's A Cow In The Flat will soon be hitting the world!!! Complete with some GORGEOUS pictures from the wonderful illustrator Ryan Doherty.
Just check out the star of the show. This is Oscar- who is just about to have a very unusual day! (Illustration by the brilliant Ryan Doherty )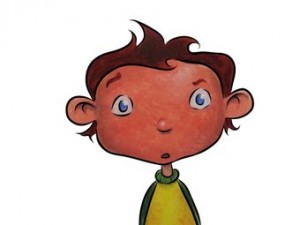 I'll be back very soon with lots more children's story information- for this publication (due for release in the autumn), is just the first of many…
Happy reading everyone!
Jenny xxx