I'm totally chuffed and madly delighted to be able to announce that Accent have contracted me to write another novel!!
Ever since I finished writing my last novel Romancing Robin Hood (due out until late August), I have been very busy 'being' Kay Jaybee, putting together a few short erotic stories for a handful of forthcoming anthologies- but now it's Jenny's turn again.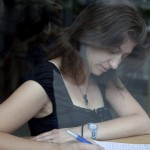 Jenny Kane book number 4 (novel number 3), is to be called Abi's House, and will be out late spring/early summer 2015!
Or it will be- if I hurry up and get on with it!!!
Abi's House will take the lead character, Abi Carter, away from the life that her late husband (Luke), thrust upon her, and on search for the life she'd always wanted…
From the "executive wifeness" of the outskirts of London, to the artistic escape of Sennen and the dramatic coastline of Cornwall, Abi discovers far more than she bargained for…making new friends along the way.
Right- I'm not saying ANY more for now…but I promise I'll share more news soon…
Happy reading,
Jenny xx