I'm welcoming a first time blogger to my site today! The lovely Anne Polhill Walton- otherwise known as Nell Peters- is sharing her route to publication.
Over to you Anne…
Hi everyone – and huge thanks to Jenny for taking the risk of letting a complete novice loose on her blog. I'll try not to lower the tone, or indeed bore anyone to distraction.
Like many, my road to publication was a long and rocky one and dogged by pesky real-life interventions. Along the way, I produced a clutch of strapping sons, moved country and back again and remarried – latterly I went back to Uni to read psychology and sociology, in the hope of giving my plots and characterisation an edge. Some of my fellow students were a study in themselves – definitely a few psychos in their midst, who made me feel quite normal … and as for the lecturers …
Probably my most memorable assignment was a presentation on women serial killers – that was my typically bloodthirsty choice, the brief being based around gender. During my twenty minutes or so in the spotlight (which I absolutely hate!), I managed to persuade a worrying number of students that Jack the Ripper was in fact a fifty-something woman called Evangeline. She had a full, fictitious biography, including nursing in the Crimea with Florence Nightingale, which is where she learned her surgical skills – obviously I should get out more.
The handout has reclined on https://www.smashwords.com/books/view/109930 for ages – and some kind soul recently gave it a 5* review, reminding me it was there! However, Evangeline – a name I plucked from the air, figuring it was rare enough not to cause any problems – had to become Ernestine, when the youngest boy brought his girlfriend (now fiancée) home and introduced her as Evie, short for Evangeline.
Armed with a scraped 2:1 Hons, plus an implied award for being the oldest student on campus, I ditched the textbooks, ceremoniously burned my dissertation on Jean-Jacques Rousseau (who definitely displayed schizophrenic tendencies!), and dug out some of the crime novels I'd written previously. Ignoring the aged pile of rejection slips big enough to fill the local recycling facility, I read through and edited the books to within an inch of their lives and posted some on Amazon KDP.
But there was one book I couldn't edit, because (when he was going through his mercifully short Bill Gates stage) number three son deleted it in error and it could not be retrieved. No backup. Gulp. So, I set about a rewrite of By Any Other Name, and I have to admit that some of the psychology stuff came in useful – for a start, the protagonist, Emily Kelly, is a mature (though nowhere near as mature as I was!) psychology student. She always was, long before I went back to uni – spooky. To earn a crust Emily takes a vacation job as companion to retired industrialist Sir Gerald Ffinche, and falls in love with his son, Richard – and he with her. So, on the face of it, a romantic novel where everyone lives happily ever after? Nope. I don't do happy! It seems someone wants to spoil the couple's idyll and bodies start to mount, while subtle clues are left to incriminate Emily. But who? The reader is spoiled for choice…
When I submitted to Accent Press, I was thrilled to hear from their lovely editor Greg, who asked to read the rest of the novel. Naturally I sent it off before he changed his mind, but realistically I was expecting another rejection to add to my impressive collection.
But on the eve of our youngest granddaughter's first birthday, Greg came back to me and said he liked the book and had been flabbergasted twice by plot twists. (Even though I wrote the thing, I couldn't imagine what the second one was …) A brief happy dance and it was back to reality, as I'd foolishly promised to help make a fairy princess castle birthday cake – and I am a complete non-starter in the domesticity stakes. Greg very helpfully sent a link to M&S princess castle cakes, only for my relief to be punctured by the minimum seven day advance order requirement – I was working on not much more than seven hours!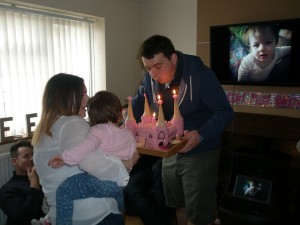 Son and I somehow managed to construct a cake, which looked quite reasonable from afar (which the kitchen most certainly did not) – and the publishing process began.
At the end of November 2014, genre-hopping By Any Other Name, written under my pen name Nell Peters, hit Amazon as an eBook and POD.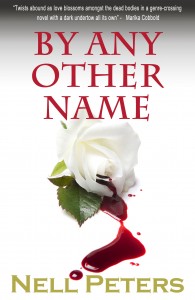 Blurb:
Emily Kelly cannot believe her luck when she is employed as companion to Sir Gerald Ffinche. (Luck had nothing to do with it – but all's fair in love and job-seeking, right?)
She soon settles in chez Ffinche and builds an excellent rapport with Sir Gerald – but it's his son Richard who really interests her, and they quickly become inseparable. However, it seems their happiness has enraged someone closely associated with the family, and a series of tragic events is set in motion. Subtle clues are left to incriminate Emily and when she determines to expose the real culprit, she is spoiled for choice. As the body count mounts, Emily and Richard – as well as the police – are perplexed. They're clearly looking for someone who projects a mask of sanity to the world, whilst being dangerously disturbed: but who? A whole shoal of red herrings support a plot that veers from almost-cosy to a taut psychological thriller to make By Any Other Name an enthralling, chilling whodunit.
You can find it here:
UK http://www.amazon.co.uk/s/ref=nb_sb_ss_i_4_4?url=search-alias%3Ddigital-text&field-keywords=nell%20peters&sprefix=nell%2Cdigital-text%2C310
US http://www.amazon.com/s/ref=nb_sb_ss_i_0_8?url=search-alias%3Ddigital-text&field-keywords=nell+peters&sprefix=nell+pet%2Cdigital-text%2C412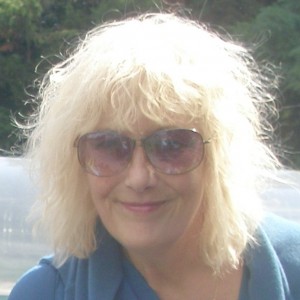 Potted bio:
Despite being born in Wimbledon and raised in Twickenham, Anne Polhill Walton is not in the least sporty – and so she thought it prudent to move to Norfolk. Because her name is a bit of a mouthful, she uses the pen name Nell Peters, taken from her parents' Christian names, and she has actually been asked which is which … Another name she answers to is Grannie Annie, after three out of four sons produced children. Two are girls, and so she is finally able to indulge in buying stereotypical pink. Even though she doesn't like pink.
***
Many thanks Anne! I am honoured to be the host of your very first guest blog! I loved it!
Happy reading everyone,
Jenny x