I'm delighted to welcome Julie Archer to my blog today. Julie, who I had the good fortune to meet earlier this year (see below), has just released her first novel, and is hot on the heels of the second…
Hi Jenny! Thanks for having me over at your place.
I'm writing this blog post having just arrived at Stickwick Manor for a six-day retreat to recover from all the excitement of self-publishing my first novel. And to make a start on Book 2!
It was just over two years ago (ironically on the day I published the eBook) that I received an email from Urban Writers' Retreat to say that I had been accepted on the Six Month Novel Programme. I remember doing a happy dance around my kitchen as I realised that someone thought I had a good story to tell.
The Six Month Novel Programme is something to help writers get to the end of that first draft, with the support of fellow writers. There is structure, accountability and cheerleading. And a place for you to vent about how things are going – good and bad. The Writer's Playground was a massively important part of my writing journey and without it, I don't think I would ever have finished Cocktails, Rock Tales & Betrayals. I have made some fantastic virtual and real friends here, all of whom have helped me along the way.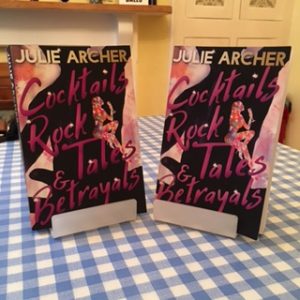 I wrote "The End" on the first draft in early March 2015. Then life got in the way. And I half-heartedly edited the manuscript a few times, shoved it in a cupboard, forgot about it, dusted it off, got a few people to beta read it, sent off a few agent submissions and generally didn't love it.
Then I went to a World Book Night Event in Stoke Fleming, near Dartmouth where I live, in April this year.
The guest speaker was Lesley Pearce, who regaled us with tales of her writing journey – and penchant for Sean Bean. Other speakers included Tony Porter, Jane Gill, Mel Menzies and Steve Stevenson-Olds. Oh, and a lovely lady called Jenny Kane (on that day anyway!).
Hearing these authors talk about how they had got their works published, either traditionally or through the self-publishing route, really made me think. And it made me want to be standing up on that side of the table at World Book Night 2017 telling my own story!
Having already submitted to a few agents and received stock replies of 'thanks, but no thanks' and 'keep writing', I considered the self-publishing route. Not knowing what this might entail, I explored the possibilities out there and looked at "assisted self-publishing" versus "pure self-publishing".
I went to Tiverton Literary Festival in June (Jenny may have mentioned it at World Book Night!) and attended a self-publishing workshop by Marissa Farrar. Although I hadn't come across her work before, she has self-published a huge number of novels in different genres. And made the process work!
I also met Carrie Elks at a Stickwick retreat. As another self-published author she was also able to give me more invaluable advice on how to do things properly, what to focus on and where to start with things like a marketing plan and social media.
After listening to both of these inspiring ladies (and taking copious notes!), I was more determined than ever to get the book out there myself. I was in a fortunate position of being able to have the time and funds available to dedicate to the editing, cover design and marketing processes.
So I did it! I wrestled with Createspace, Kindle Direct Publishing and Draft2Digital and won!
What's next? Book 2 of course! And along with my fellow chums in the Writer's Playground, we are publishing an anthology of stories called 'Off Track'. It will be available in mid-November in both eBook and print formats. All proceeds are going to charity, so it would be great if you could pick up a copy.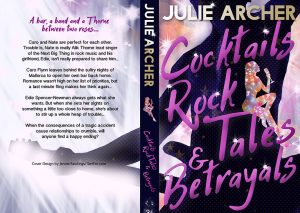 Here's a short extract from Cocktails, Rock Tales & Betrayals…
"She couldn't stop thinking about Nate, how they had talked and talked. And connected. Had things been different, she would certainly have left him her number.
With a sigh, she put on her headphones and pulled a copy of Roccia from her bag and idly began flicking through the pages to pass the time. A short article in the news section about North Ridge caught her eye. She took a large sip of wine a read on, always interested to read about new local talent.
Recently signed to Numb Records, Alik Thorne and the rest of the Blood Stone Riot boys play their last gig at The Vegas in North Ridge next week before decamping to record their as yet untitled four-track EP at the renowned Newcomen Farm studios.
Set for release in the next few months, the band are also to film their first video to accompany the title track, "Bleed Like Cyanide," in addition to playing a number of low-key showcase gigs in preparation for their debut appearance at the Wilde Park Festival.
Caro almost spat out her wine in shock as she re-read the article and studied the picture that accompanied it more closely. There was a black and white photograph of a singer, caught by the camera snarling into the microphone. He was wildly attractive, with chiselled cheekbones, eyes flashing with passion, and bare-chested, showing an array of tattoos and a nipple ring.
She knew she had seen him before.
Knew that she had recognised his voice from somewhere.
In the magazine shot, he was clean-shaven and his hair was shorter, and he wasn't wearing glasses; looking totally different to the man she had left in bed that morning. But she certainly recognised the tattoos, having spent time up close and personal with them.
With him.
He had lied.
His name wasn't Nate.
Suddenly Caro was acutely aware of the fact that she had just slept with one of the hottest new properties in rock music…
***
You can buy Cocktails, Rock Tales & Betrayals through the following platforms. Or you can pop into the Dartmouth Bookseller on Foss Street in Dartmouth and get one in person!
EBook available from Amazon, iBooks, Barnes & Noble Nook, Kobo, Scribd.
Paperback available from Amazon or a special signed copy and merch pack from my website.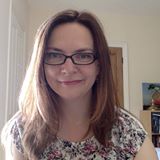 Bio
I grew up in Hampshire and lived in Reading before moving to the beautiful riverside town of Dartmouth in Devon. I still feel like I'm on holiday.
 I trained as a journalist, then went into teaching (kept meeting the sixth form students in the pub, awkward!). After that I 'fell' into recruitment, spending more years there than I care to mention, where the most creative thing I did was to create a sexy top line for job adverts! Since moving to Devon, I set up my own business offering virtual administration and recruitment services, worked for an accommodation company and am currently moonlighting in the local bookshop…
 Also, COYS, Cats, Metal. Underneath this preppy exterior beats the heart of a rock chick.
Website: www.juliearcherwrites.com
Facebook: www.facebook.com/juliearcherwrites
Twitter: @julieoceanuk
***
Thanks for a great blog Julie. Good luck with your first book!
Happy reading,
Jenny x