I'm pleased to welcome another first time blogger to my site today! The wonderful Sophie Croft is here to tell us about her debut novel, Indigo's Dragon.
Over to you Sophie…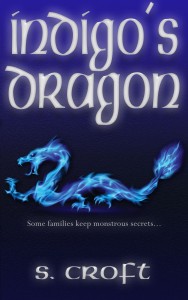 Thank you, Jenny, for hosting my first ever blog. I am delighted to be here, talking about my debut novel Indigo's Dragon.
I thought I would start by answering the five questions I have most frequently been asked since the publication of Indigo's Dragon.
What age range is the book for?
I don't like this question! When asked it, I generally do one of two things:
Plunge into a ramble about the evils of the age banding of books (I just did, and had to delete it before it filled the whole of my first blog with that one topic).
Say 'around 9-14', and then suggest the book might be enjoyed by both younger and older readers too. After all, I think people of all ages can appreciate the delights of getting lost in a fantasy adventure with a few dragons and monsters …
What's the book about?
Monsters, dragons … a boy called Indigo who goes on a journey and discovers some truths about his family that change him forever.
What inspired you to write it?
Lots of different things. In particular …
Fairy tales. Especially Polish ones, and especially the Dragon of Krakow.
Walking with my children in the beautiful valley in the Lake District where we live; telling stories along the way, finding evidence of monsters, and dragon lairs.
My son's love of even the most deadly creatures. For example, on reading about the cockatrice and its death darting gaze, he said it was 'cute' and that he would like one as a pet.
How do you find the time to write?
It is difficult. I have two young children who I home educate, and I also work from home as a tutor. Basically, I write whenever I can! I take ten minutes here … an hour there. Some of the early drafts of Indigo were written in pencil, in a notebook, by the side of the river while my children splashed in the water. I write when the children are playing contentedly, when they are watching a movie, or sleeping. Some days I get nothing done, other days I do. But I keep trying, because I love to write.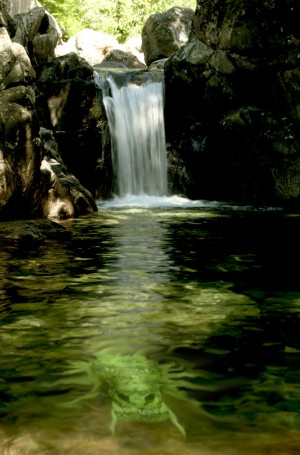 A Lake District dragon, hiding in one of my favourite writing spots.
(I must credit www.seenicksphotography.co.uk for this beautiful photograph)
How did you get published?
I sent Indigo's Dragon to three carefully selected agents listed in the Writers and Artists Yearbook. Although one of them had some very positive feedback, they all eventually said something along the lines of 'after careful consideration we are not able to offer you representation'. By the time the third rejection arrived I was already deeply involved in writing another book, and I shelved Indigo and almost forgot about it.
Then I heard Accent Press were starting a brand new YA imprint (YA Café) so I sent Indigo off, and a few days later I received a wonderful e-mail which began 'Hi Sophie, I've read Indigo's Dragon and I really enjoyed it!'
***
Having answered the questions I am most frequently asked, I would like to finish off by answering five questions I would much rather be asked:
Do you believe in dragons and monsters?
Yes, absolutely. Don't you? Scientists estimate that over 80% of species are still undiscovered, and that is just on this planet …
Have you ever seen a dragon or a monster?
I saw them more often when I was younger, and my children see them more than me.
Are there many dragons in the Lake District?
Yes, several, although there are more in the Polish mountains.
Doesn't the world have enough stories about dragons?
No. There can never be enough stories about dragons.
What are you writing now?
The third Indigo book. I finished writing the sequel, Indigo's Demons, just before Christmas (hopefully it will also be published soon!) and have just started a third book, which might be called Indigo's Ocean or Indigo's Depths and will contain a sea monster or two. Writing it is proving to be a great way to relive some of the scuba dives I did in my youth. And on that note, I shall get back to work …
Indigo's Dragon Synopsis:
Fans of How to Train your Dragon, Harry Potter, and Percy Jackson will love the debut novel Indigo's Dragon, a tale of adventure, mystery, and a legendary trip where he encounters a monster or two …  Indigo lives in the Lake District, and spends his time exploring the mountains he loves. An unexpected parcel arrives containing a first aid kit inside his grandfather's satchel. Indigo's curiosity is raised as he looks through his grandfather's notebook to discover drawings of mythical creatures.  Strange things begin to happen and Indigo finds himself treating an injured magpie-cat, curing a cockatrice of its death-darting gaze, and defending a dragon. Indigo realises he must uncover the secrets his family have kept hidden, and travels alone to the Polish mountains to search for his grandfather and the truth.  Danger looms as events spiral out of control, and Indigo needs to make choices that change him, his world, and his future forever…
Sophie Croft's Biography:
Croft was born in Swansea, and spent much of her youth exploring the beaches on the Gower peninsula, looking for evidence of sea monsters.  At Liverpool University she studied prehistoric monsters, amongst other things, and learned to Scuba Dive (so she could continue searching for sea monsters under the waves).  She worked as a Geologist (investigating underground monsters), before becoming a Science Teacher (to seek out and educate young monsters).  She now lives in the Lake District with her family, where she walks the fells and canoes the lakes, searching for monsters and other wildlife.
Links:
Indigo's Dragon on Amazon:
http://www.amazon.co.uk/Indigos-Dragon-S-Croft-ebook/dp/B00PG0JZWI/ref=sr_1_1?ie=UTF8&qid=1415789684&sr=8-1&keywords=indigos+dragon
Sophie Croft on Facebook:
https://www.facebook.com/Author.S.Croft
Sophie Croft on Pinterest:
http://www.pinterest.com/0ecqplpit8red42/
//www.pinterest.com/0ecqplpit8red42/
****
Many thanks Sophie- what a fantastic blog! I firmly believe in dragons!
Happy reading,
Jenny xx