I'm delighted to welcome a great writer, and my good friend, Rachel Brimble to my blog today.
Why not grab a cuppa and a slice of cake, and join us for a chat?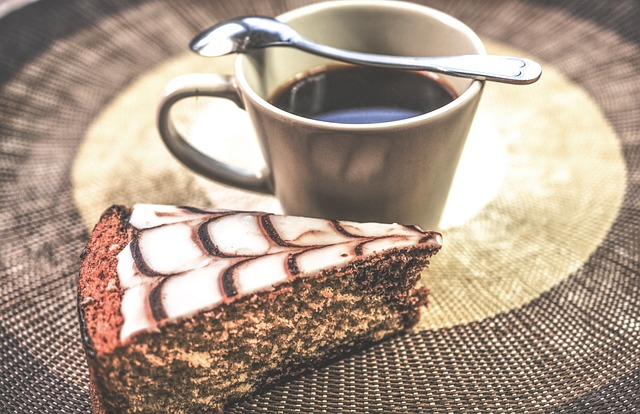 What inspired you to write your book?
It feels like forever since I've wanted to write a book against the backdrop of women's suffrage, but the character I needed to drive the story continued to elude me. Then, during the writing of THE MISTRESS OF PENNINGTON'S (book 1 in the series), a secondary character pushed herself forward. Very soon I knew Esther Stanbury was the woman I'd been waiting for and she quickly became the heroine for book 2, A REBEL AT PENNINGTON'S.
What type of research did you have to do for your book?
I read a LOT of books on women's suffrage, social and expectation of women in the early 20th century and also looked anywhere and everywhere for real-life women who made profound changes at the time. It wasn't long before I discovered some amazing stories and, after attending several talks on the fight for the Vote, I was pumped up and ready to create a heroine I hoped readers would find as inspiring as they will entertaining.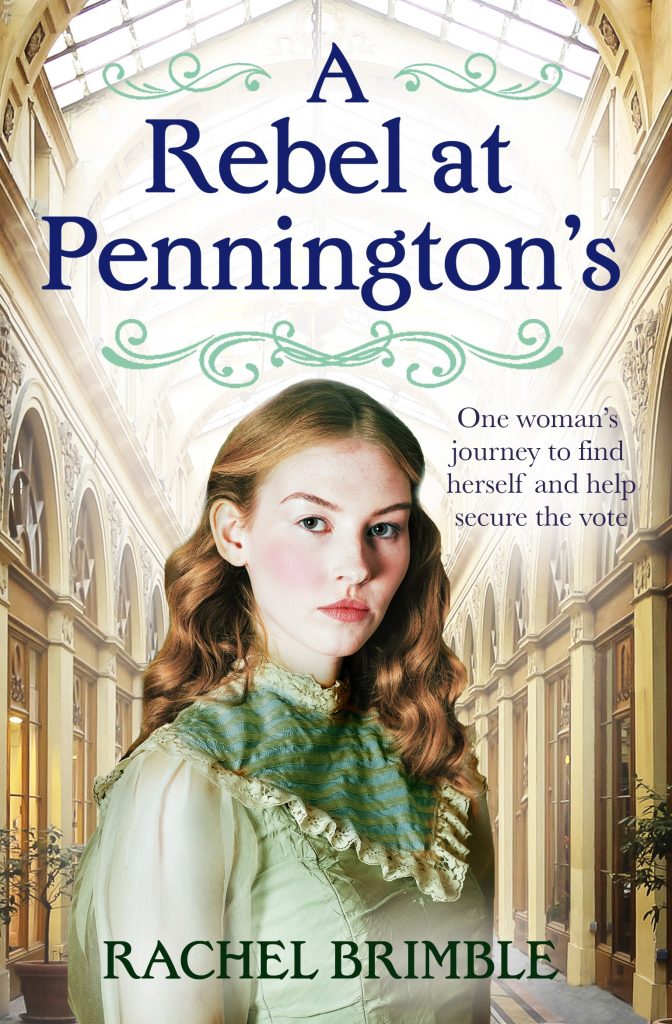 Which Point of View do you prefer to write in and why?
My preferred POV is third person and allowing the hero and heroine alternating scenes. As a reader, I like to be able to read characters as though I'm watching them – third person POV gives the freedom to consider so much more than first person when you are completely embedded in one character's mind. With third person, the author can give a wider view of what is going on around the character as well as within.
Do you prefer to plot your story or just go with the flow?
I am most definitely a plotter. I usually start each book with a setting and an issue I want to explore. Then I use character sketches to create my hero, heroine and villain (if I have one) and uncover their goals, motivations and conflicts. I then write a short paragraph for each chapter which leads me to write a rough 3-4 page synopsis.
Then comes the first draft, which I write from beginning to end without looking back – the hard part comes in the following drafts!
What excites you the most about your book?
The series theme is 'female empowerment' which is something that endlessly excites me! I love seeing women grow and push themselves forward; making a difference in their own lives and others' lives. In A REBEL AT PENNINGTON'S, I have created a cast of women fighting to make a difference that will impact women for generations. It must have been an exciting, empowering time, but also a challenge with consequences that could prove dangerous, if not fatal. If putting yourself on the line in the name of change isn't empowerment, I don't know what is…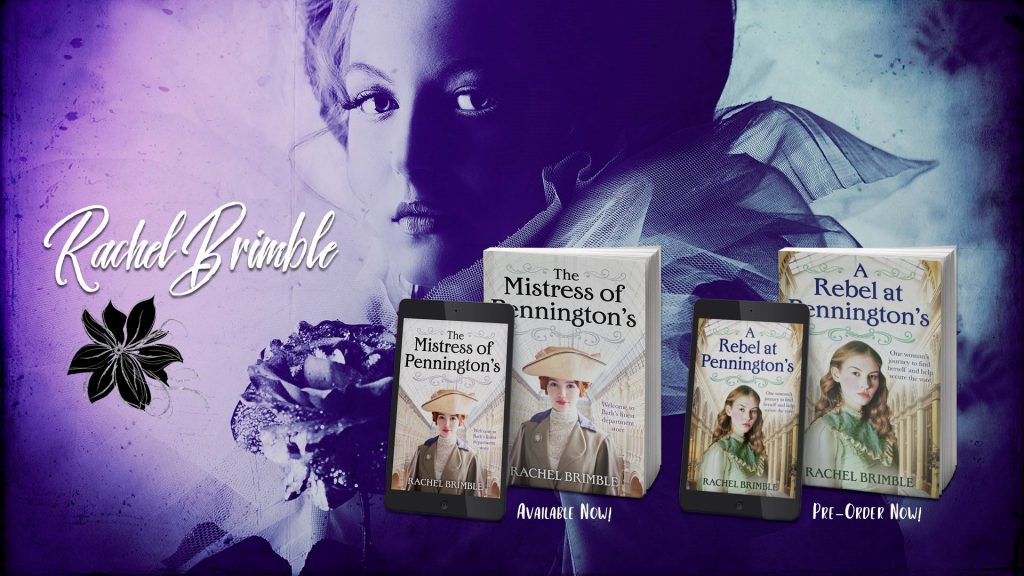 Blurb 
A REBEL AT PENNINGTON'S – out Feb 5th. Preorder today!
One woman's journey to find herself and help secure the vote. Perfect for the fans of the TV series Mr Selfridge and The Paradise.
1911 Bath. Banished from her ancestral home, passionate suffrage campaigner, Esther Stanbury works as a window dresser in Pennington's Department Store. She has hopes and dreams for women's progression and will do anything to help secure the vote.
Owner of the prestigious Phoenix Hotel, Lawrence Culford has what most would view as a successful life. But Lawrence is harbouring shame, resentment and an anger that threatens his future happiness.
When Esther and Lawrence meet their mutual understanding of life's challenges unites them and they are drawn to the possibility of a life of love that neither thought existed.
With the Coronation of King-Emperor George V looming, the atmosphere in Bath is building to fever pitch, as is the suffragists' determination to secure the vote.
Will Esther's rebellious nature lead her to ruin or can they overcome their pasts and look to build a future together?
Extract
Esther's heart skipped a beat as Lawrence Culford crossed the street towards her, his gaze on hers, seemingly oblivious to the passing horse and carriage that separated them for a brief second. He was alone. No children to act as a barrier or distraction should he look at her for too long with his deep blue eyes.
Eyes that were maddeningly memorable.
She swallowed against the sudden dryness in her throat. What was he doing here? Could he be looking for her? The sentiment sent a shiver through her which she wasn't certain derived from pleasure or alarm.
Turning to the window, she quickly feigned intense interest in her notes, hating the slight tremor in her pencil.
'Miss Stanbury?'
She briefly closed her eyes against the warming effect of his deep, rich voice before turning, her smile in place. This man should not have such control of her faculties.
She turned. 'Mr Culford. No children today?'
'Alas, Nathanial is taking a trip to the park with his nanny, and Rose is at school.'
'So, you find yourself in town. Might I ask, for business or pleasure?'
'Business. I'm a hotelier.'
'Yes, I know.'
'You know?'
Heat pinched her cheeks for so willingly admitting she'd learned more about him than he'd previously offered. 'Yes, Elizabeth… Miss Pennington knew of you when she saw you the other day.'
He drew his gaze over her hair and face. 'I see.'
'Yes. I'll leave you to carry on. I'm sure you're just as busy as I am.'
But Mr Culford continued unperturbed. 'Did you grow up in the city?' he asked.
A little taken aback that he'd so quickly moved to the personal, Esther hesitated but conceded answering his question could do no harm. 'No. I grew up in the Cotswolds but moved here about two years ago.'
'Then that's another thing we have in common.'
She frowned. 'Another? I wasn't aware there was a first.'
His eyes gleamed with that infernal spark of amusement. 'But, of course.'
Pulling back her shoulders, Esther regarded him with suspicion. 'Which is?'
'The Cause, of course.'
She exhaled. 'Oh, yes. Of course. You never told me your role in the fight. Are you a campaigner?'
'More of a supporter. I help as and when I can.'
'I see.' Although a little disappointed he didn't play a more active role, Esther nodded, pleased he was at least on the women's side. 'Well, we could most definitely use more men behind us.' She glanced towards Pennington's doors. 'I'm afraid I really must get back to work, Mr Culford.' She stepped back. 'If you'll excuse me…'
As she turned, he gently clutched her elbow. 'Miss Stanbury, I…'
Her heart raced at the contact and when she looked into his eyes, she saw what could only be described as over-interest. What did he want with her? Worse, why was he having such an alien effect on her? No one had ever made her feel such confusion or interest.
She eased her arm from his grasp, the indecision in his gaze rousing her self-protection. 'Why are you here?'
'That is a question I am scrambling to answer myself. In all honesty, I don't know, but I do know it feels right to be here. Talking. With you.'
Time stood still as their gazes locked and Esther's body heated under the sudden sombreness of his gaze. He smiled so often, his eyes lighting with amusement and humour, yet both had now disappeared as he considered her.
And, in that moment, she had no idea which of the two sides of him she preferred.
***
Buy Links:
Amazon UK: http://amzn.eu/d/aMjIi3K
Amazon US: http://a.co/d/dAhCQiZ
Barnes & Noble:
Kobo: https://www.kobo.com/gb/en/ebook/a-rebel-at-pennington-s
Google Play: https://play.google.com/store/books/details/Rachel_Brimble_A_Rebel_at_Pennington_s?id=r5RtDwAAQBAJ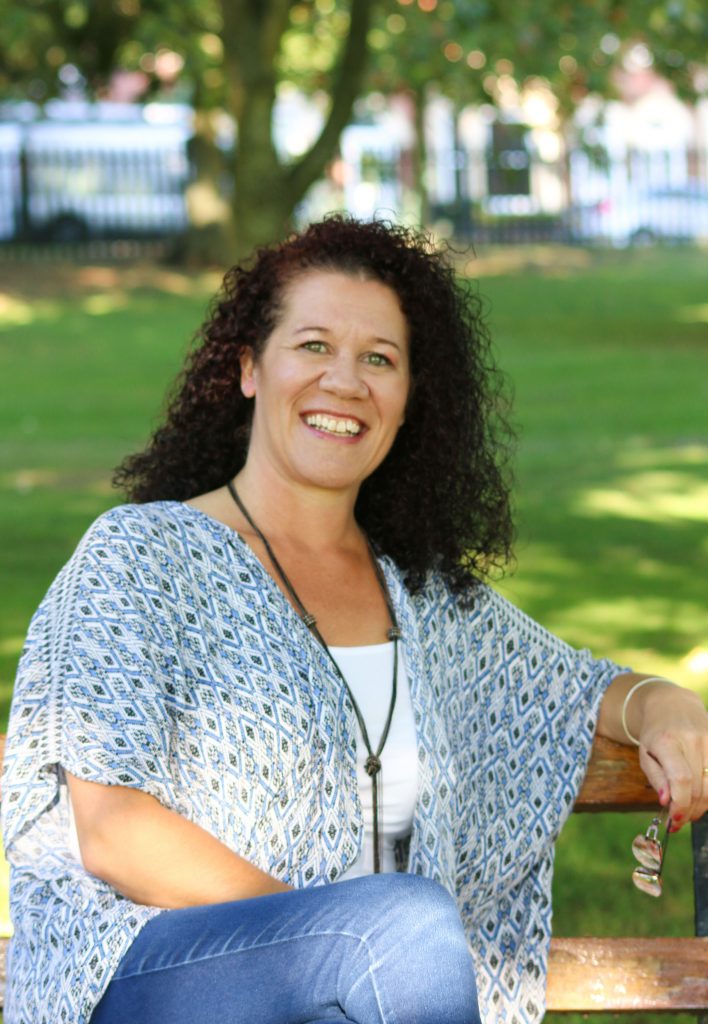 Bio
Rachel lives with her husband and their two daughters in a small town near Bath in the UK. Since 2007, she has had several novels published by small US presses, eight books published by Harlequin Superromance (Templeton Cove Stories) and four Victorian romances with eKensington/Lyrical.
In January 2018, she signed a four-book deal with Aria Fiction for a new Edwardian series set in Bath's finest department store. The first book, The Mistress of Pennington's released July 2018 with book two coming February 2019.
Rachel is a member of the Romantic Novelists Association and Romance Writers of America and has thousands of social media followers from all over the world.
Links
Website: https://rachelbrimble.com/
Newsletter: https://us12.list-manage.com/subscribe?u=ab0dc0484a3855f2bc769984f&id=bd3173973a
Blog: https://rachelbrimble.blogspot.com/
Instagram: https://www.instagram.com/rachelbrimbleauthor/?hl=en
Facebook: https://www.facebook.com/rachelbrimbleauthor/
Twitter: https://twitter.com/RachelBrimble?lang=en
***
Great interview! Thanks for stopping by Rachel.
Happy reading everyone,
Jenny xx