The final book in my 'Another Cup of…' series
Another Glass of Champagne
is now available for pre-order!

So the process is almost complete!! From that first 'Novel progress blog' when I began to draft out my chapter plan for Another Glass of Champagne, we are almost there! The pre-order facility is up on Amazon, I can show off the cover, and I can begin to share a few hints about what Amy, Jack and Kit have been up to since you last saw them. But the novel isn't finished yet!
There is still one vital task for me to do before I hand the book over to the printers. Although the editors proofs have been tackled, I still need to check over the printer proof to make sure all those naughty little typos are eliminated. Of course this is not an exact science! I'm only human, I miss things. Also- printers these days often use predictive text- so that can cause a few extra errors to appear despite our best efforts to stop them!
In the meantime….
Here's the blurb!!
A warm-hearted, contemporary tale about a group of friends living in a small corner of busy London, by bestselling author Jenny Kane.
Fortysomething Amy is shocked and delighted to discover she's expecting a baby – not to mention terrified! Amy wants best friend Jack to be godfather, but he hasn't been heard from in months.
When Jack finally reappears, he's full of good intentions – but his new business plan could spell disaster for the beloved Pickwicks Coffee Shop, and ruin a number of old friendships… Meanwhile his love life is as complicated as ever – and yet when he swears off men for good, Jack meets someone who makes him rethink his priorities…but is it too late for a fresh start?
Author Kit has problems of her own: just when her career has started to take off, she finds herself unable to write – and there's a deadline looming, plus two headstrong kids to see through their difficult teenage years…will she be able to cope?
A follow-up to the runaway success Another Cup of Coffee.
***
Another Glass of Champagne will be released on 9th June!!! You can pre-order it on from all good book retailers, including-
http://www.amazon.co.uk/s/ref=nb_sb_noss?url=search-alias%3Daps&field-keywords=Another+Glass+of+Champagne+Jenny+Kane
http://www.amazon.com/s/ref=nb_sb_noss/188-7813436-7626710?url=search-alias%3Daps&field-keywords=Another+Glass+of+Champagne+Jenny+Kane
It isn't vital to have read the previous four stories (especially the Christmas novellas), but if you want to read the very beginning of Amy, Jack and Kit's story, you can find it here-
Another Cup of Coffee –mybook.to/cupcoffee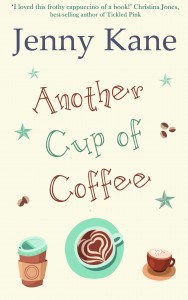 Happy reading!
Jenny x