Yippee!!! Ryan and I have written our second children's book
OUT NOW!!
Ben's stomach won't stop rumbling in the middle of the night. As he lies in bed, Ben begins to plan how he can secretly sneak a biscuit from the biscuit tin.
But Ben is only seven, and rather short, and the biscuit tin is hidden at the very back of the highest shelf of the tallest cupboard in the kitchen. Working out how to reach the tin is going to take a lot of imagination…string, tape, springs, and maybe even some stilts…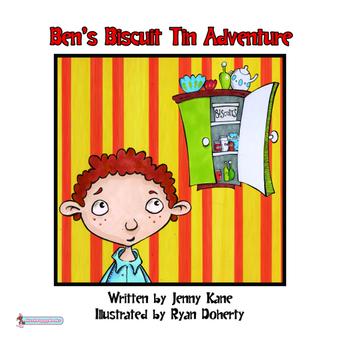 Ben's Biscuit Tin Adventure was inspired during my time baby sitting (well, child sitting really), for my best friend's two boys, Ben and Daniel.  The lengths they'd go to in their attempts to persuade me that they really were allowed extra biscuits before bed could have won an Oscar!
As with There's a Cow in the Flat, Ben's Biscuit Tin Adventure has been illustrated by the brilliant Ryan Doherty. I just love how he has brought my characters alive.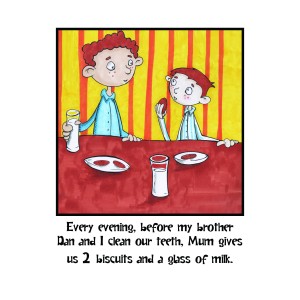 Many thanks to Ryan, and to Hush Puppy Books for helping turn Ben's Biscuit Tin Adventure into a 'reality.'
You can order your copy of Ben's Biscuit Tin direct from Hush Puppy Books, or via Amazon at-
http://www.amazon.co.uk/Ben-s-Biscuit-Tin-Adventures/dp/1610982142/ref=sr_1_1?s=books&ie=UTF8&qid=1438324164&sr=1-1&keywords=Ben%27s+Biscuit+Tin+Adventure
http://www.amazon.com/Ben-s-Biscuit-Tin-Adventures/dp/1610982142/ref=sr_1_1?ie=UTF8&qid=1438324466&sr=8-1&keywords=Ben%27s+Biscuit+Tin+Adventure
***
Happy bedtime story reading,
Jenny xx