Another Cup of Coffee, the first in a series of stories about the regular customers and staff of the Pickwicks Coffee Shop in London, is  ONLY 99p or 99c.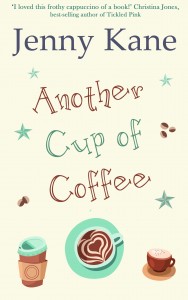 "As uplifting as an espresso, as light as a skinny latte – I loved this frothy cappuccino of a book!" – Christina Jones
Blurb-
Thirteen years ago Amy Crane ran away from everything she knew, ending up in an unfamiliar city with no idea of her future. Now, Amy's past has caught up with her, arriving on her doorstep in the shape of an old music cassette that Amy hasn't seen since her university days.
It's time to confront the real reason Amy left, time to reconnect with all those she left behind and time to stop running…but most of all it's time to discover why Jack has sent her tape back, after all these years…
With a bucket-sized cup of coffee, Amy prepares to go forth and lay the ghost of first love to rest…
***
Here are some of the kind things people have said about Another Cup of Coffee…
I did develop a borderline caffeine addiction whilst reading this but, thanks to the great storyline, it's totally worth it!
The characters seem so real. It was as if I have known these characters and actually lived their story right along with them.
A good story of real people. It has light humorous moments and piquant passages.
"Another Cup of Coffee" is definitely refreshing…'
You can buy Another Cup of Coffee for only 99p or 99c via these links-
***
Happy reading everyone,
Jenny xx