I'm delighted to be able to announce that Autumn Leaves at Mill Grange – the second novel in the #MillGrange series – is now available in paperback!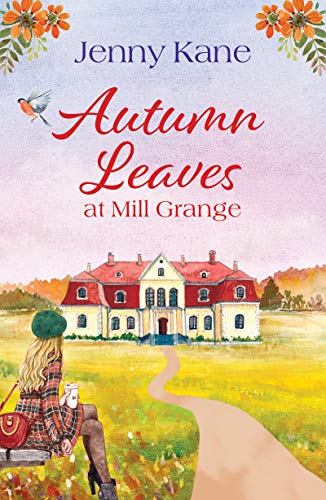 Blurb
'I am a big fan of Jenny Kane' Katie Fforde.
At Mill Grange, the work – and the fun – never stops! As autumn brings coolness and colour, change is in the air for all at the manor…
Sam Philips' time in the forces changed him forever. Supported by his friends, Sam is keen to help make beautiful Mill Grange a safe retreat for injured army personnel… but his crippling claustrophobia means Sam is living in a tent on the grounds! Enlisting the help of charming village stalwarts Bert and Mabel Hastings, Tina Martins is determined to find a way to help him conquer his fears. But why does she feel like he is keeping a secret?
After discovering evidence of a Roman fortlet on the manor's grounds, Thea Thomas is thrilled at the chance to return to her archaeological roots and lead the excavation. She spent the summer with handsome celebrity archaeologist Shaun Cowlson – but now he's off filming his Landscape Treasures show in Cornwall, and Thea can't help but miss his company. Especially as someone else is vying for his attention…
Welcome back to Mill Grange and the beautiful village of Upwich, full of larger-than-life characters you can't  help but adore.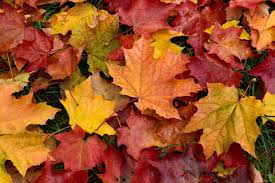 REVIEWS
Feeling rather humbled…. amazing review for Autumn Leaves at Mill Grange over on the Ginger Book Geek blog!!
"…'Autumn Leaves At Mill Grange' is extremely well written and I can't believe that I have left it this long to discover how fantastic an author Jenny Kane is. She grabs your attention and draws you into the story. You then end up becoming that wrapped up in each character and their story that you couldn't stop reading even if you wanted to. Jenny has one of those writing styles that is easy to get used to and easy to get along with. In fact reading one of Jenny's books seems more like a chat between friends than reading an actual book. I felt as though I was part of this story which is all down to Jenny's characters and her fantastic, realistic and very vivid storytelling…." Ginger Book Geek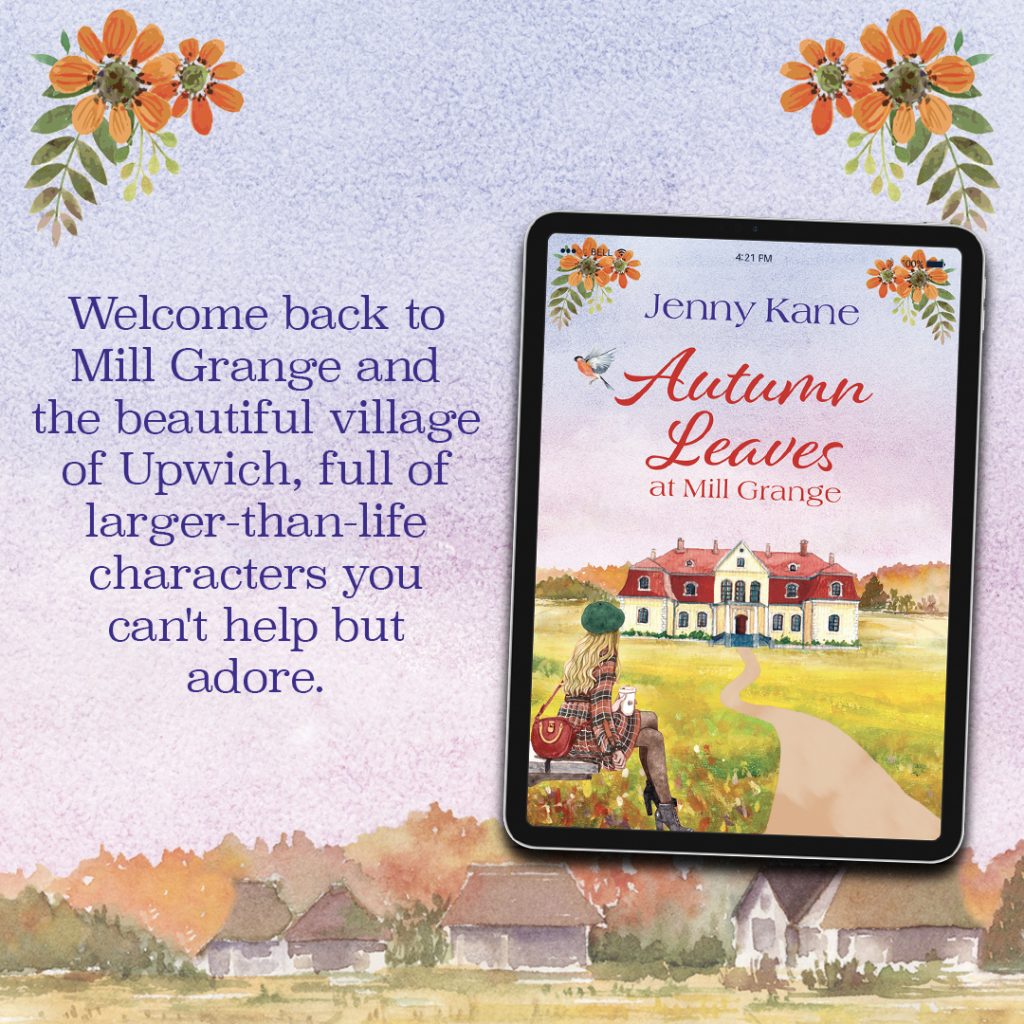 "I absolutely loved this story about two archaeological sites, both country house based and two couples and being a huge Time Team fan enjoyed the filming element and subsequent tensions associated with this in the story. Shaun is presenting archaeological shows for filming and is close friends with Sam who has bought a country house which he hopes to use for recovering ex army traumatised people where they can relax, participate and join in the archaeological discovery of a Roman site, unusual for Cornwall. There is jeopardy all round – the young Sophie whose crush on him threatens Shaun's relationship with Thea. There's Sam who has a huge phobia about entering buildings and sleeps in a tent outside. Tina whose story I very much enjoyed is working on her relationship with Sam. The story follows many twists and turns as there is a race against time and a competitive film company pitching to film at Mill Grange. Even so all is not what it seems. Will Sam overcome his phobia,; will Sophie see sense; can Thea untangle mysterious occurrences ; will the filming happen at Mill Grange. As in Shakespeare there's a long way to go before all falls into harmony and the read to find out what happens is compulsive. I highly recommend this start to a new series from Jenny Kane. The plotting and characterisation is flawless."  Netgalley 
"…This is such a lovely novel, and a perfect sequel to Midsummer Dreams at Mill Grange. I love the setting of Mill Grange, and it was such a treat to return there to learn more about these characters. Sam is a fascinating character and whilst his situation is difficult, watching him work to overcome his problems is inspiring, particularly while he works hard to help others in similar situations. The change in Tina was also lovely to follow, as she finds her way in a new relationship, particularly one which comes with issues.
I am more than happy to recommend this novel, but it would be a shame to read just Autumn Leaves at Mill Grange, so grab yourself a copy of Midsummer Dreams at Mill Grange too!"  Chapter and Cake 
"It was lovely to be back with all the familiar characters and to meet a few new ones as well…. As before (Midsummer Dreams at Mill Grange), the archaeological aspect adds a lot of interest- so much so that I totally believed in the two digs. You get to find out a little more about Sam's family in this book and see how he is coping with his PTSD and claustrophobia. With a gorgeous setting and a cast of well- established characters, this is a great sequel although it could be read as a standalone. There is still potential for a return trip so here's hoping!" Books, Life and Everything 
"…This instalment has been a delight to read. The writing style of the book flows well and you can almost smell the scent of autumn dripping from each page…" Coffee and Kindle Book Reviews
"…What Kane has done here is brought in the archaeological moments and friendships (along with hiccups to work out along the way) and added new people into the mix, changing dynamics while pushing our main characters forward in their growth. With the addition of Helen, opportunities to use archaeology and the tasks required are highlighted for the veterans coming to Sam's program while money woes, a new employee, a new batch of chickens to mix with Tony Stark's crew and some lovely moments featuring the wise words of a five-year old boy bring us to new opportunities, new hopes and plenty of smiles all around.  A lovely foray into friendships, romances, the steady if not always forward progression of overcoming limitations and trauma, and plenty of laughs and advice from unlikely corners, I can't wait for the next installment. " I am Indeed
"…Quite often when you read a sequel to a book you've particularly enjoyed, it doesn't match up to your expectations. I'm happy to say that wasn't the case here. ALAMG was just as good as the original and I loved the way it moved the relationships between the main characters forwards. Yes, there is still the RomCom traditional 'all is well' ending and there is still the idea of getting everyone happily paired off (or at least with the hint that certain people will get together in the next book!), but as with MDAMG, there is that deeper element that brings a touch of realism to the books. In Autumn Leaves, the reader is shown that happy endings don't come about by chance, they have to be worked for – people have to grow and develop together and even the nicest people make silly mistakes (but these can be forgiven). The characters are developed further and given more depth – we find out more of their back story and we see the reasons for their insecurities (and these are very real things I could identify with). There is more history and more archaeology and I can't wait for more of the series!"  R E Loten 
***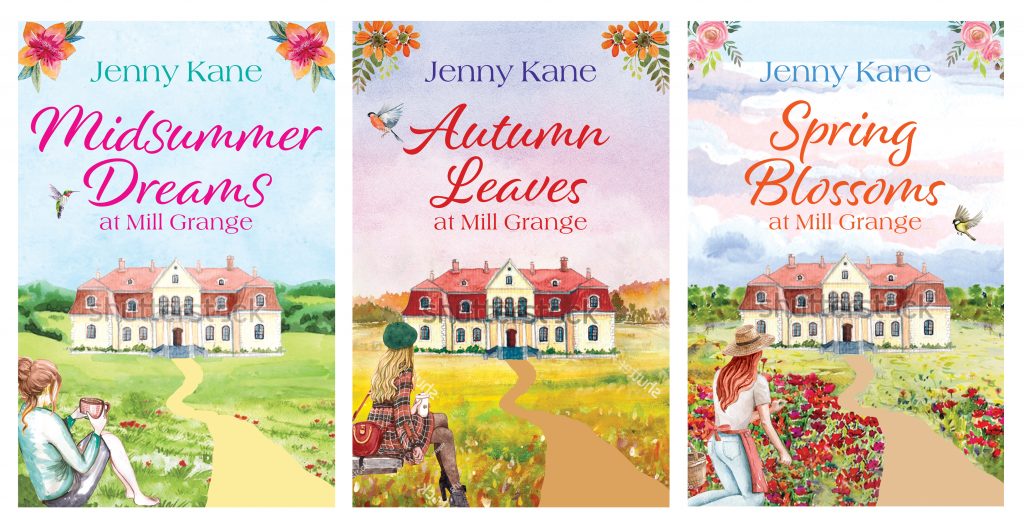 You can now but Midsummer Dreams at Mill Grange and Autumn Leaves at Mill Grange in either paperback- or as ebooks- from Amazon and all good retailers. Spring Blossoms at Mill Grange will be published in March 2021.
Happy reading, 
Jenny xx