Followers of this blog will know that I very rarely review books here. Every now and then however, a book comes along that I loved so much, I simply have to share!
(I should point out, I do review all the books I read – but anonymously via Amazon etc)
The book in question is Fyneshade by Kate Griffin. (published by Viper Books)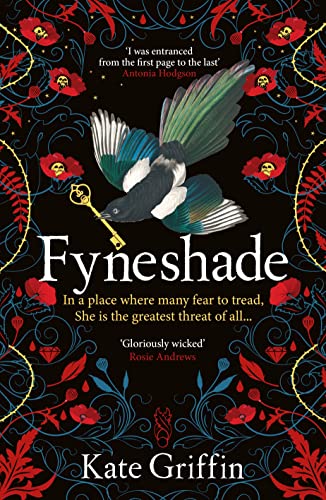 Blurb

Many would find much to fear in Fyneshade's dark and crumbling corridors, its unseen master and silent servants. But not I. For they have far more to fear from me…
On the day of her beloved grandmother's funeral, Marta discovers that she is to become governess to the young daughter of Sir William Pritchard. Separated from her lover and discarded by her family, Marta has no choice but to journey to Pritchard's ancient and crumbling house, Fyneshade, in the wilds of Derbyshire.
All is not well at Fyneshade. Marta's pupil, little Grace, can be taught nothing, and Marta takes no comfort from the silent servants who will not meet her eye. More intriguing is that Sir William is mysteriously absent, and his son and heir Vaughan is forbidden to enter the house. Marta finds herself drawn to Vaughan, despite the warnings of the housekeeper that he is a danger to all around him. But Marta is no innocent to be preyed upon. Guided by the dark gift taught to her by her grandmother, she has made her own plans. And it will take more than a family riven by murderous secrets to stop her…
*A SUNDAY TIMES HISTORICAL FICTION BOOK OF 2023*
'Ingenious' – THE TIMES
'A dark, inventive story' – SUNDAY TIMES
***
Every year I save one or two books that I'm desperate to read – and keep them until I have a holiday. As holidays are rare things in my life, that can mean I sit on a longed for book for ages sometimes. Fyneshade was one such read – it had pride of place on my to-read pile for way too long!
I was fairly confident I'd enjoy the book before I started. Kate's 'Kitty Peck' series is so fabulous, that as soon as I heard she had a new book out, I was determined to read it.
Fyneshade, however, is no Kitty Peck mystery – this is something else entirely, and comparisons would be foolish – beyond them all being well written.  ( The Kitty books, along with Fyneshade, are total must reads for any writers who wish to conquer the skill of the first person tale. Kate nails it!)
Marta – our lead character – is refreshingly different. She is likeable – but totally unlikeable all at once. And she is certainly compelling. It's been some weeks since I finished reading the book, and I still can't decide if I warmed to her or not – but I do know I'd read more about her at the drop of a hat.
Mrs Gurney (a character who I loved – and not just because she has the same surname of one of my best friends) was an enigma from the start – and it was a joy discovering her motivations as the tale unfolded.
Grace however, was the character who stole the show for me. With so much going on behind her often closed face and knowing stare, she was simply fascinating. But I'm not going to say in what way – just as details about the men in the story will not appear in this review – for anything I might say would most definitely ruin your read.
The star of the piece, however, is the house itself. Fyneshade. Tucked away in the heart of Derbyshire, I swear I could hear it's walls thinking as Marta and Grace explored and exploited its secrets. And it has many secrets… and each one of those secrets seems to contain a secret of its own.
If you like gothic reads – this is a must.
Happy reading,
Jenny x