It is with great pleasure that I welcome Caroline MacCallum to my site today. Caroline is here to give us a delicious taster of her very first romance novel, Seeking Perfection, so grab a cuppa and settle down for a read.
Over to you Caroline…
Seeking Perfection
By Caroline MacCallum
Thank you for hosting me today, it's great to be here. Since completing a creative writing course several years ago I've enjoyed immersing myself in my imagination and the world of romantic fiction. Seeking Perfection is my second novel and tells the tale of a personal shopper who has grand plans to become a bridal wear designer. It's full of sassy characters, hilarious exploits and of course a gorgeous hero. Here's a bit more about it, and just so you know, it's available for pre-order at the super-low price of just 99c/99p.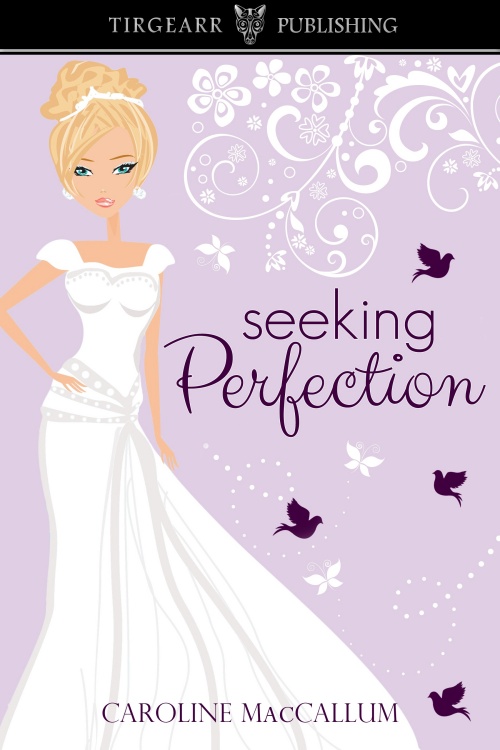 Back Cover Information
Emily Beach has a passion for wedding dresses—not wearing them, but designing them. She's hitched her wagon to the stars and has grand plans to become the brand brides rush to when seeking perfection on their big day.
Until that happens, she's working at a swanky London boutique. Her days are a whirlwind of wealthy, eccentric customers, and crazy, sex-mad colleagues. When dashing yachting-mogul millionaire, Henry, sets his sights on her, she gets a taste of the finer things in life, as he sails straight into her heart.
But does Henry really understand her need for independence, and her fierce determination to make it on her own? And did he ever really know her if he thinks she wants him to pull strings to get her on the first rung of the ladder? With the meddling of her wacky, energetic friends, she soon finds the answers to all of these questions, but are they the answers she wants?

Excerpt from Chapter One…
"There's so much sex around here."
"I beg your pardon?" Emily Beach wondered if she'd heard her new colleague correctly.
"Sex, so much. Here. It's in the air." Ralph flung his arms up and waggled his fingers. "Think of it as sparkling dust. Whoever it lands on wants to get laid or is getting laid. Can you handle that?"
Sparkling sex dust? What the hell kind of place have I come to? "Well…I guess so."
"Good, you'll fit right in then. That's your desk over there. We haven't got much space, but we've made the best of it. Go and get settled." He slammed his hands onto his waist, cocked his hips and grinned. "Oh, and welcome to On Trend. May your time here be truly happy, prosperous and utterly satisfying, darling."
"Er, thank you."
"I've got to dash, so sorry." Ralph glanced at his rose-gold watch. "I have a nine o'clock; don't you just hate them? Inconsiderate wealthy people make me sick. Shouldn't they all be in bed sleeping off champagne hangovers, or polishing their private jets?" He blew Emily a kiss, then strutted away, his neon-blue crocodile shoes tapping on the wooden floor.
Emily watched him leave.
Is he for real?
Head spinning from the fast-paced encounter, she turned and saw the only free desk was the one nestled in the corner of the fourth-floor office. It was next to a window, and past several chimney pots she could just make out the tips of the trees in Hyde Park. The only trouble was, the desk was flooded with white-hot sunlight. Soon she'd have damp patches on the underarms of her silky navy-blue blouse—which was a shame, as she'd spent a considerable amount of time planning the perfect outfit for her first day and she hadn't intended on looking like she was stomping through the rainforest.
She set her faithful black leather Gucci bag on the desk and shrugged out of her blazer. Luckily, the window had a latch, so she reached upwards, opened it and let in a cool breeze.
"Hey, you must be Emily."
A pretty girl with a long, curly blonde hair, heavy makeup and wearing a candy-pink and white striped dress smiled at her.
"Yes, hi."
"So glad you're here, I can't begin to tell you. I'm Sandy, by the way."
"Nice to meet you, Sandy."
Sandy perched on the side of the desk in front of Emily's and folded her  arms. The action pushed her ample breasts upwards, almost to overspill point. "I've been saying to Matt for yonks that we need another personal shopper. It's all well and good having cashiers, stock managers and those people who do the sums at the end of the month, but it's personal shoppers that sell the big-name stuff. We're the fashionistas, we give the customers not just what they need, but what they want, we rake in the big bucks and we do it with flair and style."
"Yes, I suppose so." Emily paused. "And I'm glad you did—persuade him to take on more staff, that is. I was ready for a change."
"Oh, why's that then?"
Emily shrugged. "I'd been at Harrods for two years, it was time to move on—and to be honest, the hours here will suit me better." Dropping ten hours a week meant Emily would have a couple of mornings to work on her own designs. They were beginning to sell now she'd set up a website showcasing her work, and word of mouth was spreading, but she didn't mention this fact to Sandy.
"Ooh, la, la, Harrods! Is it really a den of bitching and incest?" Sandy rubbed her hands together and widened her eyes.
Emily laughed. "No, not at all, it's very professional. A wonderful place to work."
"And for monumental shopping sprees," Sandy said. "So what department were you based in?"
"Bridal, but I went to women's wear if they were short, and I did men's suits for a while too."
"There's no shortage of men here looking for cool clothes to wear to the races, on their yachts, or to wow in the boardroom whilst haggling over their billions." Sandy sighed. "Shame most of them are too old, ugly or fat to make the clothes hang like they should. It's like dressing up a pork pie sometimes— no amount of garnish is going to disguise that artery-clogging layer of lardy gloop around the centre."
Emily held in a shocked gasp. Sandy was obviously, like Ralph, the sort of person to just say it how it was. Already she couldn't wait to tell her best friend Lynne all about her first day, and she'd only been on the premises ten minutes. "I guess as long as they feel good. That's the main thing."
"Oh yes, they always feel good when I've finished with them. I'm the queen of flattery. I could make a sloth feel like Naomi Campbell and a platypus feel like David bloody Gandy."
Emily giggled. The office time at On Trend was going to be entertaining if nothing else. It may only have an eighth of the floor space that Harrods had, but still, it would make up for it in the shock factor.
***
Pre-Order now for just 99c/99p

About Caroline MacCallum
Caroline lives in the UK and uses her many years working as a nurse for inspiration when it comes to creating characters. She enjoyed walking her dog, cooking and painting when she has time. Look out for her YA novel Gabriel's Angel which has a swathe of 5* reviews.
***
Thank you for such a great sneak peek of your novel! I wish you every success.
Happy reading,
Jenny xxx