We ae taking a step into the world of John Mayer today, with a look at his series, The Parliament House Books.
Why not grab yourself a cuppa, put your feet up and settle down for a read?
Over to you John…
Firstly, please allow me to say how refreshing it is not to be answering the same questions as I normally do for these things.
Well, I'm John Mayer and I write The Parliament House Books. Why? The honest answer is that having lost the community into which I was born and then lost the one where I grew up, both to City Hall ordered demolition I hoped I would find that sense of community in Parliament House; which contains the Scottish Faculty of Advocates. I didn't. Instead, I found what Lord McEwan called 'a nest of vipers'. So, in what I think is typical form for me, I created the community I wanted to live amongst. You might say that creating The Parliament House Books was, for me, a kind of necessity. It's certainly a community I enjoy being amongst.
During my twenty years as an Advocate in the Supreme Courts of Scotland, having written legal text books, journal articles and been published in non-fiction hardback, I thought I could simply start writing fiction. I figured that I had many transferrable skills. After all, when writing complicated legal arguments, you only get one chance to get it right in court. So, having been very successful in my written practise and being very persuasive in oral argument, I'd be an immediate success with The Parliament House Books. Right? Wrong!
I went through two editors and a couple of thousand pounds in trying to learn. What I discovered was that – as the Chinese say about lawyers – if you started in London and laid all the editors in the world end to end, they'd never reach a conclusion. So I took what I thought were the best bits of their advice and just began to write just for myself. I quickly learned that, as with giving love and affection, if you try too hard, it comes out wrongly. You firstly have to feel that honest deep-down feeling and then find a way of bringing it to the surface. Then comes the difficult bit: imparting it in a way that makes the receiver feel that your passion is offered solely for them. That private feeling of connection between author and reader is what makes people keep turning pages.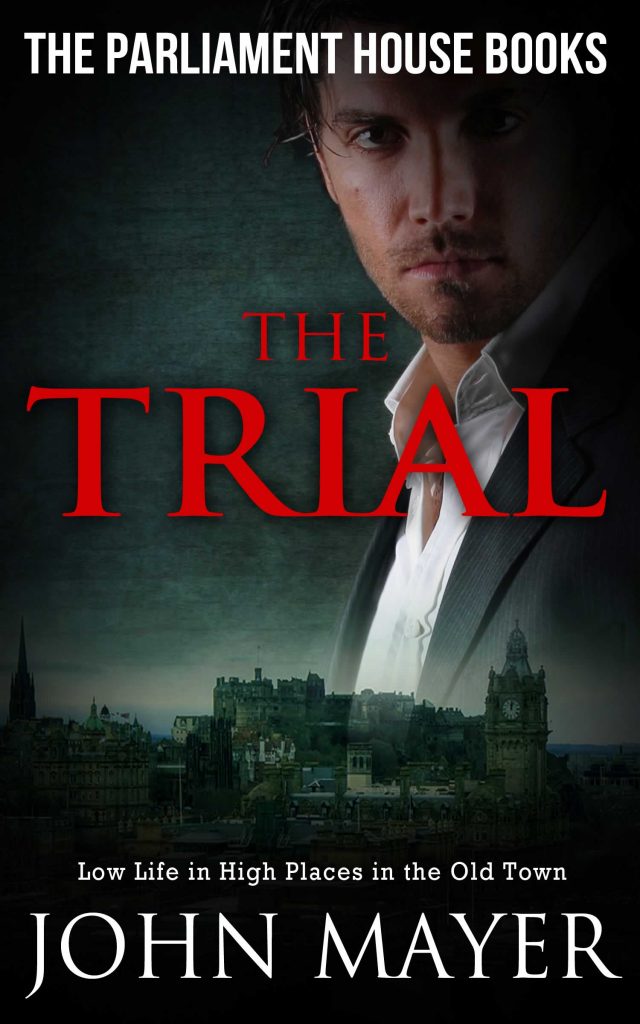 As I've deepened and developed my writing skills, I've also learned something of vital importance. That is never to think that my words are chiselled in stone. As I've become a better writer, I've gone back to the three prequels and the first novel in the series and re-written certain parts. I like that Amazon gives those who've bought an earlier edition the chance to get the later one free. I've had people write to me and say they were in tears when reading the changes. That's the phenomenon I was talking about earlier: the private connection between author and reader. It's very intimate and thus very delicate. It's a privilege to connect with readers to that depth.
Well, I guess it's time to talk about the characters who populate the pages of The Parliament House Books. Despite Brogan McLane being a Glaswegian like me, and despite being an Advocate in Parliament House, he as the central character, isn't me. McLane's blood brother, Big Joe Mularkey, is also fictional; though he is based on someone whom I know very well. Some characters however, are real, though I lost touch with them many years ago. There is a real Tucker Queen and a real Arab. In the second novel The Order, I had permission to use a real character who is a young blue-haired beauty whose abilities with all things digital are second to none. There is a character which I very much enjoy writing and which is real. I say which and not whom because the character is a place and not a person: it's the Calton Bar. I see the Calton Bar as the focal point of the community called The Calton in Glasgow. It's – to coin a phrase from the 90s – a place where everybody knows your name and they're always glad you came. Many reviewers have said the price of the book is worth paying just for the parts in that Bar.
I once wrote elsewhere that 'Justice is not automatic. It usually has to be won and often hard won.' That is not perhaps how we'd like the world to be, but it's certainly how it is. It is the purpose of lawyers and courts to bring that justice to those to whom it rightfully belongs. When that purity of purpose is usurped, then injustice arrives on the coldest of all possible cold winds. That wind rips through people's lives and often kills them. I've seen it happen many times. On the first morning of a court case that may have taken four or more years to get to the door of the court, clients often said to me 'Well Mr Mayer, do you think we'll get our justice?' I'd have to remind them of what I said at the beginning of their case: 'If you want justice, the church is down the street. Here in Parliament House you get your legal warrior against their legal warrior. Now keep calm and let me do battle.'
Court battles where the judge favours one side, the behind-the-scenes wriggling of The Crown Prosecution Office, the way old school ranks can close in the blink of an eye, the way personal agendas often take precedence over sworn oaths, all lead to injustice and despair. There's plenty of injustice to be found in The Parliament House Books, but there's a brighter side too. Especially that camaraderie found in the Calton Bar amongst people who've known and trusted each other all their lives. And of course, there's the joy of winning when you've been on the side of the righteous.
I hope you enjoy your visits to my world called The Parliament House Books.
***
The Trust   
Amazon.com   https://www.amazon.com/dp/B0 756K8X5P      http://tinyurl.com/yd3p7q dg

Amazon.co.uk  https://www.amazon.co.uk/dp /B0756K8X5P
The Bones      
Amazon.com   https://www.amazon.com/dp/B01 N7DKA2Q   http://tinyurl.com/y7c4rso y
 Amazon.co.uk https://www.amazon.co.uk/dp/ B01N7DKA2Q   
The Order      
Amazon.com   https://www.amazon.com/dp/B 013YKCAV4   http://tinyurl.com/y8xabkm w
Amazon co.uk https://www.amazon.co.uk/Orde r-Urban-Scottish-Crime-Parliam ent-ebook/dp/B013YKCAV4
The Trial       
Amazon.com https://www.amazon.com/dp/B00 SYZRN12  OR  http://tinyurl.com/ydbkojj t
Amazon.co.uk  https://www.amazon.com/dp/B0 0SYZRN12
The Prequels
The Cross       
Amazon.com               https://www.amazon.com/dp/B00 Y4GRAUE
 Amazon.co.uk            https://www.amazon.co.uk/dp/B 00Y4GRAUE
The Cycle         
Amazon.com            https://www.amazon.com/dp/B0 0XVOGI5S
Amazon.co.uk          https://www.amazon.co.uk/Cycl e-second-prequel-Parliament-Ho use-ebook/dp/B00XVOGI5S

The Boots
Amazon.com           https://www.amazon.com/dp/B00 YBSXB76
Amazon.co.uk         https://www.amazon.co.uk/dp/B 00YBSXB76
All Three Prequels
Amazon.com    https://www.amazon.com/dp/B06 VSSQBKM  OR  http://tinyurl.com/yaqbkco w
Amazon.co.uk  https://www.amazon.co.uk/dp/B 06VSSQBKM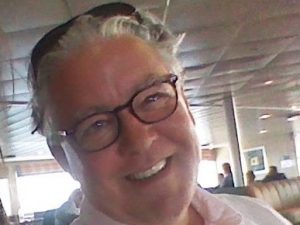 BIO
John Mayer was born in Glasgow, Scotland, a war-zone where violence and poverty reigned. In 1963 when he heard The Beatles on Radio Caroline, he decided to change his life. Aged 14 he left school because, in his opinion, he wasn't being taught. For the next year, in all weathers, he cycled 9 miles to and 9 miles from the Mitchell Library in central Glasgow where he devoured books of all kinds and began to understand what more the world had to offer. He became an Apprentice engineer, and soon was teaching men twice his age. In the early 1970s his love of music led him to set up as a Record Producer. He built his own record company trading in 14 countries. After a disheartening court battle with global giants, he left the business world and went back into further education at the University of Edinburgh, becoming an Advocate in the Supreme Courts of Scotland. There he acted for the downtrodden and desperate as well as Greenpeace International. His specialism was in fighting international child abduction.
John has written non-fiction, legal texts and articles; broadcast to tens of millions of people on US and UK radio, appeared on TV and in print media.  Since retiring from the Law, John has enjoyed using his years of very colourful experience to create The Parliament House Books series.
The Trial is the first full length novel in this series. Set in Edinburgh and Glasgow, it is more than a nod to Franz Kafka's book of the same title. The Trial sees crusading Scottish Advocate, Brogan McLane, fight injustices so casually delivered by Low Life in High Places in the Old Town.
WEBSITE                         https://parliamenthousebooks. weebly.com/
TWITTER URL                 https://twitter.com/johnmay erauthor
FACEBOOK                     https://www.facebook.com/thep arliamenthousebooks/?fref=ts
JOHN MAYER AUTHOR PAGE     https://www.amazon.com/author /jmayer
Author page on Goodreads   http://tinyurl.com/glay5ou
***
Many thanks, John.
Happy reading everyone,
Jenny x