For the past 5 months, my colleagues and I have been working our little socks off, so that we can bring you another brilliant book event.
Tiverton Literary Festival, 8th-12th June 2016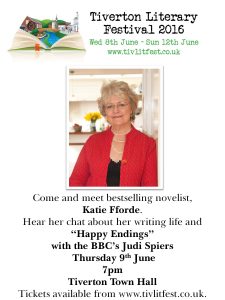 Our line up  includes worldwide best selling author, Katie Fforde,
Michael Jecks, Katie Griffin, Ruth Ware, (a stunning trio of best selling crime writers),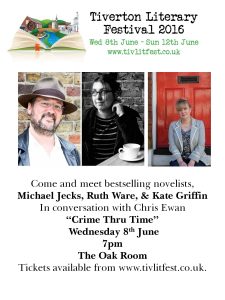 and Jonathan Green (Dr Who fans DO NOT MISS THIS).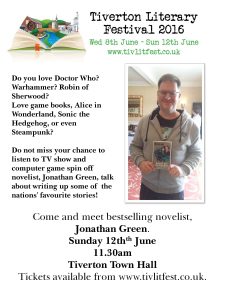 Not forgetting, Kate Lord Brown (with a brilliant writing masterclass); Marissa Farrar (back with her Self Publishing Workshop by popular demand), historian, writer, and radio presenter, Suzie Grogan; Rough Guide Writer and novelist, Rebecca Hall; renown journalists Fasial Islam and Alex Sehmer; novelist Laura Wilkinson and myself, talking about writing without agents or big publishers, and much much more!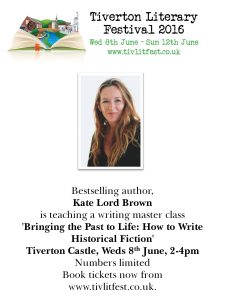 On the Saturday (11th June, from 10am) we will be wandering through town with our children's story trail. There will also be an authors' market in the grounds of St George's Church, Fore Street, Tiverton; where writers can sell their books, sign, and chat to the public and each other. If you would like to reserve one of these tables (free of charge) please contact me via info@tivlitfest.co.uk to reserve your space.
All the details about the events, and the link to buy tickets, are on the website- www.tivlitfest.co.uk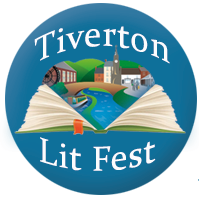 I would recommend securing those tickets very soon. Especially for the workshops, the tea with Michael Jecks and myself, and the 'Real Life of an Erotica Author' evening, as places are limited…
See you there!
Jenny x