I'm delighted to welcome Virginia King to my site. Today she is kicking off her 'Quirky Guest Post Blog Marathon' tour, with a wonderful blog- A Banquet of Consequences.
Over to you Virginia…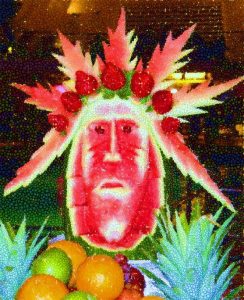 Everybody, soon or late, sits down to a banquet of consequences. – Robert Louis Stevenson
This metaphor is chillingly accurate when it comes to life – each human action is not without its outcomes, foreseen or unforeseen, and often there's a collision as they all come together with a bang.
It's the same with the characters in a novel – and the reason I used Stevenson's quote as the epigraph to my psychological mystery The First Lie.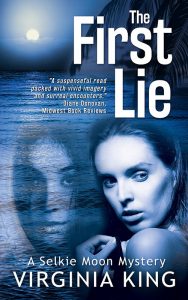 For writers, the process of playing with consequences is delicious. They may plan the outcomes before writing, but serendipity has a way of meddling with plans, or they may allow the consequences to unfold as they write, with all the unpredictability of real life.
The first step is to plant the seed. Movies are very good at this, every moment hinting at an outcome later in the film. These seeds might be:
An action
In the Grimm's fairy tale Rumplestiltskin a series of consequences befall the young woman after her father tells the King she can spin straw into gold.
In The Secret History by Donna Tartt, the disdain the main character Richard has for his working class background makes him obsess about joining an exclusive coterie of students and lie about his past. Lies are a powerful trigger for consequences. When he's accepted into this dysfunctional group he becomes implicated in a crime that cascades into a banquet of consequences.
A character trait
In Lawrence of Arabia, the first scene shows Lawrence putting out a lighted match with his bare fingers. When he's asked if it hurts, he replies that it's not whether it hurts that matters, it's minding whether it hurts that counts. This insight into his character is crucial to understanding the last scene in the movie – Lawrence's 'banquet'.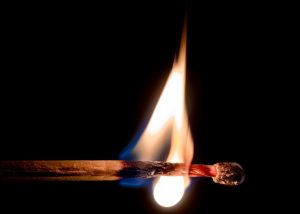 In Gone Girl by Gillian Flynn, Amy's inability to be 'real' – after her parents turned her into an effigy of their children's book character 'Amazing Amy' – leads to the chain of consequences that unfold.
An event
In the first scene in Hitchcock's Vertigo, the police officer played by James Stewart is involved in a roof top pursuit which leaves him with a debilitating fear of heights. The banquet of spiralling consequences throughout the movie result from his affliction.
In one of my favourite books, The Girl in a Swing by Richard Adams, the main character Alan Desland is involved in a psychic experiment as a teenager early in the book, leaving him so shell-shocked that he suppresses his psychic gift into adulthood. But when he falls in love with the enigmatic Karin, escalating psychic clues haunt him until they finally reveal a very dark secret.
An object
Objects can be very powerful, especially in folktales and mythology. In The Lord of the Rings there would be no story and no dramatic consequences without the ring.
In the children's book Dragonkeeper by Carole Wilkinson, a slave girl and an old dragon set out across China carrying a mysterious stone that must be protected. The stone carries all the consequences of their epic journey.
To Plan or Not to Plan
Sprinkling seeds in a manuscript – and not knowing their outcome in advance – can be serious fun. Some seeds are rich with promise. In The First Lie, my main character Selkie Moon hears a voice in a dream on page one that says: Someone is trying to kill you. I wrote the book not knowing what would happen at the end, but the warning planted the seed and drove Selkie's journey of discovery. In The Second Path, Selkie wakes to find she's collected seven objects in her sleep – a rock, a spoon, a message scrawled in lipstick … These objects lead her across the world like the path of crumbs in Hansel and Gretel's forest. In my mystery-in-progress, a mysterious parcel arrives from Selkie's great grandmother 35 years after her death … I'm writing my way towards that unpredictable banquet right now. Yum.
***
Blurb
The First Lie by Virginia King
Someone is trying to kill you. When Selkie Moon flees Sydney to start over in Hawaii, it's to live life on her own terms. But Life has other plans. Though she tries to dismiss the warning as just another nightmare, it soon becomes apparent that someone, or something, is stalking her. Attacked by frightening visions and mysterious compulsions, she must piece together the fragmented clues before time runs out. Virginia King effortlessly blends funky creativity and deep spirituality – with a dash of Celtic folklore – to craft a story of one woman's fight for truth, and her discovery that the lies we tell ourselves are the most dangerous of all.
***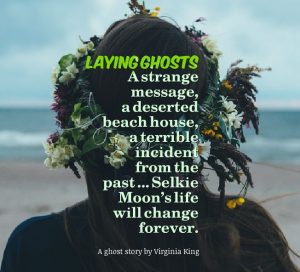 A Free Ghost Story
Get a taste for consequences with Laying Ghosts, a modern 24-page haunted house story inspired by a Russian folktale and tangled up in a murder ballad dating back to the 1700s. It's a standalone story but also a prequel to the Selkie Moon Mystery Series. Download your free copy http://www.selkiemoon.com/#popup
Giveaway of The First Lie
You could be one of ten lucky winners who will choose either a signed paperback or an audio book of The First Lie plus a $15 Amazon gift code. One grand prize winner will receive a $100 Amazon gift code.
Enter here: http://www.selkiemoon.com/win-a-signed-copy/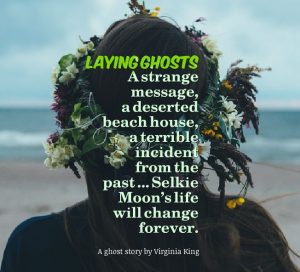 Website: http://www.selkiemoon.com/
Blog: http://www.selkiemoon.com/la-bloguette/
Facebook: https://www.facebook.com/selkiemoonmysteries
Twitter: https://twitter.com/selkiemoonbooks
All Retail Links Can Be Found Via-  http://www.selkiemoon.com/
***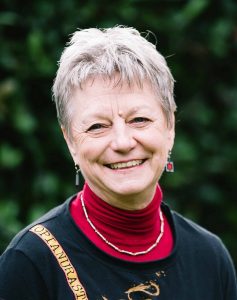 Bio
When a voice wakes you up in the middle of the night and tells you to write a mystery series what's a writer to do? That's how Virginia King came to create Selkie Moon, after a massage from a strange woman with gifted hands was followed by this nocturnal message. Virginia sat down at the keyboard until Selkie Moon turned up. All she had to do was jump, the first sentence said. Soon Virginia was hooked, exploring far-flung places full of secrets where Selkie delves into psychological clues tangled up in the local mythology.
Before Selkie Moon invaded her life, Virginia had been a teacher, an unemployed ex-teacher, the author of over 50 children's books, an audio-book producer, a workshop presenter and a prize-winning publisher. These days she lives in the Blue Mountains west of Sydney with her husband, where she disappears each day into Selkie Moon's latest mystery. Bliss.
***
Many thanks for stopping off on your tour Virginia!!
Happy reading everyone,
Jenny x