Greetings and many thanks to my hosts today, Jenny Kane. I appreciate the opportunity to swing by on my tour.  It's been a whirl wind so far and today is an even bigger day because… it's my Birthday! Head's up a lucky commenter will win all 3 of my releases, including my new book coming out on Friday. So be prepared to discuss.
Today, on this most awesome of days, I want to talk about Nikola Tesla and his amazing Tesla Coil. This bad boy served many purposes, and due to the unfortunate war waged on Tesla's technological advancements the only thing coils are used for today is entertainment.
At the height of their use the coils could be used for high voltage transfer, electrotherapy, x-ray generation and smaller versions were used in telegraph technology as well as other methods until the 1920s. Tesla himself was a true genius and if not for money-hungry ways of others I truly believe we would have seen wireless electricity. The idea is played with in the movie, The Prestige.
As for the entertainment aspect, Tesla Coils have been featured in the live-action movie The Sorcerer's Apprentice and in Nigel Stanford's music video Cymatics, which features more a variety of interesting science experiments and their influence by audio sounds. There are music groups who entertain with Tesla Coils and even a display presented at the music festival, Coachella, held in California every year.
My question for commenter's, who'd like to win all three of my books, are you fascinated by Tesla Coils? Have you ever seen one or is there another movie/music video with them? Tell me what you think about Tesla as well. His work fascinated me, though many still refute his accomplishments to this day as mere hype.
Cymatics Video: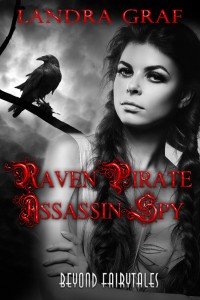 Book Blurb:
Once Upon A Time… 
Sorella Corvino lost her brother to The Cursed years ago. Sorella is so determined to find him, she'll make any deal, rescue the outcasts and those like him, and risk flying into any port to rescue him. When her latest pirate efforts partner her with a bounty hunter who's too charming, sexy, and handsome for his own good, she knows she's in trouble.
Ian Marshall no longer believes in fairy tales…
Disowned and a marked criminal in the United States, this merchant turned bounty hunter, is one bounty away from freedom; and freedom's price is handing over one person to the most cutthroat gang in the world, The Cursed. Yet, he can't get to them without Sorella's help. Too bad she's gorgeous, aggravating, and a little trigger happy.
As the attraction mounts, the danger grows and the pair find themselves invading a skin trader den, the ballrooms of dictator-ruled Germany, and fighting battles in the sky in the hopes of getting everything they want. Only thing they didn't plan on… falling in love.
About Author:
Landra Graf consumes at least one book a day, and has always been a sucker for stories where true love conquers all. She believes in the power of the written word, and the joy such words can bring. In between spending time with her family and having book adventures, she writes romance with the goal of giving everyone, fictional or not, their own happily ever after.
You can find Landra at: Twitter, Facebook, Pinterest, Website, Silken Sheets & Seduction, or Newsletter
GIVEAWAY!
Make sure to follow the whole tour—the more posts you visit throughout, the more chances you'll get to enter the giveaway. The tour dates are here.