This week I'm delighted to welcome Christina Jones to my site. 
Showing casing the first 500 words of her brand new novel, Summer at Sandcastle Cottage, today's Opening Lines forms part of Christina's blog tour.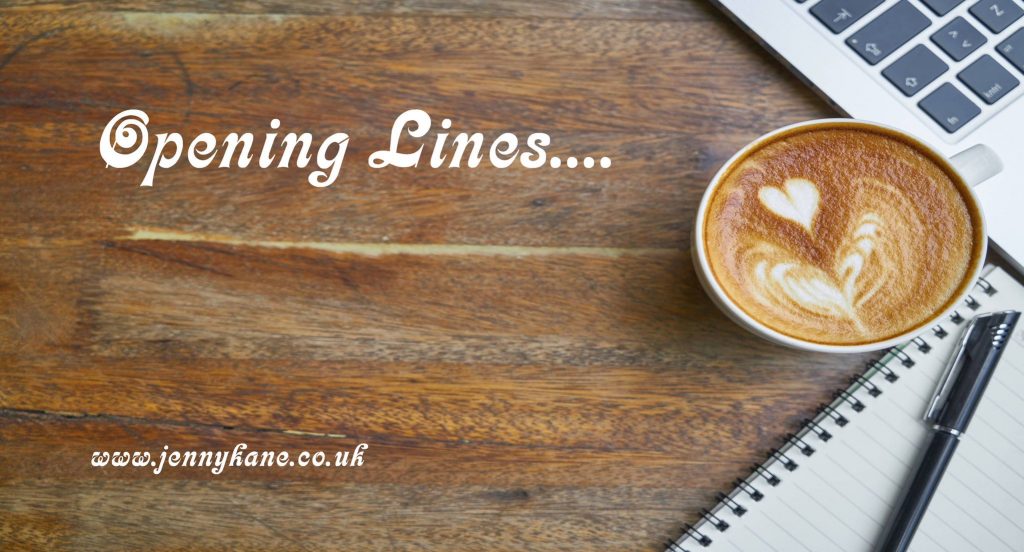 BLURB
After trials, tears and a torturous break-up, Kitty Appleby has finally found where she's meant to be. Tumbledown Sandcastle Cottage, in the delightful seaside village of Firefly Common, is home, and Kitty's eccentric band of friends and neighbours are enjoying a glorious summer.
There's just one tiny little problem. Sandcastle Cottage doesn't belong to them. And Mavis Mullholland, Kitty's landlord, is on her way home from her round-the-world cruise . . .
Kitty can't bear to lose the community that's welcomed her in. But secretly, she can't bear to leave Sandcastle Cottage without finding out more about the mysterious and enigmatic Vinny . . . Why can't she stop thinking about him, when she's faced with losing everything?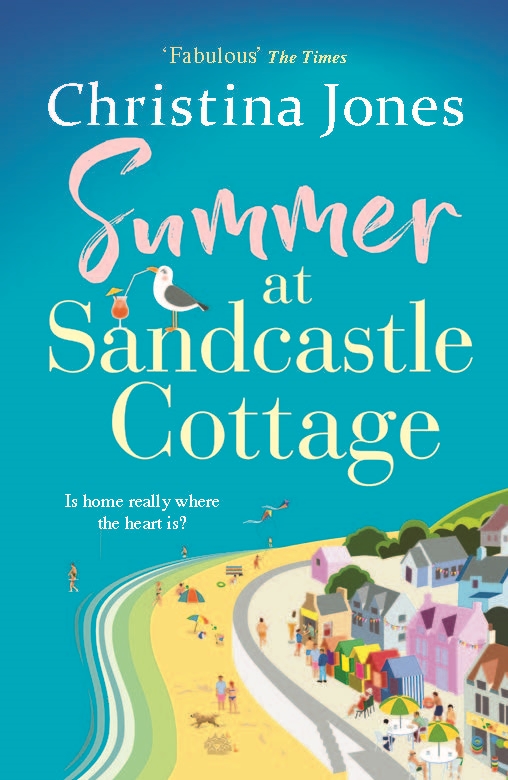 FIRST 500 WORDS
Chapter One
The thump of mail through Sandcastle Cottage's letterbox made Kitty jump. Despite living on the rural south coast for six months, she'd never quite got used to the early morning arrival of the post. When she'd lived in the centre of Reading's urban sprawl, letters had sometimes not been delivered until well into the after- noon. She blinked at her watch. Lordy – it wasn't even seven o'clock. An insane time for posties – or fish-restaurant waitresses for that matter – to be awake, not to mention up, dressed, and al- ready getting on with the day.
Kitty yawned and stretched. No doubt the post would just be flyers and junk mail as usual. Nothing important. She'd deal with it once she'd had a good shot of caffeine.
Still yawning, Kitty reached for the coffee jar, lazily watching the sun-dancing dappled patterns through the kitchen window as she spooned granules into her mug. It was another glorious morning in Firefly Common, heralding another scorching June day. And as she still had plenty of time to enjoy it before she had to leave for work, Kitty decided she would kill two birds with one stone and take her coffee out on to the porch, picking up the mail on the way.
Pushing her tangle of auburn-ish hair out of the way behind her ears, Kitty poured hot water into her mug. Then, closing her eyes, she inhaled the aromatic steam.
Bliss. Absolute bliss.
Her shift at the Silver Fish Bar didn't start until 11 a.m., but she loved the silence and solitude of these beautiful summer mornings and always made an effort to be first up. Much as she adored her housemates, Apollo and Jemini, they were both night owls by na- ture and both needed noise in the mornings to get going. So, before anyone else appeared and the radio bellowed rock 'n' pop and Apollo and Jemini sang along – or Peppa Pig squawked from the television to entertain Jemini's toddler daughter Teddy – Kitty made a point of savouring her first mug of coffee in blissful isolation.
Well, almost.
Hearing a familiar thud above her, then the thundering of eight massive paws on the stairs, followed by an excited scrabble of claws on the tiles, Kitty hastily put her mug down. She reached for the dogs' food bowls, and managed to fill them and get them on the floor just as brindle Zorro and black Honey rattled to a halt in the doorway. Then, with tails going like rotor-blades, they slithered at breakneck speed into the kitchen. Giving her their best big Staffie smiles they fell on their breakfast with joyous and noisy enthusiasm.
In the time it took Kitty to pick up her mug again, the food bowls were empty.
'Gannets,' Kitty said fondly, looking down at Zorro and Honey who were snuffling hopefully under their bowls, chasing them with slobbery joy across the quarry-tiled floor. 'No, you're not getting a refill. You're spoiled rotten as it is. We're…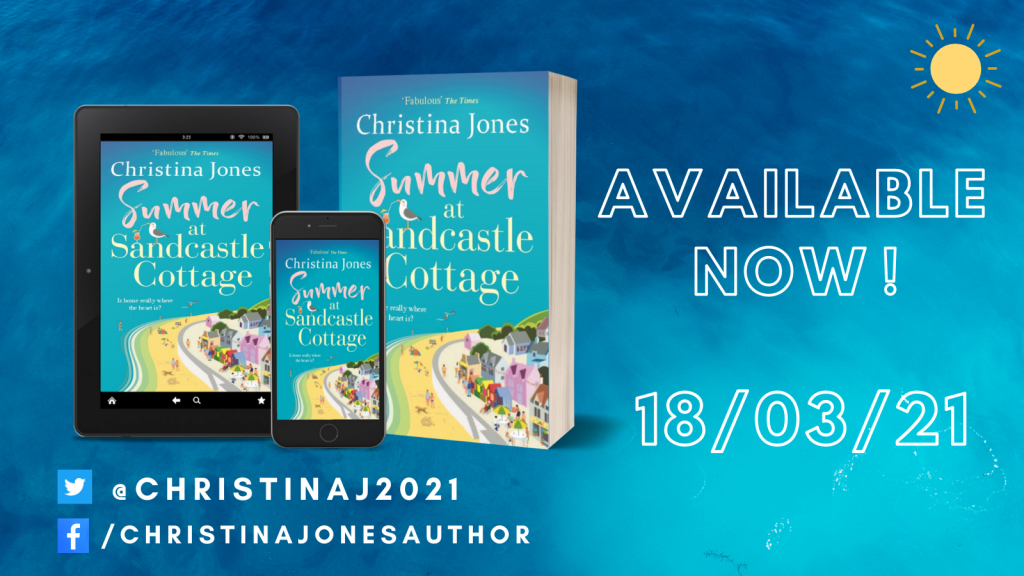 If you'd like to buy Summer at Sandcastle Cottage, you can order it here – https://smarturl.it/SummeratSandcastle
BIO
Christina Jones has written all of her life (as well as having millions of Proper Jobs including factory worker, secretary, nightclub dancer, blood donor attendant, barmaid, waitress, civil servant and fruit picker) Christina first had a short story published when she was just 14 years old. She has written for teenage and women's magazines – fiction and non-fiction – for a number of years, had her own humour column in The Oxford Times, and has contributed to national newspapers.
Many thanks to Christina for her opening lines. Don't miss any of the stops on the Sandcastle Cottage blog tour.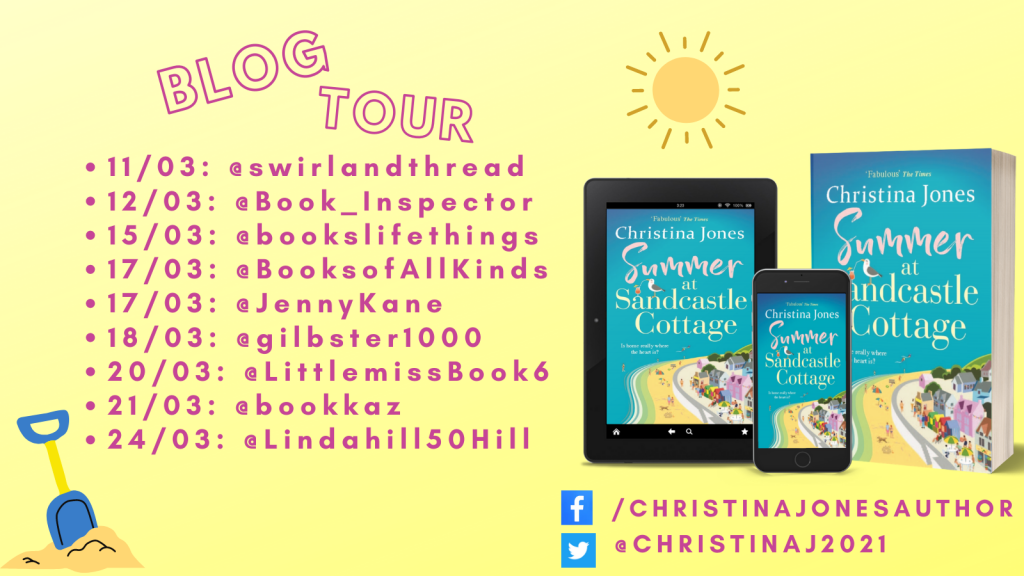 Happy reading everyone,
Jenny xx