If lockdown has taught us anything, it is just how important our friends are. Of all the things I miss while working alone in my shed or the deserted office over an empty café in town, the twenty minutes a day I spend every day at 8.30am with friends – during my daily writing break – is one of the biggest.
I'm lucky to spend most of my time tucked away in the land of fiction- and within that fiction, friendships are a very important feature – whether within the Another Cup of Coffee or Mill Grange series.

In my Cornish novels, Abi Carter, the heroine of A Cornish Escape and A Cornish Wedding, had slowly been alienated from all her friends by her husband, Luke. But Luke is gone now…
Blurb
'A summer read as scrumptious as its Cornish backdrop. Brilliant!' Nicola May
Perfect for fans of Jenny Colgan, Phillipa Ashley and Cathy Bramley, this summer romance is sure to warm your heart.
Abi's life is turned upside down when she is widowed before her thirtieth birthday. Determined to find something positive in the upheaval, Abi decides to make a fresh start somewhere new. With fond childhood memories of holidays in a Cornish cottage, could Cornwall be the place to start over?
With all her belongings in the boot of her car but no real plan, a chance meeting in a village pub brings new friends Beth and Max into her life. Max soon helps Abi track down the house of her dreams but things aren't as simple as Abi hoped.
Can Abi leave her past behind and finally get her happy ending?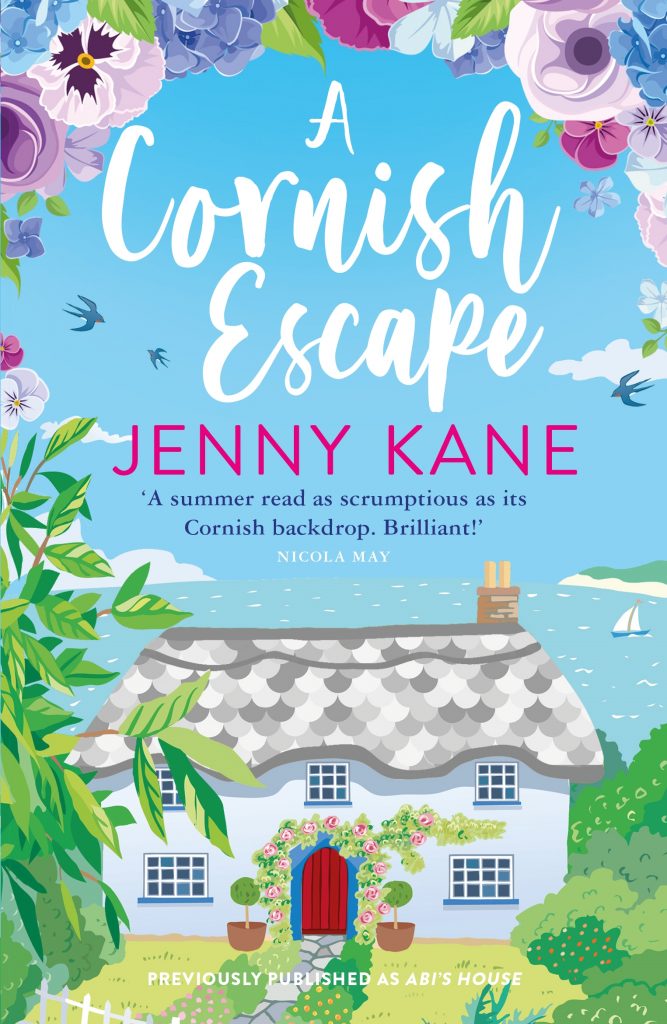 The friendships Abi makes within the novel are the pivots around which her new life in Cornwall really begins to take shape.
Chance meetings with painter and decorator, Max, and his best friend, Beth, are life changing moments for her. Suddenly, against the backdrop of beautiful Cornish scenery, she has a chance to visit new places, have new experiences, take control of her life and, most important of all, follow her childhood dream to search out Abbey's House. And just for once, she doesn't have to chase her dreams alone.
Here's an extract to whet your appetite…
The arrival of lunchtime menus on their tables made both girls simultaneously check their watches.
'Good heavens!' Abi couldn't believe it. 'It's twelve already. We've been chatting for two hours!'
It had been years since she'd had a proper conversation like that. A broad grin crossed Abi's face as she allowed herself to accept that she was already making new friends here. It was more than she'd dared to hope for.
Over their empty coffee cups, Abi had heard all about Beth's grandfather and the consequential lack of relationship opportunities beyond the occasional brief physical liaison since she'd moved in with him seven years ago. Beth had explained about how she'd not been able to face emptying the old cobbler's shop he'd left to her, but now she knew she couldn't put off making a decision about the property's future any more, she was torn between running it herself, or leasing the premises to someone else.
In return Abi had told Beth about how suffocated the business wives Luke had so approved of made her feel, and how their disapproval of her working and not just being the perfect wife had worn her down. Then, when Luke had died, the wives' inability to accept that Abi could look after herself, along with the attitude of Luke's family, had started to drive her mad.
'And that's why you came to Cornwall? To escape the Carter family and the wives of the county set?'
'That, and because I've always wanted to live here, ever since I was little.'
'Since you fell in love with Abbey's House?'
'Yes.' Not wanting to add that she also wanted to move far enough away from her old life as possible so she could escape, not only the ghost of being Luke's wife, but also to make some friends that had never met him, and hadn't known what she was like when she was with him. 'I guess it sounds a bit strange. Of all the places I could have decided to live, and I could literally go anywhere, that I have come here. But it just felt so much like the right thing to do.'
'Do you really have no idea where the house is?'
'To be honest, if my brother hadn't found an old photograph of it for me I'd have thought I'd been imagining Abbey's House. I haven't seen it since I was eight years old.'
'What happened after you were eight?'
'My father was promoted and we could afford to take holidays abroad. I was very lucky, I saw a great deal of the world, but nowhere's stayed in my heart like Cornwall has.'
Beth drained the dregs of her cold coffee. 'I don't suppose you have the photograph on you?'
'Stupidly I've left it in the hotel. I meant to bring it, but, well, to be honest I was a bit nervous about meeting you today. It might have looked a bit pushy if I'd brought it with me.'
Beth grinned. 'To tell you the truth, I was nervous as well. It's been a long time since I had a female friend.'
'Really?'
'I've always preferred male company. Women can be so darn catty. I don't have the time or the patience for it.'
Abi laughed. 'I can't argue with that!'
'So, it's called Abbey's House?' Beth looked thoughtful. 'I can't say it's a name I recognise off the top of my head, but I might when I see it.'
'Maybe if it hadn't been called Abbey's House I wouldn't have had a connection with it. A silly childhood ideal, perhaps. I always wondered if there was an old abbey or monastery around here that it was named after.
'More likely to be a family name. Maybe the Abbeys were a tin mining family or something? It could be worth having a dig into the local archives at the library.'
'That's a great idea, thanks, Beth.' Abi's confidence rose a notch as she watched a group of holidaymakers passed the window, 'I remember the house being at the end of a short row of houses. Terraced, stone built, and painted a creamy white colour. Although you can't see it in the photograph I've got, I'm fairly sure that when I was sat on my father's shoulders I could see the sea, but when I was stood on the pavement I couldn't see it, although I could hear it and smell the salty air.'
'Which probably means that it has sea views from upstairs, but not from the ground floor. That would place Abbey's House somewhere up the side of slope that forms the village, not at the bottom, nor the top. So I guess that narrows the hunt a little,' Beth smiled.
'I really should have brought the photo.'
'Never mind. Why don't I come back to the hotel with you later and take a peep? You never know, I might recognise it on sight.'
'Are you sure? That would be great. Thanks, Beth.'
'So if you find it, are you hoping to see a For Sale sign in the garden?'
Abi blushed. 'If I'm honest, I'd love it, but that might be a miracle too far…'
I hope you enjoyed that extract.  If you'd like to read on, then you can buy A Cornish Escape in either paperback or as an eBook, from all good retailers, including-
https://www.amazon.co.uk/Cornish-Escape-Jenny-Kane-ebook/dp/B0851927R4/ref=sr_1_3?dchild=1&keywords=A+Cornish+Escape+Jenny+Kane&qid=1586875747&s=books&sr=1-3
https://www.amazon.com/dp/B08739LQ25/ref=sr_1_1?dchild=1&keywords=A+Cornish+Escape+Jenny+Kane&qid=1586875948&s=books&sr=1-1
Happy reading,
Jenny xx