Hi, everyone! Thank you to Jenny Kane for having me on her site to talk about the mystery genre and writing – two subjects dear to my heart.
I think most of us have a special place for mysteries, whether that's watching "Sherlock" or reading "Gone Girl," which we're all hoping will be a kick-ass movie this year.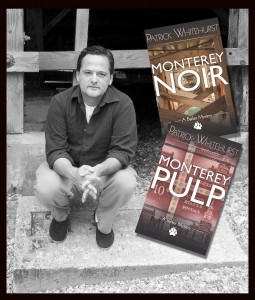 I got into mysteries in the 1970s as a kid, with "Columbo" and "The Rockford Files," then "Simon and Simon" and "Magnum P.I." in the 80s. From there I veered into print mysteries, where I fell in love with Sherlock Holmes and Poirot, then Sam Spade and Phillip Marlowe. Pulp novels quickly became a fascination with me, from Tarzan to The Shadow, and later with modern pulps like The Executioner, The Destroyer and the Nick Carter: Killmaster series.
These days I read nearly everything I can get my hands on, including favorites like Stieg Larsson and James Ellroy, and many, many others. And, while I get turned on by all of them, I've found many recent works lack a certain element of fun and, on top of that, a thrilling sense of adventure. I decided to change that when I sat down to write the Barker Mysteries.
Barker is sort of a blend of characters: Holmes meets Tarzan in a way – but he is a man with no memory of his past. He lives with a pack of dogs under Old Fisherman's Wharf in Monterey, California, and ends up in various situations, from kidnappings to murder plots and everything in between. More than anything, I wanted "Monterey Noir" and "Monterey Pulp" to bring readers into a world of adventure and intrigue, with a little romantic flair thrown in, and not leave them too "heavy" when it's over.
I also chose to make my lead character a homeless man in the hopes that I could present that segment of our population in a way that might surprise readers. I created a strong, handsome detective who lives on the fringes of society. He's a homeless man, but not someone to pity.
Both Noir and Pulp hit Amazon and other digital novel sites in 2013. Currently, "Monterey Confidential," the third entry in the series, sits on my desktop as a work in progress. Unlike the first two, which contain a number of short mysteries that connect to the larger story, Confidential will be a single, longer story that brings Barker face to face with a man from his cloudy past. He'll also leave his comfort zone of California, for the hot desert of Arizona.
And that's the great thing about mysteries, whether fun or heavy, the genre is wide open – and as popular as ever – something I should probably thank Benedict Cumberbatch for providing!
****
About Patrick Whitehurst
Patrick Whitehurst is an award-winning journalist, artist and author of the Barker Mysteries, first released in 2013 by Deerstalker Editions – a small press publisher based out of San Francisco.
Besides Monterey Noir and Monterey Pulp, he's written two regional non-fiction books for Arcadia Publishing in their Images of America series. His books, "Williams" and "Grand Canyon's Tusayan Village," focus on the rich history found in the two Grand Canyon gateway communities. His fiction has appeared in various anthologies and newspapers around the country.
Over the years, Whitehurst has served as president for the Northern Arizona Authors Association and worked as a book reviewer for Kirkus Discoveries.
Visit Patrick online at www.patrickwhitehurst.blogspot.com for his thoughts on writing, writers, excerpts, and more.
*****
Many thanks for coming to visit today Patrick!! I love that you love Columbo (one of my earliest TV memories) and Sherlock!! Gotta love a bit of Benedict!!
Happy reading,
Jenny xx