I'm thrilled to announce that the first three novels in The Folville Chronicles will soon be available as
an eBook Box Set!
The perfect way to binge read the series so far while I'm writing Book 4!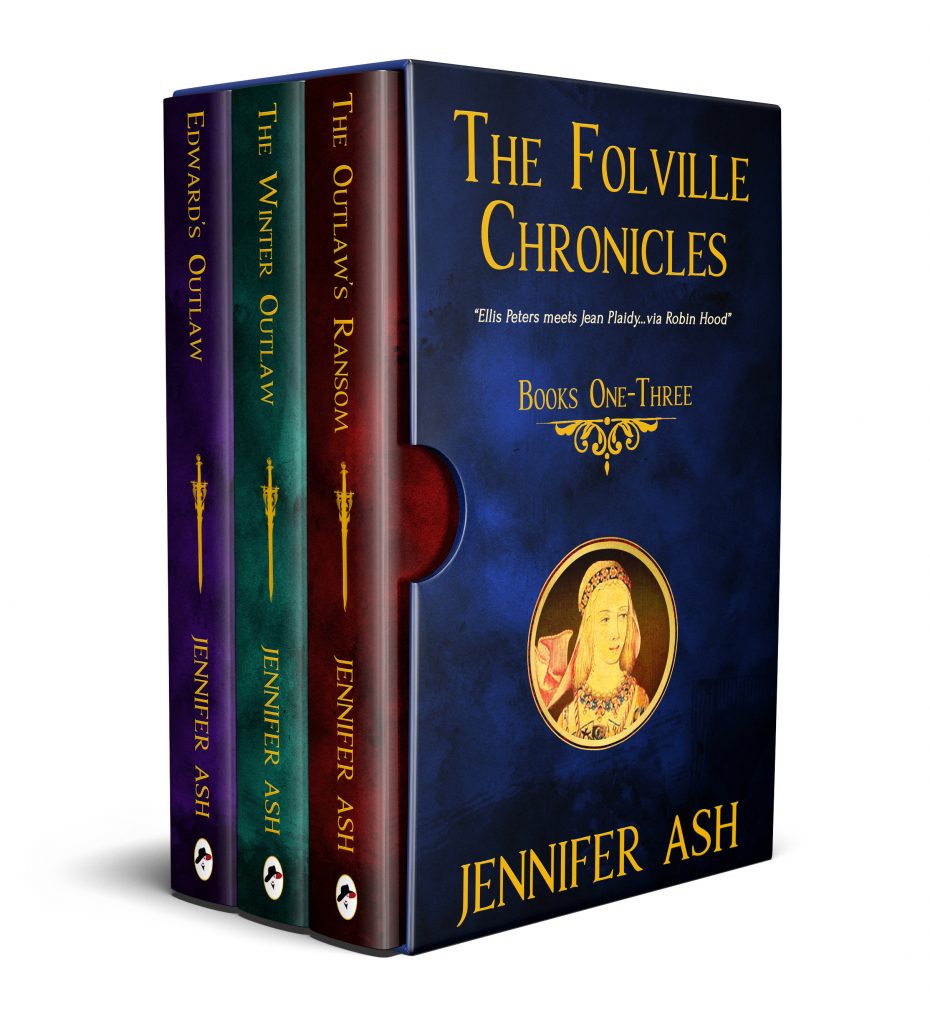 When potter's daughter Mathilda is kidnapped by the notorious Folville brothers as punishment for her father's debts, she must prove her worth in order to win her freedom. With her life in the hands of the most infamous men in England, Mathilda must win the trust of the Folville's housekeeper, Sarah, and Robert Folville himself if she has any chance of survival.
Never have the teachings gleaned from the tales of Robyn Hode been so useful…
1329: It is the dead of winter and the notorious Folville brothers are on edge. There are rumours of an unknown outlaw terrorising the Leicestershire countryside. Could this man be Adam Calvin, who is being pursued for a crime he did not commit?
Mathilda of Twyford, newly betrothed to Robert de Folville, believes Adam's story. But after
an attack on the household's trusted housekeeper, it falls to Mathilda to work out who can be trusted and who can't… With the Folvilles' past about to trip them up, it's going to take a level head and extreme bravery if Mathilda and Robert are ever going to make it to their Winter Solstice wedding.
1330: King Edward III's England is awash with the corruption and criminal activity that his mother, Queen Isabella had turned a blind eye to- providing it was to her advantage.
Now, having claimed the Crown for his own, Edward is determined to clean up England. Encouraged by his new wife, Philippa of Hainault and her special advisor- a man who knows the noble felons of the countries Midland region very well- King Edward sends a messenger to Roger Wennesley of Melton Mowbray in Leicestershire with orders to work with the county sheriff to arrest five of the Folville brothers…including the newly married Robert de Folville.
Robert takes his wife, Mathilda, to Rockingham Castle for her own safety, but no sooner has he left, when a maid is found murdered in the castle's beautiful guest suite, the Fire Room. The dead girl looks a lot like Mathilda. Was she the target, or is Mathilda de Folville's life in danger?
Asked to investigate by the sheriff in exchange for him deliberately taking his time in the hunt for her husband, Mathilda soon uncovers far more than murder…a web of carefully laid deception which trails from London, to Derbyshire, and beyond…
***
The Box Set pre-order link will be coming soon!
Information about Book 4 is just around the corner…
Happy reading,
Jennifer