Here we are again then!
Another month has whizzed past at breakneck speed. I think we've all deserved a rest. Let's hand over to the fabulous Nell Peters for a while to march through Marchs' of the past.
Over to you Nell…
There you are – I was wondering when you'd show up!
If you fancy it (and why wouldn't you?), grab a drink and a comfy chair and settle down with me for a few moments, while we see – intermingled with other random jottings – what has happened on 31st March in years gone by. Are you sitting comfortably? Then we'll begin – with one of those random jottings …
In 1924, two men – one American, the other British – were born, both of whom earned themselves catchy nicknames in adult life, courtesy the paths they followed. Felice Leonardo Buscaglia was born in Los Angeles, the youngest of four children of Italian immigrants. Though he spent his early childhood in Aosta, Italy, he returned to the US for his education, and graduated from high school before serving with the US Navy during World War II. The Servicemen's Readjustment Act of 1944, also known as the GI Bill, was a law that offered opportunities as a thank you for the service of returning World War II veterans – more commonly called GIs. Taking advantage of the legislation, Buscaglia enrolled at the University of Southern California, where he read for three degrees; a BA (1950); MA (1954) and PhD (1963), before joining the faculty.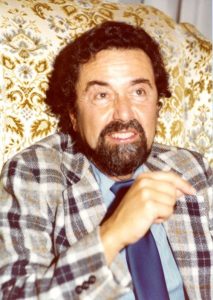 Buscaglia – by then known as Leo – was teaching in the Department of Special Education at the university in the late 1960s when one of his female students committed suicide. Deeply affected by this tragedy, he was inspired to hold a weekly non-credit class combining psychology and sociology, entitled Love 1A – about (unsurprisingly) love and the meaning of life. There were no grades, but the class led to more formal lectures, then TV exposure and eventually a book called Love was published, based on what was shared in his classes. He became known as Dr Love, or Dr Hug, because – possibly influenced by his emotionally demonstrative Italian background – he hugged every one of his students at the end of lectures.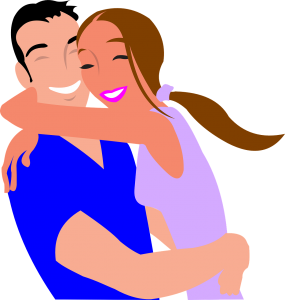 Leo died of a heart attack in June 1998, at his home in Glenbrook, Nevada, aged seventy-four, but had he still been around, I wonder what he would have thought about the fate this month of the founder, director and former chief executive of clothing chain, Ted Baker. After a period of suspension, Ray Kelvin was forced to resign for 'inappropriate behaviour', including 'enforced hugging'. Well there you go…
Sharing Dr Hug's date of birth that long-ago Monday was Henry Edward Cubitt, 4th Lord Ashcombe, known latterly as Mad Harry. Eton educated, he served in the RAF during WWII and thereafter became chairman of Holland, Hannen and Cubitt, the family construction firm.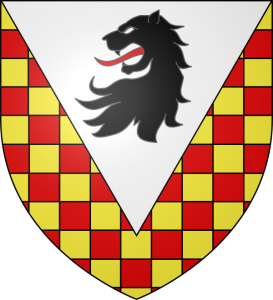 He was also the London-based Consul General for Monaco from 1961 to 1968 – I rather think I'd have insisted on being Monaco-based. Between wives after his first divorce, Harry nipped over to his Barbados estate and hosted a Caribbean house party for the summer – amongst the guests (including Jackie Onassis) was his niece/goddaughter, who was invited to bring a friend. She chose her lucky flat mate, the Hon Virginia Carrington, daughter of Peter Alexander Rupert Carrington, the sixth Lord Carrington and Tory MP who was Defence Secretary from 1970 to 1974, Foreign Secretary from 1979 to 1982, chairman of GEC from 1983 to 1984, and Secretary General of NATO from 1984 to 1988.
Harry was instantly smitten and aged forty-seven pursued twenty-five year old Virginia amongst the palm trees – they were married on New Year's Day the following year, 1973, and it was for this folly that he became known as Mad Harry amongst family and friends. Upon her marriage, Virginia effectively became her flat mate's step-aunt, at least while the marriage lasted (six years). You might recognise the name of said flat mate, Camilla Shand? She became Parker Bowles and is now the Duchess of Cornwall, married to Prince Charles. Mad Harry died childless aged eighty-nine in 2013, having given marriage one more unsuccessful try along the way.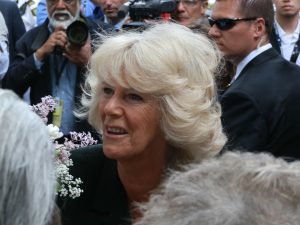 Also on 31 March 1924, a strike called by London Transport personnel ended (plus ça change etc) – on the same day that Britain's first national airline, Imperial Airways, began operations at Croydon Airport. Croydon was also known as the London Terminal Aerodrome or simply London Airport, and was emerging as the UK's major international airport between the wars. Imperial Airways was the British Government's cunning plan to develop connections for trade and personnel with the UK's extensive commonwealth and overseas interests, and so it was from Croydon that in addition to European flights, long haul routes to India, Africa, the Middle and Far East, Asia, Africa and Australia (in conjunction with Qantas) were established. #3 son spends a very great deal of time on flights between Heathrow and Mumbai and Bangkok – he's in the air for eight and thirteen hours respectively. Goodness knows how long those Imperial Airways flights would have taken – and there would be no getting it over with in one hit.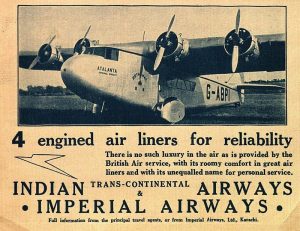 As I tap, I am also talking to aforementioned nomadic son online, while he is stuck in Kuala Lumpur airport en route for Hong Kong. Because this is a vacation and he is paying for his own flights, he opted for a cheaper non-direct route out of Bangkok – but sadly didn't notice that the sim card in his phone wasn't working and therefore hadn't updated the time, a situation exacerbated by KL being a silent airport with no announcements. Ergo, he missed his connecting flight; a six hour lay-over turned into thirty and of course he had to buy another ticket – so much for economy – plus he's lost a day of his holiday, silly Billy. In between wearing a hole in the lounge sofas, he's eaten enough water melon to sink the Titanic, along with the iceberg, and taken five showers – for the last two he invested some Malaysian Ringgit in deodorant, as his was in his checked luggage. Rookie mistake for such a seasoned traveller, I should have thought? And I do hope it's not an omen that last time he was in Hong Kong in September, he was stranded because of a typhoon …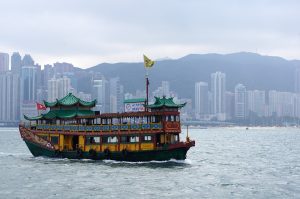 March 31st 1855 was a sad day for Rev Arthur Bell Nicholls, when his wife, author Charlotte Brontë, and his unborn child died as a result of a traumatic pregnancy. And so, her father Patrick, also a clergyman, outlived his wife and all six of their children.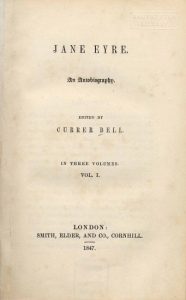 Charlotte's most famous novel, initially titled Jane Eyre: An Autobiography and written under the pseudonym, Currer Bell, was immediately successful when published in 1847 – one critic described it as 'the best novel of the season' and people began to speculate who Currer Bell could be. However, some reviewers were more critical and described it as 'coarse', and even 'anti-Christian'. It is, nonetheless, still on the shelves more than one hundred and seventy years later.
In 1849, Brontë's second novel, Shirley, featuring eponymous heiress, Shirley Keeldar, was released. Until then, the name Shirley was generally uncommon and almost exclusively a boy's name – in the book, Mr and Mrs Keeldar had been hoping for a son and named their daughter accordingly. But after publication, the name Shirley started to gain in popularity for girls, helped many decades later by American child actor Shirley Temple.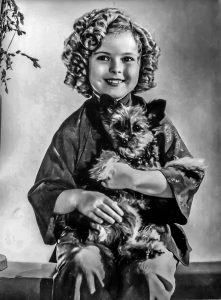 I have had multiple dealings with a 'lady' called Shirley Sergeant over the last few months – she's not the type who would appreciate any 'evening all/allo, allo, allo' jokes. Shirley worked in the stone masonry department of the funeral directors who handled my dad's arrangements in August '17. When the year for settling of the grave was up, #2 son and I did a tour of the cemetery and picked a design we liked, then went to see about ordering something similar. Shirley pounced – we had decided upon white marble, with grey inscription, but she had other ideas. While I know that marble is a porous stone and will therefore deteriorate over the years, I don't have a problem with the passage of time being evident – in fact, I quite like the idea. But Our Shirl insisted we'd be better off with more robust white granite. The sample she showed us was a speckled white and quite shiny/sparkly and I hated it. Ms S was not about to give in gracefully. Anxious to escape her lair before it was my turn to climb into a coffin, I agreed that she should send quotes for both, plus a CAD illustration of what our design might look like. She was kind enough to point out that although marble is white, the CAD illustration would appear grey. Face-palm. Did she think I'm as silly as I look? Don't answer that.
The quotes didn't arrive in a few days as promised, but three weeks later, with another sample of granite – grey (speckled with black), as white granite was no longer available. Seriously? I emailed to say the (more expensive) grey was not to my liking and we'd go with white marble – oh, and where was the CAD illustration as promised? After another month, she replied – my email had disappeared into her junk folder, she said. And so it went on. Bottom line, Shirley has now retired (yay!) and someone else is handling our order – after more than seven frustrating months, my dad's memorial should be in place for his birthday in April. This year, I hope. Just slightly concerned that their confirmatory email referred to him as Derek P Thompson, when his name was in fact Peter Derek …
On this day in 1770, Prussian/German philosopher Immanuel Kant was made Professor of Logic and Metaphysics at the University of Königsberg. He published works on ethics, religion, law, aesthetics, astronomy, and history and more – but since I had enough of him and his Enlightenment buddies when I had to study them, we'll leave him there, being logical and metaphysical. I believe I've mentioned before that another philosopher – the 'Father of Modern Philosophy', no less – Frenchman René Descartes, was born on the last day of March in 1596, so I won't repeat myself. I think; therefore I am.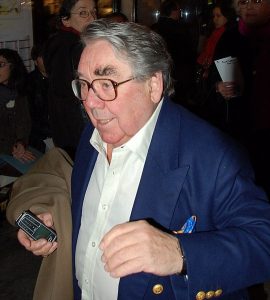 Hard to believe comedian, actor, writer and broadcaster, Ronald Balfour (Ronnie) Corbett died three years ago today, aged eighty-five. This was on the same day as German politician, Hans-Dietrich Gensher (born 1927); Iraqi-born English architect and academic, Zaha Hadid (born 1950); Hungarian author and Nobel Prize laureate,  Imre Kertész (born 1929) and Denise Robertson, British writer, television broadcaster and agony aunt (born 1932).
Enough now, it's Mothering Sunday/Mother's Day in the UK, so off you go and have a great day if you qualify. If you don't, have a brilliant Sunday anyway and take care.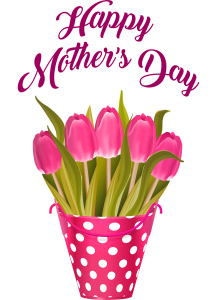 I hope to see you at the end of May, not April, as I am changing the frequency of my guest blogs for Jenny to bi-monthly, because I really need to get back to some serious writing – all the time-consuming family stuff I've been immersed in has meant I've not produced anything on the fiction front for well over two years, and I need to put that right, assuming I can still remember how!
Toodles all, and thanks Jen.
NP
***
Huge thanks once again Nell!
Looking forward to "seeing" you in May
Jenny xx