Today I'm joined by my friend and Devon Writers business partner, Lucy V Hay – this is advice you can't afford to ignore.
Over to you Lucy…
3 HABITS OF EFFECTIVE BOOK REVIEWERS
by @LucyVHayAuthor
1)They know what they like. I'm a big 'grip lit' fan – in other words, I'm most interested in female protagonists who are probably NOT police (or other related authoritative figures). I like mysteries, thrillers, unreliable narrators and characters who are not your 'usual', meaning I like diverse casts and I don't feel have to necessarily 'like' characters to relate to their journeys. Plot-wise, I like strong concepts and prefer a fast pace with unexpected twists and turns. I favour psychological torment over actual graphic violence generally speaking. In terms of writing style, I like prose that's lean, visual and sharp, almost literary.
That's not to say I never read male protagonists, police procedurals or novels with torture and splatter in. I even read romance from time to time! But I favour 'grip lit' because ultimately I want to be entertained. Obvious, really!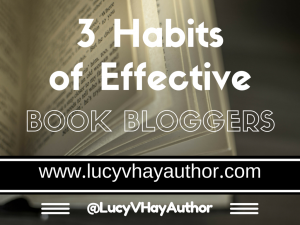 BOOK REVIEWER TOP TIP: Know who you are, what you like and let people know – then you're more likely to be approached by publishers, small presses and individual authors who have ARCs you would love to read.
2) They know their opinion is one of many. I don't see the point in 'hate reading', so I always stop reading if I am not enjoying a book.  My time is limited as a busy working Mum of three, why would I waste it on something I am not enjoying? What's more, I never review books I haven't finished. But most importantly, I recognise that just because I don't like a book, doesn't mean someone else won't LOVE it! As book reviewers, we have to realise our opinion is just one of many.
BOOK REVIEWER TOP TIP: If you're not enjoying a book, why not pass the baton on to another reader? You could always say to the ARC giver, 'this wasn't for me, but I think X would love it'.
3) They have a strategy. I keep a record of the books I'm reading and have read via my Goodreads page, plus I share my top crimefiction picks based around a theme on my 'Best of 3' feature on my blog. I also try and post to my blog at least twice a week, plus five or six times in Facebook groups and Twitter chats about reading and writing. In other words, in any given week, my fellow readers should hear approximately ten times from me.
But it's NOT all about me and what *I* like: I also invite fellow crime fiction fans to submit THEIR 'Best of 3' picks to my blog, plus I also invite authors and screenwriters to take part in an interview feature called Criminally Good. Once a month, I'll do an author chat on my FB page, CRIME, INK too
BOOK REVIEWER TOP TIP: Decide in advance how you will build up your platform. And try and stick to the 80/20 rule – if you're talking about yourself and your site 20% of the time, make sure you're taking about others (and their books or picks!) 80% of the time!
Good luck out there!
***
BIO: @LucyVHayAuthor is currently writing her first psychological thriller novel. She is also a script editor for movies and has written the nonfiction book, Writing & Selling Thriller Screenplays (Kamera Books). Join The Criminally Good Book Club to sign up for news, offers and giveaways.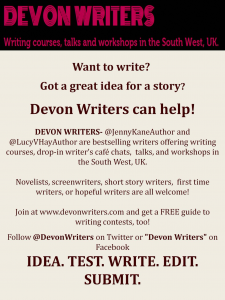 ***
Many thanks Lucy.
Jenny x