Today I'm delighted to welcome Jennifer Young to my site as part of her brand new blog tour.
Over to you Jennifer…

When I launched my current novel, No Time Like Now, with a day-long Facebook party, the most excitable thread of the whole day related to science.
Remember science? Those long, long lessons which always seemed to be on a Friday afternoon; the teacher who nipped into the chemicals cupboard for a quick smoke; the spotty kids at the back who cared nothing about learning and everything for as much disruption as you can possibly cause with the help of a bunsen burner?
Science isn't like that in my book. "Scientists are totally sexy" cooed one poster. " They've made science cool, so therefore scientists are cool. It only makes sense," enthused another. Examples of sexy scientists on our TV screens abound. Some of them should probably be blushing.
In No Time Like Now, science is represented by Tim Stone, a smouldering geologist hero whose passions extend beyond rocks and very much towards embracing our heroine, Megan. (She isn't a scientist, although her rival for his affections is.) But this is romantic suspense so nothing is straightforward.
Tim, proud of being a scientist, is driven by a need to know things. He's proud of his ability to ask questions, filter the information and find the answers. "I'm a scientist," he tells the rather more touchy-feely Megan. "It isn't enough for me to know that things happen — I have to know why they happen. I have to understand how things work, what went right or wrong. That's what drives me."
So he's the smart one the bright one — but she's the one with the emotional intelligence, the one who understands that there's more to life than plain fact, that the whole really can be more (or less) than the sum of its parts.
In the event, Tim's desire for answers leads him into a very tricky situation and he's dependent on Megan for his rescue. But his lack of emotional intelligence has already dashed their relationship onto the rocks (so to speak).
So there we are. A broken romance but one that a leaves passion still burning. A series of questions with dangerous answers. And the biggest question that Megan has to answer is: do you love him?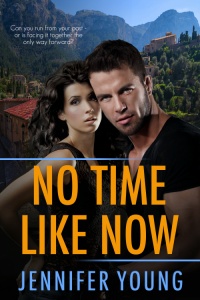 Read on…
Excerpt
'When you've finished your coffee, Megan or Catalina will show you your room.'
'I'm going to finish getting the supper ready. Could Cat do it?'
'Yes, I'll do it.'
Tim placed his mug on the worktop. That suited him fine. He didn't particularly want to spend time with Megan either. 'If it's okay with you, perhaps we could go now and I can get unpacked and settled in.'
'This way.' Delighted to help, Catalina led him through the lounge where the briefing meeting was already getting rowdy, into the hall where he retrieved his luggage from among the rest of the kit, and up several half flights of stairs. 'I'm sorry, we're really busy this week so we had to put you in the attic.'
'It'll keep me fit.' When she'd gone, he dropped his rucksack in the corner and took a look round. It was a nice enough room, not too big but clean and bright, with a comfortable bed and — crucially — plenty of desk space. He stood for a moment looking out of the window. Checked his phone. Stood and stared out of the window again as he turned things over in his head. And over, and over, because the past was like a snake that just kept rearing its ugly head to strike.
So, Megan McLeod. It was only for a month. And she'd made it clear how she was going to handle it, so he'd handle it that way, too. Remain polite, always be civil. Give nothing away. And above all, never forgive.
 About No Time Like Now
Hiding away from a disastrous past, Megan McLeod is getting along nicely in her job as housekeeper at a university field centre in Majorca. But the arrival of geological researcher, Tim Stone, throws everything into disarray — because Tim was the father of the baby she lost some years before and the two of them had parted very messily indeed.
As if having Tim on the scene wasn't bad enough, he's there with his new partner, Holly. But when in the course of his research he comes upon something extremely nasty along the cliffs of north Majorca, he's forced to turn to Megan for help.
DON'T MISS THIS GIVEAWAY! –
http://www.rafflecopter.com/rafl/display/8b9ec5be91/
Buy it from:
Tirgearr Publishing
http://tirgearrpublishing.com/authors/Young_Jennifer/no-time-like-now.htm
Amazon US
http://www.amazon.com/gp/product/B00OYFRSGG/ref=as_li_tl?ie=UTF8&camp=1789&creative=390957&creativeASIN=B00OYFRSGG&linkCode=as2&tag=lucyfelt-20&linkId=NPR7KQYM5GOLFW4G
Amazon UK
http://www.amazon.co.uk/gp/product/B00OYFRSGG/ref=as_li_tl?ie=UTF8&camp=1634&creative=19450&creativeASIN=B00OYFRSGG&linkCode=as2&tag=lucyfelthouse-21&linkId=MPO2NS76J5TOUBU6
Smashwords
https://www.smashwords.com/books/view/487736?ref=cw1985
About Jennifer Young
Jennifer Young is an Edinburgh-based writer, editor and copywriter. She is interested in a wide range of subjects and writing media, perhaps reflecting the fact that she has both arts and science degrees. Jennifer has been writing fiction, including romantic fiction, for a number of years with several short stories already published. No Time Like Now is her second published novel; her first novel, Thank You For The Music, is also set on the Balearic island of Majorca.
Find me on
Facebook
https://www.facebook.com/jenniferyoungauthor
Twitter
@JYnovelist
Blog
http://jenniferyoungauthor.blogspot.co.uk/
****
Many thanks Jennifer,
Happy reading everyone,
Jenny x