I'm delighted to welcome fellow Accent Press author, Marie Laval, to my site today to share a little about the writing of her fantastic new novel.
Over to you Marie…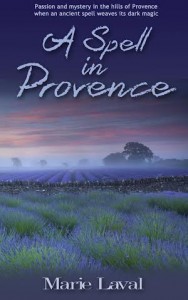 Hello Jenny and thank you very much for welcoming me on your blog today to talk about A SPELL IN PROVENCE, my contemporary romance suspense recently published by Áccent Press.
Every writer knows how important it is to give the protagonists the right name – it's important for every single character in the story, but it is even more crucial for the hero and the heroine. When I started writing A SPELL IN PROVENCE, I knew straight away that I wanted my hero to be called Fabien – it was the name of a character in a French television series I adored, back in the eighties. I did however write the first draft of the novel with a heroin called Alex. I liked the name and felt it worked well … up to a point.
I put the book aside to complete another project, and when I returned to it a few months later, I became increasingly dissatisfied with my heroine. Something was missing, both in her personality and in her interaction with Fabien. I realised I needed to make a drastic change. I still wanted her to be determined, brave and resilient. She was after all starting a new life in an old farmhouse in Provence. She had to face a series of strange and dangerous incidents and investigate the ancient mysteries surrounding Bellefontaine. However I also saw her as a bit of a dreamer – as having a softer side. Alex wasn't the right name any longer. It was too pragmatic, too direct for the woman I now wanted to write about.
One day a new name popped into my mind and I knew this was the one: Amy. It was perfect. Not only was it short and had a lovely sweet ring to it, but I could soften it even further as her relationship with Fabien Coste grew. He would call her 'Aimée', which is both a woman's name and the French for 'beloved'.
Changing my heroine's name, and personality, meant an exhaustive rewrite, but at last I was happy!
****
Blurb
With few roots in England and having just lost her job, Amy Carter decides to give up on home and start a new life in France, spending her redundancy package turning an overgrown Provençal farmhouse, Bellefontaine, into a successful hotel. Though she has big plans for her new home, none of them involves falling in love – least of all with Fabien Coste, the handsome but arrogant owner of a nearby château.  As romance blossoms, eerie and strange happenings in Bellefontaine hint at a dark mystery of the Provençal countryside which dates back many centuries and holds an entanglement between the ladies of Bellefontaine and the ducs de Coste at its centre. As Amy works to unravel the mystery, she begins to wonder if it may not just be her heart at risk, but her life too.
Buy Links:
http://www.amazon.co.uk/Spell-Provence-Marie-Laval-ebook/dp/B00RVQO8RM/ref=sr_1_8?s=digital-text&ie=UTF8&qid=1420651912&sr=1-8&keywords=accent+press
http://www.accentpress.co.uk/Book/13421/A-Spell-in-Provence.html
Snippet
He looked down. The light of the rising sun played on his face and made his green eyes seem deep and warm. Time slowed down. The noise from the crowd became muffled and distant, and all she could hear was the crystalline spring water trickling in the old fountain. The spring that ran through the forest between Manoir Coste and Bellefontaine and bound hearts and lives together, or so the spell said … Her heartbeat slowed, or maybe it stopped altogether. It was as if Fabien and she were alone. Desire, fear and another feeling she didn't recognise overwhelmed her and made her dizzy.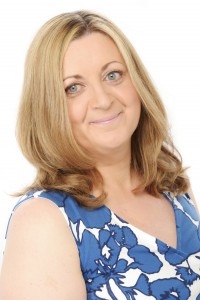 Marie Laval Bio
Originally from Lyon in France, Marie studied History and Law at university there before moving to Lancashire in England where she worked in a variety of jobs, from PA in a busy university department to teacher of French in schools and colleges. Writing, however, was always her passion, and she spends what little free time she has dreaming and making up stories. Her historical romances ANGEL HEART and THE LION'S EMBRACE are published by MuseItUp Publishing. A SPELL IN PROVENCE is her first contemporary romance. It is published by Áccent Press.
****
Great blog! Many thanks Marie.
You can find out more about Marie's work on her blog- http://marielaval.blogspot.co.uk/
Happy reading everyone,
Jenny xx