You can't escape noticing if you read this blog- or any of my novels- that I am rather fond of coffee. (Black please, no sugar).
After all, I have dedicated a growing series of books to its (and let's not forget the good ole cup of tea's) ability to bring people together for a chat; proving a much needed period of time away from their otherwise hectic days.
It was this obvious fascination with the power of hot beverages, when placed in a suitable receptacle within Another Cup of Coffee, that led me into my latest venture- something that many would consider my dream job- I am now a coffee shop blogger!!!
A lovely lady called Lucinda Auckland, had read my novel, noticed I lived close to her in Somerset, and got in touch. Lucinda helps to run Phoenix Somerset, a group dedicated to the promotion of local businesses in the county, and to improving life within the county. I was very flattered when Lucinda asked me to use my love of coffee shops to help the cause!
Every week I head into the wilds of Somerset, and spend my time writing in its various coffee shops. As I always write my stories in coffee shops, this is hardly a demanding task. While I'm there, investigating a wide variety of new coffee stops, just before I'm ready to move on, I write a few lines about my writing experience there, and the coffee I drank- always an Americano!
If you want to have a read, you can find my blog in the 'Arts' section of the Phoenix site. Check out the blog every Monday to read my  latest Have Americano and Pen – Will Travel….. entry!!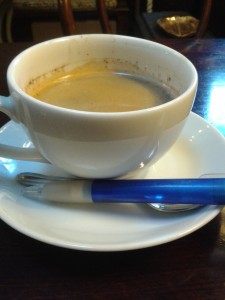 I'd love to see you there! And you never know, if you happen to be in a coffee shop in Somerset sometime- I might be in there as well- just having a little look around me for inspiration…
Happy coffee sipping,
Jenny xx