Today I'm delighted to welcome Sarah Dahl to my blog to help celebrate the launch of her latest book, The Awakening.
OUT TODAY, The Awakening is a passionate romance inspired by our Viking past.
Over to you Sarah…
Inspiration for my book:
"The Awakening – Embrace beyond Passion" is a story I wrote some time ago and now had to considerably edit to make it more like my current 'voice' and in keeping with the other stories in my Tales of Freya collection. Therefore it was hard to recall the exact inspiration for this story – I get inspiration from many things and then let my mind play with it. For my characters, I'm often very visual and discover someone on Pinterest or TV. Then I imagine them as a person from the early medieval – what if I made them a 'Viking' character. I have an inspirational mood board on my wall right opposite my desk that I look at to let my mind wander. Most stories just start with the idea of an interesting character or an event, or both. From there I let it all flow and try different directions for a theme. In "The Awakening" the theme is "liberation begins in the mind" and "follow your passions". As the Tales of Freya stories are short, I don't have to plot much but can just write from the heart and then edit. Which brings me to: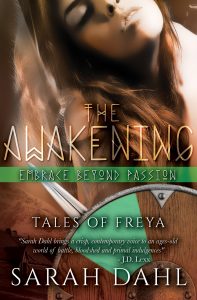 Plot or flow:
I'm a pantser as they say, and find plotting a long story from beginning to end very hard to pull off. Naturally, I'd just write from scene to scene and develop as I go, often not knowing the ending myself. For the stories in the Tales of Freya collection it was easier, as for short stories the plot and character arcs can be more straightforward. I always just start with an idea, something I want to happen, and then write with the flow until I'm happy.
The research for "The Awakening":
Of course, as a historical fiction writer I have to be firm and confident in the Viking environment and era. I read all the books and see as many sites as I can. My fave non-fiction is "Vikings at War" by Hjardar/Vike; it has brilliant detail and is the most extensive and visual book on the era I have seen. Also, every year I go to at least Haithabu/Hedeby here in Germany for a few days, to this once huge, Danish Viking trading town that is now a museum and open-air site by the Slien. The atmosphere of the reconstructed houses and pier just sparks creativity and a sense of the time. Soaking it all up, I just let my feet and mind wander, focussing on the big picture and then the details, imagining what stories could have happened in those narrow streets and houses. This year I became aware of the harsh winds, the never-ending gusts that penetrate the streets and houses, so much so that roofs don't need smoke holes … the smoke from the fires just disappears through the walls and roof of the Viking town houses. So I tried to incorporate the harsh elements and their effects more in my story "The Awakening", too.
I take great pride in being authentic and never use the era as mere stage props. I did several blog posts about authenticity: how every author should do their thorough homework and really know what they are writing about, especially if using a historical time period. Read it all until you don't have to look stuff up anymore (ideally, but there's always something …) Once my first draft is written and I checked details myself, I let my Viking reenactor-friends read it for authenticity and plausibility, and also discuss with beta-readers. "The Awakening" is set in a rural village by the fjord, so in smaller Viking houses, not the huge rural longhouses readers might first depict. More the kind you find in villages and towns like Hedeby. So naturally, when I went there this year, I focussed on the layouts of houses and daily tasks my characters would need to do in the story, because something secret and daring is hidden in Ingrid's little farmhouse. Most things I don't have to research anymore, but what about details such as how someone undresses? In which order would they do it and would the jewellery clang? How loudly? These are the things my reenactors then have to discuss with me, and go through step by step as I see it happening before my inner eye 😉
Preferred POV:
That's a good question … I can do both; it all depends on the story and which character should tell the story, through whose eyes we should see and feel things. It doesn't matter if it's a man or woman, and I use both first person POV or deep third depending on what works best. In the Tales of Freya stories, I mostly use deep third. The view points can be that of men or/and women. For some reason I can work really well from a male POV. "The Current – A Battle of Seduction" is told from the warrior's perspective on this seductive shield maiden, and I found it easy to slip into his skin. Whereas "The Awakening" is Ingrid's story, and the next one, "Monk", will even be told from three different POVs … I guess it's all about gut feeling. With experience and craft comes a gut feeling for whose story I want to tell and how.
Most exciting about book for me:
For "The Awakening" the most exciting has to be that a story that I've worked on for so long finally gets to see the light – I get it 'off my desk' and out to people – and it starts its own life now, can be read by everyone, like a child that grows up and after tender care leaves the house. Which is frightening, of course, because one grows so attached to the story-baby over time. After the great success and many positive reviews of "The Current" I'm very excited and anxious to see what people will make of this very different story. "Awakening" really can't be compared to the first one, "Current", in the collection. The first spans several weeks whereas the latter covers only a few hours. The whole plotline and tone are different and the themes of course … so, yeah, we will see. Deep breath and fingers crossed 🙂
Blurb – "The Awakening – Embrace beyond Passion"
 The second in the collection of sensual short stories set in the Viking age, the Tales of Freya:
In a world of crackling fires and rough landscapes, long winters and bloody raids, the immediacy of life and death ignites undeniable passions. Warriors and monks, healers and housewives – all follow the call of their hearts and bodies to indulge in pleasures that may forever change their lives …
Ingrid leads a quiet, joyless life with a husband who is oblivious to her needs. Every time the dragon boats carry him away, she resigns herself to the solitude of her modest hilltop farm by the fjord. But her uneventful world is shaken to the core when the shadows of her house reveal a secret that sets her passions afire.
***
Release date: July 21, 2017, by Pronoun
Buy links:
https://books.pronoun.com/the-awakening3/
Author homepage: sarah-dahl.com
Mailing list for Book Alert: https://mailing.sarah-dahl.com/?p=subscribe&id=2
Facebook: https://www.facebook.com/sarahdahl13/
Twitter: @sarahdahl13
***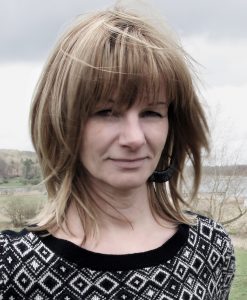 Bio
Sarah Dahl lives on the edge of the rural German Eifel and writes historical fiction primarily set in the Viking age. She also works as an editor, translates, and coaches new writers in German and English. She is interested in everyday life in bygone centuries and the human stories that may have occurred behind the hard, historical facts. Her author page is: sarah-dahl.com
***
Many thanks Sarah – and congratulations on your brand new book!
Happy reading,
Jenny xx