I'm chuffed to bits to have my lovely friend, and multi-talented author, Laura Wilkinson here today!
Over to you Laura…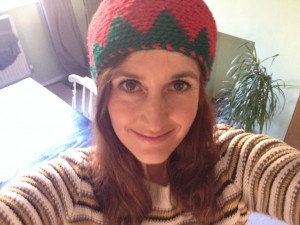 Which Hat Today?
'I myself have 12 hats, and each one represents a different personality.  Why just be yourself?' Margaret Atwood
I'm here to talk literary hats or, more specifically, the wearing of different styles. Like Jenny, and many authors, (Robert Galbraith anyone?) I write under two names. In my case: women's fiction and hot romance. Unlike Jenny, I began with contemporary fiction before exploring my steamier side.
This year, I have two novels out. Public Battles, Private Wars was published by Accent in March and the sequel to All of Me, All of Him, (Xcite) comes out in May. I'm trembling just thinking about the logistics of promoting both novels while embarking upon the penning of another, and, perhaps most importantly, remembering which hat I'm wearing at any given time.
To continue the metaphor – and yes, it's well-worn but stick with me – Laura Wilkinson's hat is a warm, colourful beanie; something familiar, comforting, hopefully fashionable and stylish, which can be quirked up with the addition of a funky broach or by wearing it at a jaunty angle.
L.C's hat is a more exotic, sumptuous affair; veiled lace and satin, and horrifically expensive, it is the stuff dreams are made of. The kind of hat sex bombs with devastatingly handsome lovers wear. Not like me at all, basically.
It takes a certain confidence to wear most hats. At the start of her story, my lead, Mandy, lacks self-confidence. She's a young, stay-at-home-mother in a functioning but lack-lustre marriage to a miner; she has curly, ginger hair and she's not what you'd call skinny. She loves cakes. In one scene, during the winter of 1984, when her husband has been on strike for nine months and her children are cold and hungry, Mandy puts on a bobble hat and goes searching for coal. Unloved by her husband but loved in quarters she's not even aware of yet, it is fittingly unglamorous head wear. I could tell you what kind of hat Mandy would choose at the end of her story, but that would spoil it, wouldn't it, and I'd love it if you read all about her. She's an unexpected heroine.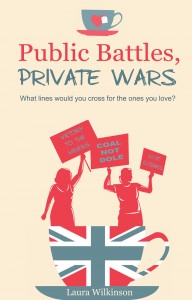 Public Battles, Private Wars is published by Accent Press on 27 March.
Yorkshire 1983
Miner's wife Mandy is stuck in a rut. Her future looks set and she wants more. But Mandy can't do anything other than bake and raise her four children. Husband Rob is a good looking drinker, content to spend his days in the small town where they live.
When a childhood friend – beautiful, clever Ruth – and her Falklands war hero husband, Dan, return to town, their homecoming is shrouded in mystery. Mandy looks to Ruth for inspiration, but Ruth isn't all she appears.
Conflict with the Coal Board turns into war and the men come out on strike. The community and its way of life is threatened. Mandy abandons dreams of liberation from the kitchen sink and joins a support group. As the strike rumbles on relationships are pushed to the brink, and Mandy finds out who her true friends are.
Here are a few buy links:
http://www.amazon.co.uk/Public-Battles-Private-Laura-Wilkinson/dp/1783755164/ref=sr_1_1?ie=UTF8&qid=1393528368&sr=8-1&keywords=public+battles+private+wars
http://www.accentpress.co.uk/Book/10497/Public-Battles-Private-Wars.html
You can find out more about Laura and the novel, including Book Group Questions, here: http://laura-wilkinson.co.uk
****
COMPETITION TIME!!!!
To celebrate the launch of this amazing book, Accent Press and Goodreads are running a competition to win a copy of Public Battles, Private Wars.
All you need to do to enter is follow this link!! Good luck- https://www.goodreads.com/book/show/21488069-public-battles-private-wars
****
Thanks again Laura!!! I LOVE both you hats-  xxxx