It's not long until the third novel in #thepottingshed #series hits the world!
Misty Mornings at The Potting Shed will be published on 14th September.
Following on from Frost Falls at The Potting Shed and Bluebell Season at The Potting Shed, Misty Mornings takes Maddie, Jo and Sara on new adventures – both together and apart.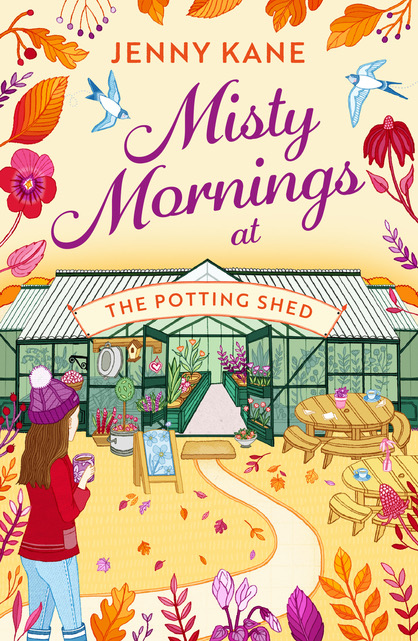 BLURB
Don't miss out on the third lovely book in the brand new series by #1 Kindle bestselling author Jenny Kane.
Welcome back to The Potting Shed! As Maddie and Sabi re-open the doors of their family-run garden centre. Business is booming, and it's time to give back to the community that has kept The Potting Shed afloat, by opening the Forget-Me-Not dementia café.
But, as the doors to the café open, Sabi is offered the chance of a lifetime, that could take her away from The Potting Shed for weeks, café manager Jo's frail, elderly mother is taken ill, and Maddie's partner, Ed, takes a job in a faraway city just when Maddie needs him more than ever. A new member of staff is desperately required – who will join Sara, Jo and Ivan as the busy autumn season fast approaches?
Available to pre-order from Amazon UK, Amazon US, Kobo, Nook and Waterstones as an ebook or paperback.
You can also buy the story in audio format: Amazon UK, Amazon US.

Here are some pre-release reviews!
'Oh my, this book gave me such warm and fuzzy feelings! The friendships, love and community caring is literally the backbone of this story and it means everything! I will reread this again. I loved it. And the thought of a dementia cafe is genius! This needs to happen!'  Netgalley
' really need to learn that "I'm just going to read a few chapters" of a Jenny Kane book always becomes "I couldn't put it down and read it all in one day". I have loved this series from the beginning and it continues to deliver heart-felt and sweet stories. ...' Netgalley
***
I can't wait for you to step back into Devon's friendliest garden centre, so you can have a slice of cake in the café, meet new characters, Belle, Tristan and Iris, and raise a glass to their latest community project…
Happy preordering,
Jenny x