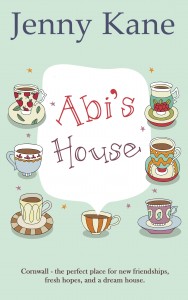 Newly widowed at barely thirty, Abi Carter is desperate to escape the Stepford Wives-style life that Luke, her late husband, had been so keen for her to live.
Abi decides to fulfil a lifelong dream. As a child on holiday in a Cornwall she fell in love with a cottage – the prophetically named Abbey's House. Now she is going to see if she can find the place again, relive the happy memories … maybe even buy a place of her own nearby?
On impulse Abi sets off to Cornwall, where a chance meeting in a village pub brings new friends Beth and Max into her life. Beth, like Abi, has a life-changing decision to make. Max, Beth's best mate, is new to the village. He soon helps Abi track down the house of her dreams … but things aren't quite that simple. There's the complicated life Abi left behind, including her late husband's brother, Simon – a man with more than friendship on his mind … Will Abi's house remain a dream, or will the bricks and mortar become a reality?
Available from:
Available in eBook and print format, Amazon UK in eBook and print format.
Abi's House is also available in Turkish!!
Reviews:
Sumptuous summery story, would be a great summer holiday read, while picturing yourself in Cornwall alongside Abi, having cream teas and generally making the most of the slower pace of life.
I absolutely loved how Abi remembers a house in Cornwall from when she was a child, remembers it was called Abbey's House but not much more, and now that she is widowed and determined to make a fresh start, she feels drawn to not only Cornwall, but to Sennen, to try and ideally locate this house, and then find somewhere to live.
Not long after Abi arrives in Cornwall she meets Max who's is a decorator, and all around nice guy, and he introduces her to Beth, his best friend. Beth is a school teacher who is also on the verge of a life changing decision, and a friendship is soon struck up between the three of them.
I was really hooked in by the decisions the characters had to make, the new friendships being formed, my shock at how outrageous Abi's brother in law Simon behaves, and the way new opportunities are presented to the main trio. The incredibly sexy potter that appears also ramps up the appeal too!
I love books set in Cornwall, and this one really gives a good feel for the area, while providing some fascinating storylines, that I just don't want to even hint at, but rest assured they are worth reading.
This is the first book I have read by Jenny Kane, and I found myself really enjoying her writing style, which is easy to follow, and the story flowed really well. I loved her characters, and even the Cornish burr for Stan I could really hear in my head. In fact Stan was one of my favourite characters, although in theory he could be seen as a naïve old man, he really is a gentleman, and he adds a lot of local colour to the story.
I am already eagerly awaiting the sequel to this charming book. " Rachel's Random Reads
***
"When Abi is suddenly widowed at 30 years old she realises that she has become a shell – modelled into the wife her dead husband wanted her to be and not the person she wants to be.
Feeling suffocated in Surrey by the 'lifestyle' and her In Laws Abi up sticks and heads to Cornwall to find Abbey House – a place her family found years before whilst on holiday. Once in Sennan Abi quickly makes new friends and soon realises she has found the one place she wants to call home.
Jenny's style of writing is wonderful.  You can feel the sand in your toes, the gentle waves lapping at your feet, the sun and the wind and smell the Fish and Chips!  It was whilst reading this book that I realised I really missed a good old fashioned pub garden – we just don't have them where I live.  Jenny's stories always draw me in, I get so engrossed in and involved with the characters.  It's like you are there.  I want to live in a Jenny Kane book!
It is over a week since I read the book and I just loved it so much…I feel like I have lost some friends since I finished reading it…."
***
"Reading a Jenny Kane book is like opening a journal by a much loved friend. I'm spirited away into a world of warm, friendly and interesting people. To places that I not only want to visit but actually live in. Shops, cafés and pubs that I want to be my locals and life that I want to experience and be a part of. Abi's House gives you all of these feelings and left me with a huge smile on my face and a glowing in my heart. More of this wonderfulness please!!"
***
"I love Jenny's writing as she gently draws you in to her books, perfectly capturing the time, the places and the people. Like other reviewers I want to be in the book, tasting the salt and vinegar on my fingers, feeling the wind whipping my hair across my face as I stand on the cliffs overlooking the sea crashing below. A handsome hero, a funny and quirky new friend, a delightful old man, a run down seaside cottage and a manipulative villain – well I ask you what's not to love. An excellent feel good read, more please."
***
What a great book! It is nice to take a break from my usual reads to read a love story. Abi's House is a book that everyone should read. Abi has been through a lot and what she needs is love from a real good man. She thought she had it made but it wasn't what it seemed to be. The best thing for her to do is leave the life she has now behind and move on to something better. If only the past would let her go that is. There is one person that will help her but will she be able to open up her heart and let him in? Such a moving story in some parts and yes I did tear up a little. Definitely take time to read this story and you will fall in love with Jenny Kane.
***
I love this book. Jenny Kane is a new author for me and I can't wait to read her next book. I really enjoy books set in Cornwell. The story was really easy to understand and you feel as though you really got to know the characters.