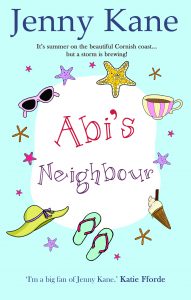 Abi Carter has finally found happiness in beautiful Cornwall, with her old tin miner's cottage proving the perfect home. But all that's about to change when a new neighbour moves in next door…
Cassandra Henley-Pinkerton represents everything Abi thought she'd escaped when she left London. She's obnoxious, stuck-up, and hates living in Cornwall. Worst of all, she seems to have designs on Abi's boyfriend Max…But Cassandra has her own problems.
Her wealthy lawyer lover has promised to leave his wife and join her in their Cornish love nest – but something always comes up. Now, not only is Cassandra stuck on her own, miles away from her city lifestyle, but someone seems intent on sabotaging her successful business.
Will she mellow enough to turn to Abi for help – or are the two just destined not to get along?
Complete with sun, sea and adorable Labrador Sadie, Abi's Neighbour is the fantastic new novel by bestselling author Jenny Kane.
Available from:
Amazon UK and Amazon US and all good book and e-retailers
Reviews:
"…Jenny brings back the Sennen gang for a second outing. Another bunch of characters that I would so love to be friends with. Do yourself a favour, pick up this book, get comfy and let the Cornish sun that shines off the pages warm you up and leave you craving Cream Teas and Fish Suppers on the beach." Goodreads
"…Well Jenny has been able to give us another fantastic book! Well I really love all of her books to tell you the truth. I am glad the see that all of the old gang in back in this installment and it wasn't just about two new characters alone. The new character's blend in so extremely well you would have thought they should have been with Abi's crew the whole time. We have Cassandra who is trying to figure out what is really going on with her life with a certain man. What she really doesn't expect is to fall for someone who she thought would never be on her radar. Now that she is away from the stress can she see what is really in front of her? Can Cassandra really handle the country life away from the big city? Will she find her true self? Abi's Neighbor has all the answers for you. You will fall in love with all the characters again and grow to love the news ones too…" Goodreads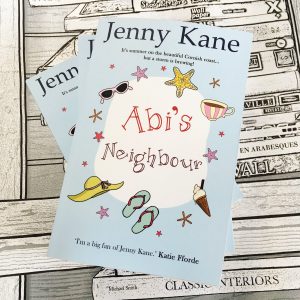 "Abi's Neighbour is a great follow up to Abi's House. Extremely heart warming and couldn't put the book down." Amazon
"A great read." Amazon
"I didn't think it could get much better than "Abi's House". How wrong could I be! So nice catching up with all the old characters and a treat to have lovely new characters. Jenny describes Cornwall just as it is and you can really believe you are there when reading this. Thanks Jenny Kane for another outstanding instalment." Amazon
"Absolutely fantastic couldn't put it down in do hope at a later date we will catch up with Abi, Max, Beth, Justin, Cass, and Dan etc . I'm sad that I have finished they all feel like my friends." Amazon
"Can you have a stand alone sequel? Well yes definitely. I read and loved Abi's House – definitely Jenny Kane's best to that point – and was looking forward to this follow up. It was lovely to revisit the beautiful Sennen Cove (I nearly went there on holiday just to see where Abi lived but it's sooo far south!) And it was great to catch up with the characters. However, if you haven't read Abi's House, don't let it put you off – this really would stand alone. Or better still, read both and get twice as much reading pleasure!" Amazon 
"A thoroughly enjoyable read. It was lovely to have a peak into what happened next for Abi and her friends and how she settled into her cottage on Miners Row. I felt almost as if I knew the characters and would love to know what happens next for Beth and whether Cass finds happiness in her new venture."  Amazon 
Reader's comments:
"I'm off to Sennen Cove in 6 weeks time. Although the last 4 days I feel that I have lived in minors Row with Abbi and her friends .I didn't think any story could improve on Abbi's House . but Jenny you have put so much detail , excitement and emotional context in to this book it's sure to be a best seller .10 stars from me. Thank you for Abbi's Neighbour. Looking forward hopefully fingers legs and anything else crossed for the next instalment xx" (Message left by reader on Facebook)
"...the perfect beach read." (Message left on Twitter)
"One if the things I like about both Sennen Cove books – you portray older people with respect as individuals and grown-ups." (Twitter message)
"You are responsible for me doing no housework or cooking any dinner this evening. One word BRILLIANT xx" (Message left by reader on Facebook)
"The perfect beach read." (Reader's post on Facebook)