I'm delighted to be able to announce that the third book in #thepottingshed #series is OUT NOW!
MISTY MORNINGS AT THE POTTING SHED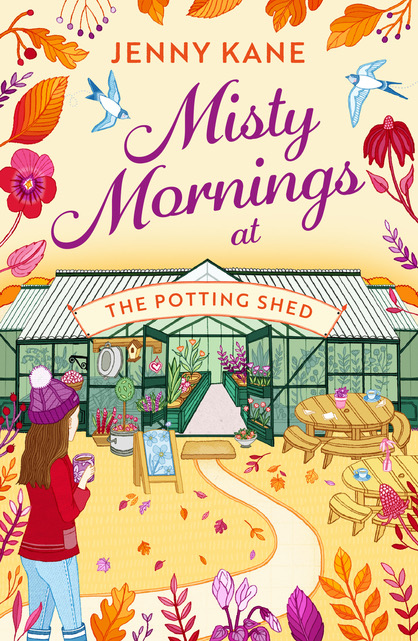 BLURB
Don't miss out on the third lovely book in the brand new series by #1 Kindle bestselling author Jenny Kane.
Welcome back to The Potting Shed! As Maddie and Sabi re-open the doors of their family-run garden centre. Business is booming, and it's time to give back to the community that has kept The Potting Shed afloat, by opening the Forget-Me-Not dementia café.
But, as the doors to the café open, Sabi is offered the chance of a lifetime, that could take her away from The Potting Shed for weeks, café manager Jo's frail, elderly mother is taken ill, and Maddie's partner, Ed, takes a job in a faraway city just when Maddie needs him more than ever. A new member of staff is desperately required – who will join Sara, Jo and Ivan as the busy autumn season fast approaches?
Misty Morning is now available from Amazon UK, Amazon US, Kobo, Nook and Waterstones as an ebook or paperback.
You can also preorder the story in audio format: Amazon UK, Amazon US.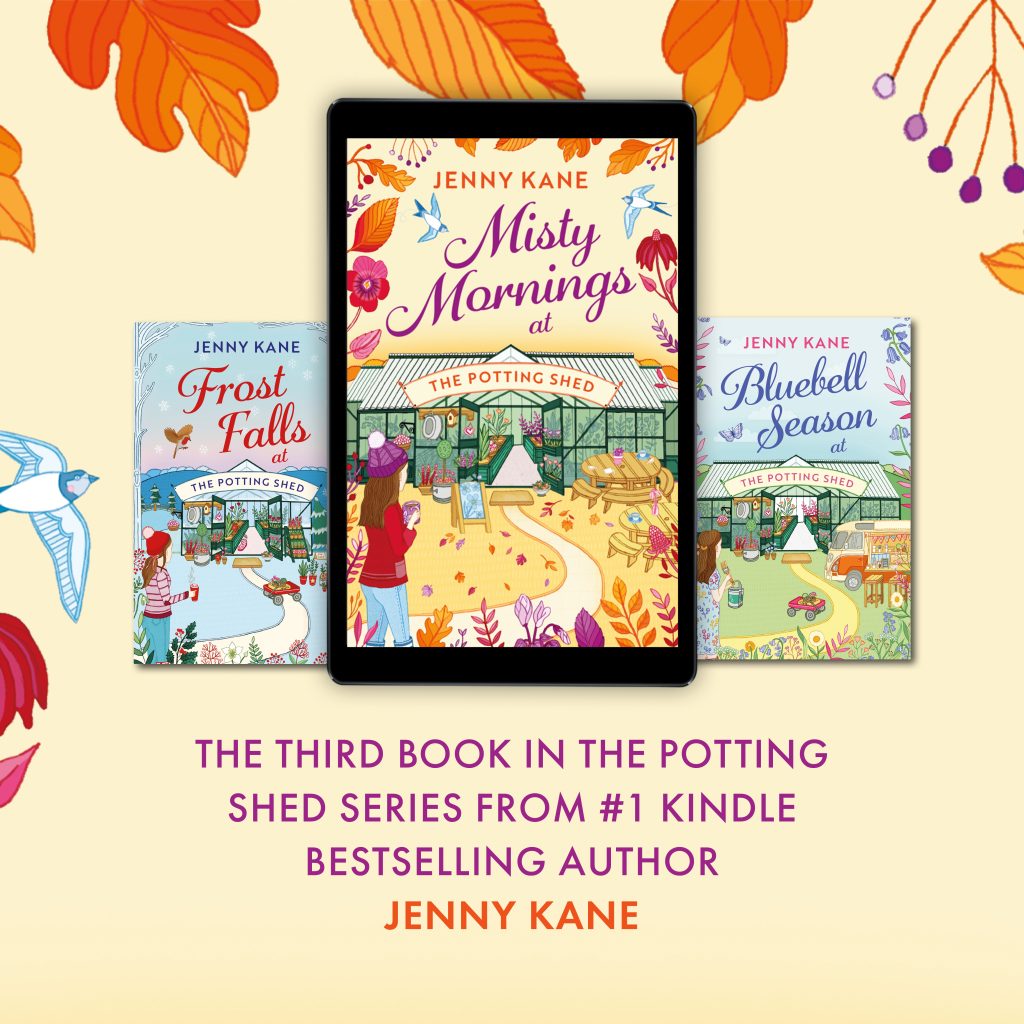 It was so much fun going back to The Potting Shed to continue the adventures of Maddie, Ed, Jo, Sara and co. In book three there are new characters to meet – the lovely Belle, Jo's mother Iris, and the not so nice Tristan!
Florrie, the lively Springer Spaniel/Border Collie cross, is still running rings around everyone, and the children's gardening group, The Little Acorns, are on fine form as they make home grown smoothies in The Potting Shed's newest attraction – the Forget Me Not Café.
If you follow me on Facebook and Twitter today, you'll be able to hear some readings, and keep up with all the new release news.
It's always a bit nerve wracking when a new novel is  launched. There is a real fear of failing your readership – so I always have to psyche myself up before I read reviews. It was therefore, with great relief, that I found some wonderful reviews awaiting me when I looked at my page on NetGalley.
I'd like to thank everyone who took the time to review. I can't state enough how important reviews are. If you like a book, do your favourite authors a favour, and pop a little review on Amazon or Goodreads – or whichever platform works for you. While a poor review will break a writers heart (it really does), a good one can make the difference between them being asked to write another book, or not.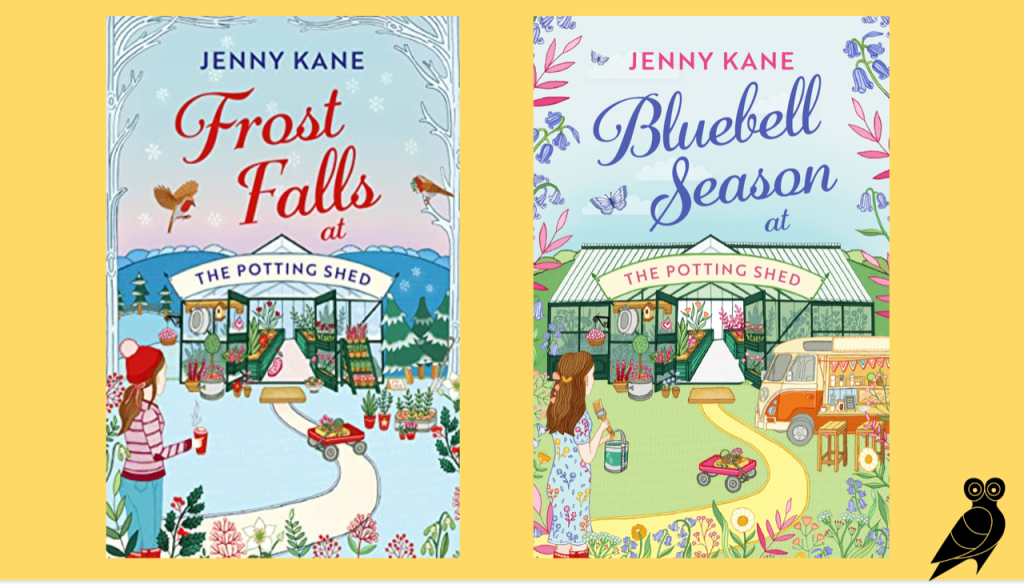 I'll leave you with a few of those lovely reviews. I couldn't be more thrilled with them.
PRE-RELEASE REVIEWS
'Oh my, this book gave me such warm and fuzzy feelings! The friendships, love and community caring is literally the backbone of this story and it means everything! I will reread this again. I loved it. And the thought of a dementia cafe is genius! This needs to happen!'  Netgalley
'I really need to learn that "I'm just going to read a few chapters" of a Jenny Kane book always becomes "I couldn't put it down and read it all in one day". I have loved this series from the beginning and it continues to deliver heart-felt and sweet stories. …' Netgalley
'Fantastic to be back at the Pottering. Can read alone. Lovely having Belle as a new character. The cakes sounded yummy. Tristan was a character and a half. I loved the twists with him. Happy and sad tears in the book. Maddie is a fab boss. Jenny Kane is a lovely writer.. Dementia is such a difficult subject and it was covered so well.. A great read. Loved it.' Netgalley
'Misty Mornings at the Potting Shed, what a sweet, warm installment in the series. I liked reading the progress of the characters – their personal and professional lives getting more and more towards their goals.
It is a warm friendly read, perfect for cosy winter days or just for some good ol reading time.' Netgalley
'What a sweet, cozy, heart warming story! This wasn't what I expected…it was so much better! It really was a feel good community story that brightened my day. I loved the plant aspect, our characters, and the vibe to this.' Netgalley
'Thoroughly enjoyed the 3rd instalment of The Potting Shed series. Although this could be read as a stand alone it makes more sense if you have read the first 2. This develops the characters further and get to know Jo better and meet Sara properly. If you haven't read 1 and 2 then I definitely recommend them and also this one. Great summer reading and escapism.' Netgalley
'I truly love this series. I have read all the books and I adore the characters. Even the slightly annoying one has made it into my heart (I won't mention her name). The author has created a world at the potting shed that I wish I could live in. When they are looking for help to run it, I want to volunteer! They do not even have to pay me. I would love work in the café and to care for the plants also!
I enjoy stories that have characters of various ages, and this book has that quality. Several teens are instrumental to the story as well as some older folks.
This book is a great continuation of the series. Quite a bit happens in these pages, but as always in a sweet romance, all is good by the final page. I really needed an escape from real life and I thank the author, Jenny Kane for providing a place to regain my faith in people. I look forward to future books in this series and am hoping that they will be some!' Netgalley
'Jenny Kane has done it again. This was a lovely addition to the "Potting Shed" series. This was absolutely delightful. The plot was well-paced and captivating from start to finish. The characters were charming and witty. I highly recommend this fun and quick read! Many thanks to the author, publisher, and NetGalley for the advanced copy of the book.' Netgalley
Have a lovely day everyone.
Happy reading,
Jenny x